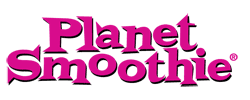 Business Ownership Is
"Smooth" When You Have A Piece Of The Planet.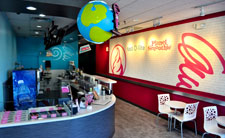 Since its first store in 1995, Planet Smoothie has been treating customers to "The best tasting smoothie on the planet," and today serves customers all the way from Massachusetts to Hawaii. Now, with the addition of the celebrity-favorite and healthier frozen dessert brand Tasti D-Lite to our lineup, the combined business opportunities are endless...and turnkey:
Real Estate - Our experienced commercial real estate network can assist you wtih site selection.
Training - Comprehensive training at Planet Smoothie University and at our flagship location, followed by on-site training in your store prior to opening, and a variety of learning programs.
Marketing Support - Our marketing team will provide guidance and high-quality marketing materials to support your store opening and ongoing local marketing efforts.
A Whole Lot Faster.
Smoothie sales continue to climb, and the $2 billion category is projected to increase another 25% over the next three years.1
Smoothies represent one of the largest2 and fastest growing beverage segments in the $566 billion restaurant industry.3.
Overall spending on reduced fat, lower-carb, and lower calorie products is up $9 billion in the last 4 years.5
Home to "The best tasting smoothie on the planet," Planet Smoothie is one of the longest standing smoothie franchises and has over 100 locations spanning across the country.
And A Whole Lot Sweeter
With a menu that has all-day consumer appeal, your future with Planet Smoothie is about as sweet as it gets. And investing in a lucrative future at Planet Smoothie could be a lot easier than you think.
Our first major nationwide expansion is happening now. There has never been a better time to own a part of an established brand in an industry that's growing fast!
To Learn More And To Begin The Process Of Business Ownership,
Please Complete The Request Info Form Now.
Welcome To The "best" Business On The Planet!
1 Jane Peart, Brand Director of Torani, CoffeeTalk, Feb. 2011
2 Beverages at Foodservice: Satisfying Our Taste for Beverages." The NPD Group/CREST®, September 2011
3 Technomic, "2010 Top 100 Fast-Casual Chain Restaurant Report," 2010 Industry Research
5 QSR One Source, "How America Eats," Nov. 2007
This web page does not constitute a franchise offering or an offer to sell a franchise. A franchise offering can be made by us only in a state if we are first registered, excluded, exempted or otherwise qualified to offer franchises in that state, and only if we provide you with an appropriate franchise disclosure document.