RANKED #1 TRAINING FRANCHISE by Entrepreneur magazine in 2015
Sandler Training was RANKED ONE OF THE TOP 50 FRANCHISES in Franchise Business Review's 2014 Franchisee Satisfaction Awards.
CAPITALIZE ON YOUR SALES AND SALES MANAGEMENT
EXPERIENCE WITH SANDLER TRAINING.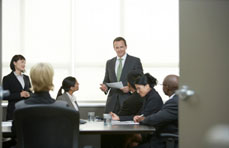 Join Sandler Training and you become part of a global network of sales and management trainers with hundreds of training centers throughout the world.
You are also at the forefront of a business niche that is growing exponentially, with the support of a pioneer and leader in the training industry.
Business coaching was listed as one of the hottest trends in franchising in Entrepreneur magazine's 2014 Franchise 500.
TAP INTO A $59.7 BILLION INDUSTRY.*

A recent industry report paints a positive picture for sales training professionals. Despite a less than stellar business environment, total 2011 U.S. training expenditures were up 13%, to $59.7 billion, with 32% of respondents reporting that their training budgets had increased.**

*trainingmag.com, November/December 2011
**The training expenditures include payroll and spending on external products and services. The training budget fi gure was calculated by projecting the average training budget to a weighted universe of companies, using the Dun & Bradstreet counts of U.S. organizations with more than 100 employees.
WE BEAT OUT THE COMPETITION.

As a Sandler Training® Franchise Owner, you are perfectly positioned to capitalize on this rapidly growing market and reap the rewards, on your own terms, with your own franchise business.
"We can compete with any sales training organization and walk away with a win because of the depth of experience and expertise we have throughout the organization."
Matt Neuberger
Sandler Training® Franchise Owner
Unlike other franchise models, Sandler Training Franchise Owners do not pay a percent of sales, but rather a fl at monthly fee based on tenure.
Liquid Capital Required: $100,000
Net Worth Required: $200,000
Franchise Fee in the U.S.: $73,000*
* International Franchise Fees vary based on size of territory.
This web page does not constitute a franchise offering or an offer to sell a franchise. A franchise offering can be made by us only in a state if we are first registered, excluded, exempted or otherwise qualified to offer franchises in that state, and only if we provide you with an appropriate franchise disclosure document.