It's no secret that self-serve frozen yogurt has become one of the fastest-growing concepts in the nation - consumers are falling in love with creating their own flavor and toppings combinations at a price point they choose! Given the multiple investment opportunities that exist today for self-serve frozen yogurt, what makes sweetFrog stand out from the crowd?
THE sweetFrog CONCEPT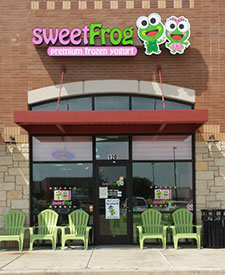 As the preeminent premium frozen yogurt retailer in America, sweetFrog provides an unparalleled experience with every cup of yogurt! Our extensive toppings bar, warm, wholesome environment, and wide selection of creamy flavors provide myriad mouth-watering solutions to the question: "How do you sweetFrog?" Throw in our lovable mascots, Scoop and Cookie, and you'll see why customers across the nation are embracing sweetFrog! We've expanded a lot since we opened our first location in Richmond, Virginia, in 2009, but we'll never outgrow our commitment to local communities. The F.R.O.G. in sweetFrog stands for Fully Rely On God, and we show that by being a good neighbor everywhere we go. Through local partnerships, fundraisers, and much more, our stores become part of the fabric that wraps their communities.

WHY sweetFrog?
Community Marketing
At sweetFrog, our business is premium frozen yogurt, but our passion is the human connection. In each one of our sweetFrog locations, you'll find that we are active members of our community. We sponsor the local Little Leagues, support the Girl Scouts of America, donate our time and resources to local charities, raise funds for groups in need, and much more. We strive to be more than just a business - we strive to be your neighbor.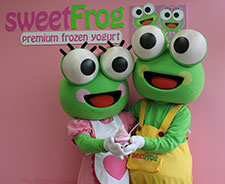 Scoop & Cookie Mascots
As sweetFrog's goodwill ambassadors, Scoop and Cookie are the anchor of our branding initiative. Whether in charitable work, local outreach, or direct marketing, they appeal to customers of all ages and embody our commitment to serving our communities. Scoop and Cookie also allow our clientele to identify and differentiate sweetFrog in a crowded marketplace.
Product Diversification & Proprietary Product
sweetFrog isn't just about yogurt, our unique product line allows our franchisees to venture into the areas of diverse product marketing. Some items in our product line include, but are not limited to retail apparel, plush toys, and seasonal items. sweetFrog also offers a line of proprietary frozen yogurt flavors, a large part of why sweetFrog Premium Frozen Yogurt has been touted as "the whole package", by The Daily Meal.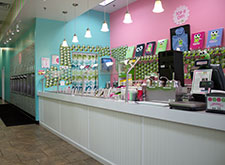 Marketing to the Individual with New Technologies
At sweetFrog, we strive to personally connect with our communities and our customers. Our marketing initiatives also reflect this goal, specifically with sweetFrog's exclusive Mobile App and Loyalty program. The program is three-fold: (1) the mobile game which enables users to earn in-store rewards by reaching specific game achievements, (2) the digital loyalty program which rewards frequent customers with free yogurt, and (3) the store-specific subpages, surveys, and push messaging system which offers locations a robust form of communication with mobile customers.

HOW DO YOU sweetFrog?
We are seeking out enthusiastic Franchisees in the following areas: Georgia, Indiana, Massachusetts, New Jersey, New York State, Ohio, and Rhode Island. Don't see your area of interest? That doesn't mean there's not an opportunity*!
Prior business management experience and prior franchise or restaurant experience is preferred.
*We are no longer accepting applications in Maryland or Virginia.
Why should YOU sweetFrog?
The answer is simple: through the highest-quality product, a local commitment, and two lovable mascots, sweetFrog has become known across the nation as the clear choice for family-centered premium frozen yogurt.
We would love to welcome you to the sweetFrog family.
For more information about, please fill out the "Request Information" form.