Now your dream of being your own boss may be closer than you think. Check out The UPS Store© franchise opportunities available nationwide. Our Franchise Development team is available to help you start the process of business ownership in the postal and business services industry with The UPS Store.
History
The Mail Boxes Etc. concept was introduced in 1980 as a convenient alternative to the post office. Throughout its evolution, it has continued to define and lead the business services category it created. In 2001, UPS acquired Mail Boxes Etc., Inc. In 2003, the two companies introduced The UPS Store brand. On April 7, 2003, approximately 3,000 Mail Boxes Etc. locations in the United States (at the time, nearly 90% of the domestic U.S. network) re-branded as The UPS Store and began offering lower (around 20% on average) UPS-direct shipping rates. In 2012, Mail Boxes Etc., Inc. became The UPS Store, Inc. The centers remain locally owned and operated, and continue to offer a variety of shipping, freight, postal, digital online printing, document and business services, with convenient locations and world-class service.
Growth
In the year following the re-branding, The UPS Store, Inc., sold more than 500 new The UPS Store franchise locations in the United States - a record for the company, and phenomenal growth for a quarter-century-old franchise. Non-Traditional site development has also grown the franchise steadily with locations on college campuses and military bases, as well as in convention centers and hotels. Non-Traditional sites create an opportunity to provide services to consumers, regardless of where they live, work or travel.
In addition to its U.S. network, The UPS Store, Inc., has had a master license agreement in place for Canada since 1988. In 2005, more than 260 Mail Boxes Etc. locations in Canada re-branded as The UPS Store. Throughout the company's historic growth, one thing has remained constant: the commitment of its franchisees in providing personalized and convenient business solutions and a world-class customer experience.
Number of Franchised Units Worldwide: 4,722
Historical:
Total locations in U.S.: 4,362
Total locations outside the U.S.: 360
Veteran Franchising
As our way of saying thank you for your service to our country, qualifying veterans and spouses of active duty military receive $10,000 off the franchise fee of a new The UPS Store location and 50% off the initial application fee (applied toward the total franchise fee).
Industry Recognition
In 2012, Entrepreneur® magazine's annual "Franchise 500," a ranking of franchise opportunities based on factors such as financial strength, growth rate and size, rated The UPS Store #1 in the postal and business services category for the 22nd consecutive year*. Additionally, the company has a rich tradition of award-winning marketing and public relations campaigns, among other accolades.
Center Profile
The center interior is designed to promote a comfortable, yet professional business environment, with a contemporary appearance geared toward heightening awareness of products and services.
Centers are typically located in shopping centers and commercial complexes, but also can be found in special venues such as universities, convention centers, hotels and military bases. Location sizes range from 1,200 to 1,800 sq. ft. and centers generally employ a full-time staff of two or more employees, including the owner/operator.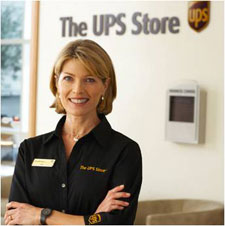 Hours of operation vary, but locations are typically open Monday-Friday, from 9 a.m. to 7 p.m. and Saturday 9 a.m. to 5 p.m. Many locations are also open on Sundays.
Qualifications:
Cash or liquid assets of $60,000.
Financial Information For New Franchise:
Investment Required: $176,066 - $331,353
Franchise Fee is $29,950
Training:
New franchisees receive: one month of training including time at The UPS Store University in San Diego, California, ongoing professional development with Internet-based training and resources, regional meetings, seminars, and peer networking.
The UPS Store, Inc. is a UPS© company. The UPS Store© locations are independently owned and operated by franchisees of The UPS Store., Inc. in the USA and by its master licensee and its franchisees in Canada
.