Introducing Maytag® equipped Laundry.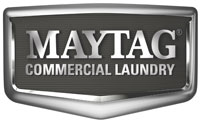 A business loaded with opportunity.
Whether you're considering opening your first business or you're already invested in the vended laundry market, owning a Maytag® equipped Laundry is an opportunity you just can't pass up:
You'll have the support of Maytag--America's #1 preferred laundry brand.*
This is not a franchise opportunity, no franchising fees are required (it's your business).
An investor can normally expect to need $75,000 up-front and the ability to borrow remaining costs.**
The prep work is done for you--from store design to signage to marketing materials.
As a storeowner, you'll enjoy extra perks including VIP and exterior signage discounts, Coin Laundry® Association membership, and additional marketing support.
Our outstanding distributor network will provide ongoing guidance throughout the process.
*Based on current 12-Approved Consumer State Tracker, 2010 Smith Dahmer Associates, LLC.
**Costs vary by store size, equipment mix, and the market.
Take a closer look at a promising industry.
An entrepreneurial spirit is one thing, but choosing the right business is quite another. Currently, there are around 35,000 vended laundries in the United States, and they generate approximately $5 billion in annual sales†.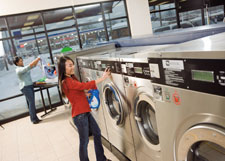 It might help to have some points of comparison to know why this is a sound investment.
Relatively high rates of return on your investment are possible.†
Minimal time and labor are involved (customers do most of the work).†
It's a cash business, so minimal accounts receivable are needed.†
There's a market of over 35 million customers in renters alone.†
Vended laundries are recession-resistant (people always need clean clothes).†
†"Getting into the Laundry Business," 2012, Coin Laundry® Association.
Put the Maytag® brand to work for your business.
Nothing sets you up for success like the support of a name your customers already know and trust. With Maytag on your side, you get:
America's #1 preferred laundry brand.*
A broad lineup of energy-, water- and cost-saving commercial laundry products.
Famously reliable, heavy-duty equipment that keeps businesses up and running.
An extra-protection, 5-year limited warranty covering all parts--one of the best in the business.
*Based on current 12-Approved Consumer State Tracker, 2010 Smith Dahmer Associates, LLC.
Take the first step today.
Your independent Maytag® Commercial Laundry distributor will be glad to share more information and answer your questions about getting started. They have the expertise to help you evaluate locations, leases, equipment choices and more.
Simply fill out the form and look forward to a call
.
This web page does not constitute a franchise offering or an offer to sell a franchise. A franchise offering can be made by us only in a state if we are first registered, excluded, exempted or otherwise qualified to offer franchises in that state, and only if we provide you with an appropriate franchise disclosure document.