Beauty to the People®
Life is short, time is priceless. If you are interested in investing your time in a business that is core value-driven, focuses on empowering human beings, and believes that success should be both financial and spiritual, we invite you to explore Seva.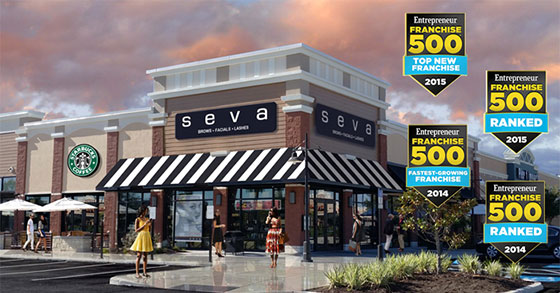 Seva Advantage
Seva® is the pioneer of the fast-casual spa, with nationwide locations that maximize one-stop-shop convenience and price points everyone can afford. We sum this up by our mantra, Beauty to the People®.
Ranked in Entrepreneur Magazine's Top 100 Fastest Growing, Top 25 New, & Top 500 Franchise categories!
Salon Experience Not Required - Seva® has pioneered the fast-casual spa with a simple, manager-run business model that doesn't require salon or spa-specific experience in order to be successful.
Location, Location, Location - You've heard the adage: Location, Location, Location. Seva's® elegantly appointed studios are strategically located to maximize the one-stop-shop convenience demanded by today's busy consumers.

One-Stop-Shop Convenience + Unbeatable Price Points - Seva's highly convenient locations provide an unparalleled convenience to the consumer that cannot be replicated anywhere else.

Seva University™Seva is committed to providing you with initial and on-going support utilizing the most effective techniques and resources. This includes our proprietary Seva University™ curricula which includes FaceTime Coaching & Conference Calls, Webinars, advanced technical training and continued education for as long as you own your Seva Franchise.

iPOS™ - Seva's award-winning iPad-based POS System (iPOS™) enables you to easily run and monitor your Seva studios from anywhere in the world.
Spa-in-a-Box™ - Seva has designed a complete Spa-in-a-Box™ logistics system which helps you coordinate the design, construction and spa build-out process for you through grand opening.
Expansion Opportunities - Seva's unique business model, low initial investment and multiple format opportunities (Seva Express and Seva Spa formats) means you will have the ability to own multiple locations: locally, regionally, nationwide!
Seva Express™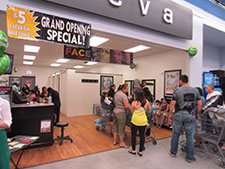 Seva Express is our quick-serve format offering our Brows and Face category of services: Facial Threading and Waxing, Eyelash Extensions, Eyebrow Tinting and Flash Facials from within the salon chairs.
A Seva Express studio is typically an open floor plan of approximately 250-550 square feet without a spa room. Seva Express studios are located within major retailers such as Walmart.

Seva Spa™
Seva Spa is our larger, full-service format offering our Brows and Face category of services: Facial Threading and Waxing, Eyelash Extensions, Eyebrow Tinting and Express Facials from within the salon chairs, as well as our Spa services: Body Waxing and Full Facials from within the spa room.
A Seva Spa studio is typically 1200-1500 square feet with multiple spa rooms. Seva Spa studios are located within shopping centers, strip malls and traditional real estate environments.
Own a Seva Franchise Today!
Fill out fill out the form and receive our FREE Franchise kit. A Seva representative will contact you!