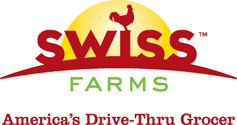 SWISS FARMS America's Drive-Thru Grocer
has re-defined convenient grocery retailing.
A powerful heritage with proven formula for Drive-Thru success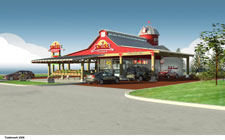 Since 1968 Swiss Farms has been successfully operating retail food stores based on providing a limited offering of in-demand, high-quality products, with speed of service, competitive pricing and a passion for customer service as the formula for success.
Many of our customers grew up with the Swiss Farms tradition as children in Delaware County. Our customers span two to three generations who love our fresh products and reasonable prices. We make it easier for them to shop because they don't need to get out of their cars. We help our customers experience the smarter way to shop with fresher products, faster service, and friendlier help.
The Swiss Farms competitive advantage, bottom line:
Supermarket prices & drive-thru convenience without the supermarket hassles.
Four reasons to put one on your corner:
Proven profitability - $1.6 million average store sales
Economic resistant - grocery staple positioning with competitive pricing
Extreme customer loyalty - Service-driven, people-oriented, high customer engagement
No direct competitor - Swiss Farms is not another convenience store or QSR
A special franchise opportunity to be part of the future success
Swiss Farms is now selectively franchising for the first time in its 40+ year history. So There is plenty of available real estate - an entire frontier. This is a ground floor opportunity to shape the future - you will be an important part of Swiss Farms. But you will have the training and support of a system honed for 40 years.