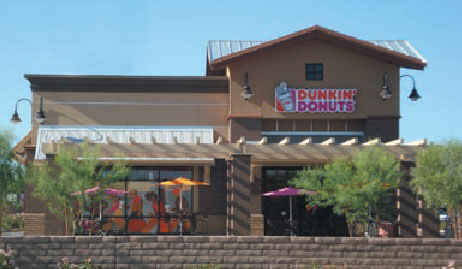 Brand Power.
Founded in 1950, today Dunkin' Donuts® is the number one retailer of hot regular coffee-by-the-cup in America, selling 2.7 million cups a day, nearly one billion cups a year. Dunkin' Donuts is also the largest coffee and baked goods chain in the world and sells more hot regular coffee, iced coffee, donuts, and bagels than any other quick service restaurant in America. Dunkin' Donuts have more then 8,835 Dunkin' Donuts stores worldwide, including 6,395 franchised restaurants in 34 United States and 2,440 international shops in 31 countries.
Franchise Investment Opportunities
Dunkin' Donuts Franchise investment opportunities are available for both individuals and corporate investors interested in purchasing Dunkin' Donuts development agreements. Becoming an owner and operator of Dunkin' Donuts franchises allows you to join the established Dunkin' Donuts brand.
Dunkin' Donuts Is Now Expanding!
Start Think' Dunkin'- Dunkin' Donuts is the countries #1 retailer of hot and ice coffee, selling more then one billion cups of coffee a year. Dunkin' Donuts is expanding in various markets though-out the U.S. There has never been a better time than now to explore a Dunkin Donuts franchise opportunity. Dunkin' Donuts has launched an aggressive national growth strategy which includes expanding in existing markets while entering new cities throughout the country. Together we can do coffee.
Candidate Profile
Dunkin' Donuts® candidates must meet the following qualifications to be considered for a franchise opportunity:
A passion for and dedication to operations excellence;
Clear understanding of the real estate development process particularly as it relates to the markets that they are developing;
The ability to create and manage an organization that effectively recruits, trains, retains, and motivates people;
Adequate capitalization to meet an aggressive development schedule;
A strong desire to build incremental income through constructing and operating five or more restaurants;
The ability to deliver a superlative customer experience while maintaining a dedication to Dunkin' Donuts' core values of Honesty, Transparency, Humility, Integrity, Respect, Fairness, and Responsibility, and ideally;
An understanding of the local "culture" and strong ties to the community.
Come see what we are brewing in your area.
To learn more about becoming a Dunkin' Donuts Franchisee,
please visit our Dunkin' Donuts Franchising Page.