KFC Franchise Opportunities
Financial Information:
| | |
| --- | --- |
| Cash Investment: | $750,000 |
| Net Worth: | $1,500,000 |
| Franchise Fee: | $45,000 |
| Total Investment: | $1,309,900 |
| Royalty Fee: | 5% of Gross Revenues |
| Advertising Fee: | 5% of Gross Revenues (Includes national and local contributions) |
Available Markets:

United States: AL, AK, AZ, AR, CA, CO, CT, DE, DC, FL, GA, HI, ID, IL, IN, IA, KS, KY, LA, ME, MD, MA, MI, MN, MS, MO, MT, NE, NV, NH, NJ, NM, NY, NC, ND, OH, OK, OR, PA, RI, SC, SD, TN, TX, UT, VT, VA, WA, WV, WI, WY

BE YOUR OWN COLONEL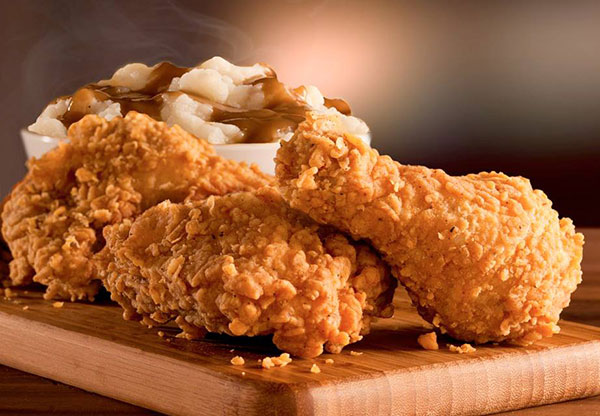 Based in Louisville, Kentucky, KFC Corporation is the franchisor of the world's most popular chicken restaurant chain, specializing in Original Recipe®, Extra Crispy™, Kentucky Grilled Chicken® and Extra Crispy™ Tenders with home-style sides, Hot Wings™ pieces and freshly made chicken sandwiches. Famous for its Original Recipe® fried chicken, which is made with the same secret blend of 11 herbs & spices that Colonel Sanders perfected more than a half century ago, KFC has been serving customers complete, freshly prepared family meals since Colonel Harland Sanders founded the concept in 1952.
It is estimated that, on average, more than 185 million people see a KFC commercial at least once a week—that's more than half the U.S. population. The KFC system serves more than 12 million customers each day in more than 115 countries and territories around the world. KFC operates more than 17,000 restaurants in the Unites States and internationally. KFC's parent company is Yum! Brands, Inc., the world's largest restaurant company in terms of system restaurants, with more than 40,000 locations in more than 130 countries and territories and employing more than one million associates. Yum! is ranked number 201 on the Fortune 500 list, with revenues exceeding $13 billion in 2012.
WHAT MADE US GREAT IS STILL WHAT MAKES US GREAT
KFC Corporation, based in Louisville, Kentucky, is one of the few brands in America that can boast a rich, decades-long history of success and innovation. It all started with one cook who created a soon-to-be world-famous recipe more than 70 years ago, a list of secret herbs and spices scratched out on the back of the door to his kitchen. That cook was Colonel Harland Sanders, of course, and now KFC is the world's most popular chicken restaurant chain, specializing in that same Original Recipe® along with Extra Crispy™ chicken, home-style sides and buttermilk biscuits. There are more than 18,000 KFC outlets in 115 countries and territories around the world. And you know what? There's still a cook in a kitchen in every last one of them, freshly preparing delicious, complete family meals at affordable prices.
Yum! Value Network
We recognize there are many franchising choices out there and you need real value. You need strong brands that have demonstrated economic stability over time, that offer growth opportunity and that give back to the community. Yum! offers all of this and more. It's what we call the Yum! Value Network.
The Yum! Value Network consists of many programs and support staff all focused on enabling you to compete, including: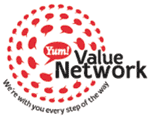 Brand Recognition
Customer Attraction
Competitive Advantage
Franchise Value System
Multi-Unit Growth
Economic Stability
Brands that Give Back to the Community
Development Expertise
Access to Financing
Solid Business Support
Quality On-boarding & Training
Reliable Supply Chain
Return on Investment
Do You Have What It Takes? Capability. Commitment. Capital.
While Yum! franchising is a fantastic opportunity for many, it may not be for everyone. Have a look at the following criteria to see if Yum! is right for you:
Do you have a passion for operations?
The restaurant business is a hands on business
Are you committed to building people capability?
Multi-unit ownership requires you to be a team builder
Do you have capital to grow?
You and your partners must have at least $360,000 in liquid assets
Your Drive. Your Team. Our Brand. It can be a powerful combination!
Interested?
For more information on opening your own KFC franchise please fill out the form below.
Request Information
Looking for more information about KFC? Take a moment to fill out our quick information request form.