Franchise Resource Directory
Franchising is a proven way to succeed in business. But the sheer number of franchising opportunities and the many different kinds of business operations can sometimes make franchising seem daunting. If you're considering a career move into the world of franchising our Franchise Resource Directory can provide the kind of information that will help you decide where, when, and how to build a successful business.
Here you will find many resources to help you succeed in franchising. Whether it's accounting, advertising, customer relations, and financing needs, or real estate, human resources, technology, and legal assistance, this listing offers the kinds of tools and assets that can help your business thrive.
Oct. 19-21, 2021. Atlanta, GA. FLDC is an exclusive event for franchisor CEOs, Presidents, COOs, CDOs and Development Executives. The conference provides education to enhance franchisee recruitment & development, sales & professional leadership.
Titus Center for Franchising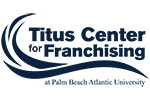 Palm Beach Atlantic University's Titus Center for Franchising has announced that Mike Bidwell, President and CEO of Neighborly will deliver a keynote speech at the 2022 Selling Franchises Bootcamp, happening Jan. 20-21 on campus.