Franchise Resource Directory
Franchising is a proven way to succeed in business. But the sheer number of franchising opportunities and the many different kinds of business operations can sometimes make franchising seem daunting. If you're considering a career move into the world of franchising our Franchise Resource Directory can provide the kind of information that will help you decide where, when, and how to build a successful business.
Here you will find many resources to help you succeed in franchising. Whether it's accounting, advertising, customer relations, and financing needs, or real estate, human resources, technology, and legal assistance, this listing offers the kinds of tools and assets that can help your business thrive.
BrandWide offers a software platform and services to help franchise brands grow and make their franchisees successful. We also offer full-service digital marketing & lead generation services for the franchisor's brand and the franchisees.
Titus Center for Franchising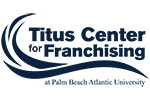 The sales guru of franchise sales, David Mattson, CEO of Sandler Training, has led his company into 30 countries with 250 operating units and he's coming to the Selling Franchises Bootcamp to share his expertise.