Goin' Mobile: Social Media and Mobile Marketing Produce Real-World Results
By now everyone knows what social media marketing is. In fact, many of us are sick to death of hearing about how great Twitter, Facebook, and iPhones are. What smart franchise brand managers want to know is how to make social media and mobile marketing convert to business, driving bodies through doors and positively adding to the bottom line--and if that's even possible.
If there's one thing I want you to take away from this article it's that Yes, it is indeed possible. More than that, using social media and mobile marketing to strengthen a brand and drive sales is exactly what franchises should be doing--or risk getting left in the dust. If 2009 was the year to tout social media, let 2010 be the year we see it really pay off for your franchise.
Many franchises are already using social media and mobile marketing to drive business, compelling consumers to buy, buy, buy--and it's working. Let's take a look at two examples.
Pizza Hut
Smart phones are quickly becoming the one thing we never leave home without. It's where we talk, where we text, where we check our email, and where we surf the web. The marketing possibilities that one tiny smart phone holds are enormous. Recognizing this, Pizza Hut developed an iPhone app (application) that seriously paid off.
The idea was simple: let users build their own pizza, shake off toppings they don't want, and when done, upload their order through the app to the nearest franchise location. For using the iPhone app, customers received an extra 20 percent off, a deal they really must have liked: in just two weeks, Pizza Hut had more than 100,000 downloads of the app. After three months, Pizza Hut announced that the app had garnered $1 million in sales, a number that continues to rise.
Einstein Bros. Bagels
With more than 350 million Facebook users in the world, half of whom log in to the social network every day, Einstein Bros. Bagels knew that having a business page was the smart thing to do. But with only a few thousand fans, the brand was struggling with how to increase that number and use the social network as a way to drive business to their franchisees.
In November 2009, Facebook cracked down on contests, stating that running any kind of promotion required a minimum ad buy of $10,000. So Einstein Bros. did things a bit differently. Instead of paying big money to run a contest, which would bring in more fans but result in only a handful of winners (not too promising for improving the bottom line), the company decided to launch the first-ever instant printable coupon campaign on Facebook.
The "Bagel and Schmear" campaign offered a free bagel and cream cheese at any Einstein Bros. Bagels Facebook fan who printed the coupon (available only on Facebook) and redeemed it within six days. In less than 24 hours the Einstein Bros. Bagels business page went from 4,700 fans to 300,000. The coupon brought thousands into Einstein Bros. stores across the nation. And of course many made other purchases while redeeming their coupon.
New customers visited a store for the first time, while others were reminded how much they liked Einstein Bros. Bagels. While it's too early to determine the ultimate ROI from this campaign, it's clear that Einstein Bros. will be seeing a positive impact for years to come, both to their brand and, ultimately, their bottom line.
Get more case studies
Plenty of other examples of real companies using social media to produce real results are available. Please take a moment to download and review these four case studies of companies doing just that: www.oneupweb.com/landing/get-the-case-studies/
Now put it to work
The time to start using social media to improve your bottom line is now. Don't wait to see how things will pan out. If you do, you risk getting left behind and losing business to your competitors. Partner with a digital marketing company that understands your franchise's unique needs and knows how to get results.
Lisa Wehr is CEO and founder of Oneupweb, a digital marketing agency. To contact her, visit Oneupweb.com, email info@oneupweb.com or send her a tweet @LisaWehr.
Published: May 10th, 2010
Share this Feature
Recommended Reading:
Comments:
comments powered by

Disqus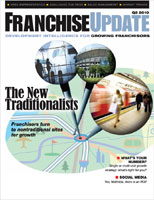 Franchise Update Magazine: Issue 2, 2010
BoeFly drives growth by delivering financially qualified candidates increasing lead-to-franchisee conversion, and helping franchisees secure...
More than 15 years of passion and fascination with the franchise system. Thanks to having met many Franchisees, today I can help new ones and those...