Social Media Roundup - July 2013
How much do consumers believe advertising?
It depends. An infographic from Ambassador, published on Mashable, studied consumer attitudes about how much they believe the ads that come their way - and asked businesses how much they think consumers believe their ads. What they found reveals two notable disconnects.
| | | |
| --- | --- | --- |
| | What Consumers Say | What Businesses Think |
| Yes | 10% | 11% |
| Most of the time | 14% | 43% |
| Sometimes | 47% | 42% |
| Usually not | 25% | 5% |
| Never | 3% | 2% |
Food for thought for advertisers, certainly. One very important fact to ponder is how age groups view advertising: older people are much more skeptical, with one in five (20%) over 55 saying they never believe advertising. Those in the 18-to-34 group are twice as trusting: only one in ten of them never believe ads. The infographic also has statistics on which forms of advertising are most credible, ranging from highly trusted recommendations from people consumers know down to dubious text ads they receive on their mobile phones.
How to win at mobile search: 3 things to know
People are always on their mobile devices. They are commenting, complaining, reviewing, recommending, and searching all the time. MVishal Sankhla, co-founder and CTO of Viralheat, a social media intelligence platform, writing in Search Engine Journal, says businesses must understand three things to compete successfully in mobile search. First, people are always talking about you; businesses must be listening for the good and the bad that's being said about them (and their competitors). Second, people use their always-on smartphones and tablets to make real-time purchasing decisions; businesses must make it easy for qualified, ready-to-buy customers to find them. And third, lure them in with offers: much of mobile searching occurs on popular portals such as Yelp and Foursquare, which offer businesses easy opportunities to pull prospects in with discounts and other inducements.
Hackers love Wordpress: keep them out of your site!
For years hackers who create viruses and other malware have concentrated on Windows because it runs on the majority of the world's computers. Now they have taken to attacking websites built with WordPress, the most widely used content management system (CMS), with more than 68 million websites. Defending your Wordpress site from attack is essential. This article provides the basics of how to do it. It also recommends some resources to help you protect your website from the bad guys. Some quick, basic tips. 1) Update your Wordpress installation regularly; updates are released often. 2) Choose secure passwords; avoid using the Admin username that is generated automatically for a new site. Why make it any easier for hackers? 3) Make sure you're backing up. (You are backing up, right?)
Social media facts and figures
The latest quarterly GlobalWebIndex shows social media is still growing rapidly worldwide, with mobile users the fastest-growing segment. Blogger Jeff Bullas breaks it down in his analysis of the latest stats, highlighting the following. Facebook, still far and away the largest social network, has a very high engagement, with 82% of its more than 1 billion account holders active on the network. Twitter is growing fast, showing more than 40% growth in active users over the past nine months; and its demographic is changing as more older users give it a try, with 80% growth in the 55-64 age bracket in that period. Males outnumber females on all social media platforms, even on Facebook, making up 55% of active users (on LinkedIn it's 66%). P.S. - Some of the comments might be useful.
How do you Fliike this?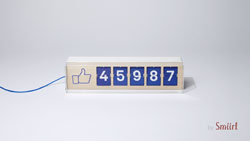 Facebook "like-o-meter" coming from France
Fliike, a nifty little counting device from French startup Smiirl, shows passersby, barstool-sitters, and even your boss how popular your brand is on Facebook. Designed for public places, marketing departments, or even your home office, this brick-like, retro-looking device displays how many "Likes" your brand has, continuously updating the number. "Outed" by Dutch blogger Laurens Bianchi on Viralblog, the device is a wooden box (16½ inches wide by 5 inches on a side) that flips numbers physically, like an old railroad station schedule board, displaying a real-time tally of your Page Likes. Just plug it in, connect it to your Wi-fi and Facebook account, visit Swiirl's website to connect the device to your Fan Page, and you're in business. The price is no joke, though, at $390. Coming your way in November, pre-ordering now.
Writing tips for better status updates
Like writing great titles, writing attention-getting status updates is an art form that must be nurtured. Learn 10 tips on how you can do it better in this entertaining infographic - designed by ShortStack and co-branded with The Social Skinny, and posted by Douglas Karr, president and CEO of DK New Media. Here are a few tips to get you started.
Keep the links in your posts short. Long, complicated URLs look messy and discourage people from clicking them. Use of a shortening service like bitly will provide useful data about how many clicks your links receive, and tell you where they're coming from.
Try adding a "P.S." to a post. It's a proven way to grab readers' attention.
Don't always ask questions. Concentrate on sharing great content before trying to get fan feedback.
P.S. - Always include a call to action. (See what I did... again?)
New Google+ plug-ins released
Google has released a raft of plug-ins to integrate its fast-growing social media platform Google+ with websites. (Facebook has been fantastically successful with similar offerings, which help users share content and "Like" things.) Google provides developers with stylish and easy-to-use Like and Follow buttons and Page and Profile Badges. The components are simple to deploy but highly customizable. If your strategy includes Google+, these widgets will be useful. For a summary of other highlights from the social mediasphere, check out Cindy King's weekly wrap-up blog on Social Media Examiner.
Why people share: 5 ways to increase the odds
Nobody can reliably control what content will go viral, but there are some key elements that help get your messages across to more people. This infographic, "Five Key Elements of Viral Content," is from Mark Smiciklas, president of Intersection Consulting, a digital marketing agency in Vancouver, B.C. According to Smiciklas, the key elements are:
Scarcity: unique content makes people afraid of "missing out" on something valuable;
Share buttons: make it easy for people to pass on your content to their networks;
Skimability: make it easy to consume content in convenient "bite-size" chunks;
Practical utility: give them something they can use; and
Consistency: show day in and day out that you're an authority and a source that can be trusted.
Research: Good ideas make our brain want to spread them
A region of the brain known as the tempo-parietal junction (TPJ) turns out to be involved in the successful spread of ideas from person to person (aka "buzz"), according to new research from UCLA. The TPJ is part of what's called the mentalizing network, important in thinking about how other people think and feel. The authors of the study say the research has a broad range of implications and could lead to more persuasive advertisements, among other things. But what drives people to want to tell others what they've found?
"Good ideas turn on the mentalizing system. They make us want to tell other people," said Matthew Lieberman, professor of psychology and psychiatry and biobehavioral sciences at UCLA and the study's senior author. "We're constantly being exposed to information on Facebook, Twitter and so on. Some of it we pass on, and a lot of it we don't. Is there something that happens in the moment we first see it... that is different for those things that we will pass on successfully versus those that we won't?" Lieberman also has written a book, "Social: Why Our Brains Are Wired To Connect," due this October.
---
Daniel Lieberman is the founder of Daniel Lieberman Digital ("I speak Geek - You don't need to"). Based in Shelburne Falls, Mass., he helps companies, organizations, and individuals learn to use the Internet to communicate, market, and brand themselves using the most up-to-date tools and techniques. Contact him at 413-489-1818 or daniel@daniellieberman.org.
Published: July 17th, 2013
Share this Feature
Recommended Reading:
Comments:
comments powered by

Disqus
More than 15 years of passion and fascination with the franchise system. Thanks to having met many Franchisees, today I can help new ones and those...
Prisma has reinvented the marketing supply chain with an end-to-end solution that makes it easy to design, customize, order, download, print, kit,...