Store Analytics: Franchise Networks Should Act More Like Chains
The benefits of tracking traffic and measuring conversion rates in retail stores have long been established and are now widely considered fundamental in retailing. Not only have retailers been doing it for decades, but the retailers who leverage the insights effectively have an "insight edge," and consequently a competitive advantage over retailers who do not.
Over the course of the last 10 years, I have worked with a multitude of franchise and dealer networks including those in wireless, general merchandise, electronics, home improvement, and automotive segments. Regardless of the type of franchise network, I see a consistent disconnect between franchisors and franchisees when it comes to analytics, especially store traffic and conversion analytics.
Unfortunately, most franchisees don't track traffic or conversion rates in their stores - not necessarily because they don't see the value in the metrics, but rather because they can't come to terms with who should pay for it. Chains don't have this dilemma.
There is strength in networks, but the lack of coordination on important areas such as traffic and conversion analytics puts franchisee networks at a competitive disadvantage. Let's start with the benefits for franchisees.
What's in it for franchisees?
Lots. Knowing when and how many people visit your store is profoundly important. Traffic volume defines the sales opportunity in your store, so to truly know how well you're performing you need to know what's possible. That's what traffic counts help inform. For example, if 200 people visit your store in a day, you can't sell to 201 people. In this case, 200 defines the maximum potential.
Conversion rate (calculated by dividing sales transaction count by traffic count) is like the store's batting average. Conversion rate measures how well the store did at "converting" a store visitor into a buyer. These two simple metrics provide powerful insights that can help franchisees:
Improve sales performance by focusing on customer conversion
Optimize payroll expense by minimizing over/under staffing
Measure the impact of local advertising and promotional activities
Measure the impact of local merchandising, training, and store design programs
Hold store staff accountable for results, even when you're not in the store
Understand long-term traffic and conversion trends to help more accurately plan and forecast business.
I've written two books on the topic that provide plenty of detail about the reasons that all retailers, regardless of size or category, need to track store traffic and conversion rates. Franchisees shouldn't believe that just because they are part of a network that these metrics don't apply. They do, just as they do for any retail store.
But the benefits of traffic and conversion analytics go beyond helping a franchisee run their store better. There's great value to the franchisor as well.
What's in it for the franchisor?
Again, lots. Traffic and conversion analytics isn't just a tool for franchisees. It also has significant value in helping the franchisor create more effective and efficient programs and, ultimately, a more competitive and successful network.
Most franchise networks I've worked with have a multitude of programs to help support and drive business for franchisees, from national marketing programs and training to mystery shop and merchandising programs. This is all wonderful, but how effective are these programs? Without traffic and conversion analytics to provide critical context, it's virtually impossible for the franchisor to know if their programs are delivering the value that they think they are.
Let's consider a national promotional campaign as an example. Following a new, national promotion, the franchisor's marketing team collects the sales data and determines that franchisee sales were up 2% compared with the same period last year.
Unfortunately, the marketing team was expecting a 5% lift in sales. So, based on these results, they conclude that the promotion wasn't successful and start to consider alternatives for future promotions. With only sales data to rely upon, what other conclusion can the marketing team draw?
But what if the franchisor's marketing team had franchisee store traffic and conversion data at its disposal? The data might show that franchisee store traffic was up 7% compared with the previous year. Recall, traffic defines the sales opportunity, so one could argue that the sales opportunity increased by 7% - an impressive result and proof the promotion drove sales opportunities into the stores. But what happened to sales? Traffic was up 7%, but sales were only up 2%. How is that possible?
Conversion rate helps answer this question.
As it turns out, in this example the promotion was effective at driving prospects into the stores, but because of issues with inventory, merchandising, staffing, or other factors, the stores were unable to convert the increased traffic opportunity. Less of the traffic converted into a sale, and that's why sales were only up 2%.
Based on this data, the franchisor now knows that the promotion was effective, but more work needs to be done to help franchisees convert the increased traffic they received. Breaking the sales results out by individual driver provides insight into why the sales goal was not achieved. In this case, it's clear that the franchisees need to focus on improving conversion rates.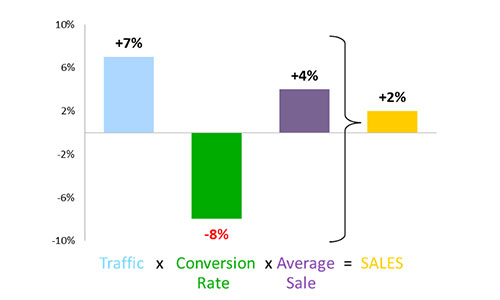 Beyond measuring marketing programs, there is a wide range of uses for traffic and conversion data that franchisors can leverage, including:
Understanding how dealers are performing relative to their traffic opportunity
Identifying underlying sales drivers to better assist dealers
Developing store performance benchmarks and best practices
Measuring the impact of new merchandising, training and store design programs
Planning for special events and holidays
Identifying regional and broad market trends, including impact of competitors
Spotting long-term trends to better forecast demand.
Okay, so there are plenty of benefits for both the franchisor and the franchisee, but how do you reconcile the "Who pays?" issue?
Shared benefit - shared cost
The franchisor doesn't want to take on the extra financial burden of paying for traffic counters or for any ongoing fees that may be part of a meaningful traffic and conversion program. Franchisees sure don't want to pay for it. Many would say they already pay enough in franchise fees, marketing funds, and more.
Occasionally, you will find the odd, renegade franchisee that goes ahead with traffic counting without franchisor support. While it's commendable that they do - and they will certainly realize all the benefits from doing so - doing traffic and conversion analytics in isolation misses out on the benefits of the network, namely performance indexes.
Knowing how your store compares with others and sharing what's learned across the network to improve overall results takes a traffic and conversion analytics program to a new level.
Although some franchisees see the value, they can't convince their franchisor that tracking traffic and conversion is an important thing to do. Sadly, these franchisees are left to fend for themselves, gaining no leverage from the network.
While cost is not an inconsequential issue, it needs to be put in perspective relative to the value the insights traffic and conversion analytics can deliver - to both the franchisor and franchisees.
Since there is value to both the franchisor and franchisees, it makes sense to share the expense. Creating a cost-sharing model is not complicated and can be tailored to fairly meet the needs of all stakeholders. The most successful franchise programs I've seen recognize this shared value, and both parties share in the cost and the benefits.
As for most network-wide programs, it makes sense for the franchisor to drive the needs assessment and vendor selection process because franchisors have the expertise and resources to compare options and negotiate the best rates on behalf of the entire network. But what is the franchisor to do with franchisees that simply don't see the value?
Don't force compliance - build a meaningful index
Even the best franchise networks can't get 100% alignment with franchisees on every initiative - even for something as useful and important as traffic and conversion analytics. As franchisors have frequently told me, "This is just the nature of franchise networks." Fair point, but franchise networks can't afford to ignore traffic and conversion analytics just because some of their franchisees don't get it.
Let's face it: like any organization, franchise networks have leaders and laggards. Traffic and conversion analytics aren't for every franchisee. Franchisors should offer it to all, but focus on getting the leaders to adopt. The goal should be to get a representative, national sample of stores from which a meaningful index can be built.
Launching any new program can be a challenge, but when you consider the potential value to the entire network in undertaking a comprehensive traffic and conversion analytics program - or at least in a meaningful index of stores - the benefits far outweigh the effort.
The fact is, there's tremendous value in traffic and conversion analytics for both the franchisor and franchisee. It's in the best interest of both parties to coordinate their efforts on it.
Mark Ryski, CEO and founder of HeadCount, is author of Conversion: The Last Great Retail Metric and When Retail Customers Count. Reach him at 877-463-7005 or talk@headcount.com.
Published: June 24th, 2014
Share this Feature
Recommended Reading:
Comments:
comments powered by

Disqus
The Titus Center for Franchising, one of Palm Beach Atlantic's Centers of Excellence, offers a concentration in franchising to business students.
June 20-22, 2023 Marketing-Operations-Technology. Be a part of this ground-breaking new space for ideas, inspiration and networking for Franchise...