2021 AFDR - Essential vs. Nonessential: Impact on Franchise Sales Teams, Revenue, & Sales
Despite the recent surge of Covid's delta variant in the U.S., especially in the South and among the unvaccinated, franchise brands are still moving forward, balancing optimism against the calculated risk-taking mindset so well-known to entrepreneurs. That's why we started this 10-part series of highlights from the 2021 Annual Franchise Development Report (AFDR). We began with an overview of the research, analysis, and methodology used in the report. The previous installment dug into how essential vs. nonessential franchise businesses faced the challenges brought on by Covid.
Background
The results from the 2021 AFDR were unveiled last October at the first-ever Franchise Leadership & Growth Virtual Conference (FLGVC). New in this year's report is survey data on the effects of the Covid-19 pandemic and new statistics on the changing role franchise brokers play in the development process. Because of Covid, the AFDR was combined with the Annual Franchise Marketing Report (AFMR) this year.
Participants in the survey consisted of franchisors that completed an in-depth online questionnaire. Responses were aggregated and analyzed to produce a detailed look into the recruitment and development practices, budgets, and strategies of a wide cross-section of franchisors. The data and accompanying commentary and analysis provide the basis of the 2021 AFDR/AFMR.
Highlights from the report were presented in a general session at the conference by Franchise Update Media's EVP and Chief Content Officer Diane Phibbs and CEO Therese Thilgen. Ordering information is at the end of the article. Conference attendees received a complimentary copy.
Most of the impact on sales teams was in salaries and bonuses. No surprise there, said Phibbs. However, she said, "One of the things most surprising to me is that 14% of essential businesses said they are actively hiring."
Essential businesses reported a better overall business picture than those deemed non-essential. Some essential businesses also provided written commentaries on their programs and said their overall businesses were in good shape. "Brands are rebounding, while some continue to have some challenges," said Phibbs.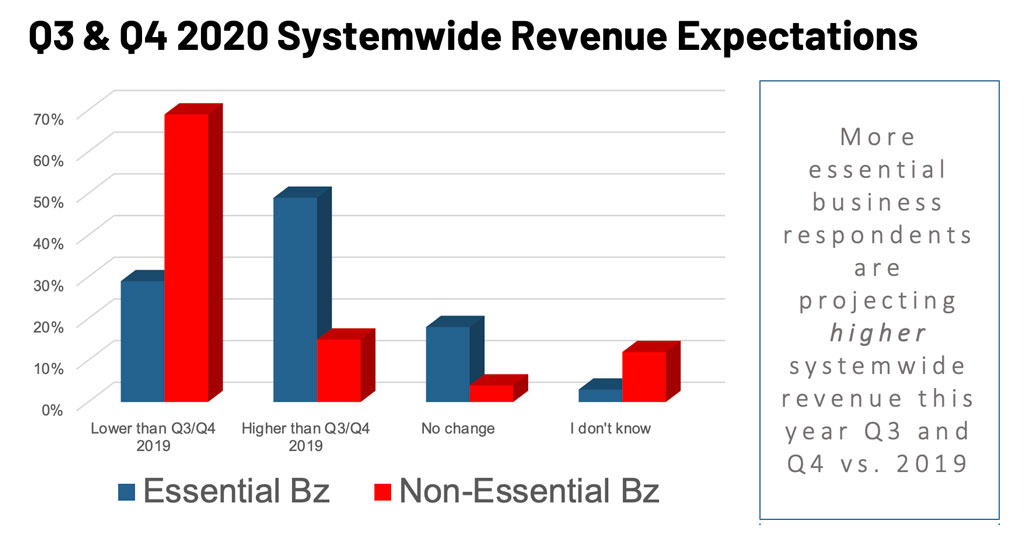 Essential businesses have higher projections on system-wide revenue than nonessential businesses, because they're performing better right now and have made changes in response to the limitations imposed by the coronavirus and state and local regulations. And again, said Thilgen, there is still much uncertainty in development departments, as there is in most every aspect of life right now, whether business or personal.
Sales expectations for the coming year follow in line with system-wide revenue, said Thilgen: higher for most categories, with nonessential businesses having slightly lower projections. "Essential businesses have a much more optimistic, forward look about their sales – and in many cases have a better budget to achieve their goals than those classified as nonessential."
Next time: Franchise development budget impact (YTD 2020). This will be the last installment in the series.
Ordering Information
As an additional bonus, the AFDR was combined with the Annual Franchise Marketing Report (AFMR) this year. The price for the combined report is $350. As noted, all conference attendees received a complimentary copy. Place orders at https://afdr.afrm.franchiseupdate.com.
Published: August 16th, 2021
Share this Feature
Recommended Reading:
Comments:
comments powered by

Disqus
919 Marketing Co. is a national content marketing, PR and social media agency serving franchise brands. Our proprietary social relations approach...
The business messaging platform that lets you text from your office phone number directly on your computer, so you can actually get a response.