2022 AFDR, Part 7: Franchisors Exceeding Goals
This is the last in a series of highlights from the 2022 Annual Franchise Development Report (AFDR), which was unveiled at the Franchise Leadership & Development Conference (FLDC) in October.
Participants consisted of franchisors that completed an in-depth online questionnaire. Responses were aggregated and analyzed to produce a detailed look into the recruitment and development practices, budgets, spending allocations, and strategies of a wide cross-section of franchisors. The data and accompanying commentary and analysis provided the basis of the 2022 AFDR.
Highlights from the report were presented in a general session by Franchise Update Media EVP and Chief Content Officer Diane Phibbs and Wild Birds Unlimited CDO Paul Pickett. This series features selected highlights. All conference attendees received a complimentary copy.
In a year where no one knows for sure what tomorrow may bring, setting goals for franchise recruitment presented a new kind of challenge. Be cautious? Be bold? Pessimistic? Optimistic? Pretend everything is normal, whatever that means in mid- to late 2021? The common perception of entrepreneurs, whether franchisor or franchisee, is that they are an optimistic bunch, not only seeing the glass as half full, but constantly looking for a bigger glass to fill.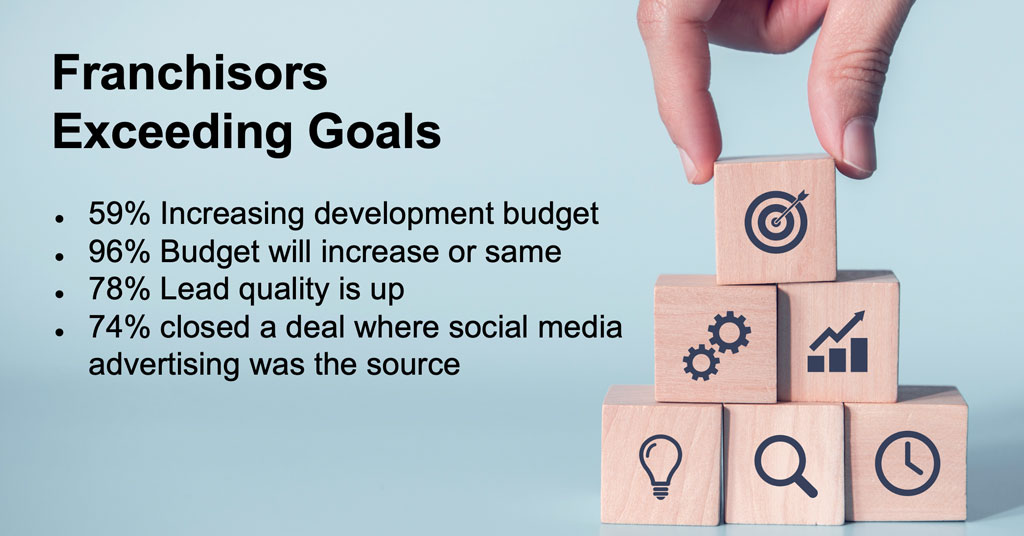 Among franchisors who reported exceeding their goals in this year's report, 6 in 10 (59%) increased their development budget. And nearly all in this group (a whopping 96%), planned to increase or maintain their current development budget for the coming year. While we can't present a breakdown here of what segments those brands are in, it's not hard to imagine they were in QSR and other restaurant brands that adapted by adding or increasing their drive-thrus, curbside pickup, and delivery, whether through third parties or by doing it themselves.
As Americans continued to spend more time at home in 2021, whether by choice or from job loss, home services brands also prospered during the pandemic. Many seized the moment and boosted their recruitment and conversion programs to expand while circumstances remained favorable. No one knows, of course, how long pandemic conditions will persist, if the double-whammy of the seasonal flu and yet another Covid variant will bring down the economy again, or if this is a permanent state and we will never be completely out of the woods.
Getting back to the data, for those brands exceeding their goals, 8 in 10 (78%) reported their lead quality was up this year. And, most likely owing to people working from home and spending more time online, three-quarters (74%) closed a deal where social media advertising was the source.
Again, no one knows how long this trend will last as businesses reopen and companies call employees back to the office. Working from home, or for many where possible, a hybrid model of a few days a week at home and a few at the office, will help maintain these trends of home improvement and "eating in" with pickup or delivery from their favorite restaurants.
Bottom line here? Among franchisors that exceeded their goals, three-quarters (74%) tracked cost per lead, 7 in 10 (67%) tracked cost per sale, and 6 in 10 (61%) said their cost per sale remained the same during Covid. As the old saying goes, If you can't measure it, you can't control it.
Finally, among franchisors exceeding their goals, 3 of 4 (73%) had implemented a formal resale program. And more than half (54%) had developed a program to recruit new franchisees for transfers.
To order the 2022 Annual Franchise Development Report or learn more, click here.
Published: March 14th, 2022
Share this Feature
Recommended Reading:
Comments:
comments powered by

Disqus
919 Marketing Co. is a national content marketing, PR and social media agency serving franchise brands. Our proprietary social relations approach...
BoeFly drives growth by delivering financially qualified candidates increasing lead-to-franchisee conversion, and helping franchisees secure...