Beyond Training and Support: Business Coaching Fosters Franchisee Leadership, Accountability, And Growth
If you could get better performance from your franchisees and increase the overall value of your brand at little or no cost, you'd be crazy not to.

That's the business proposition of business coaching. While it may sound like vendor pitch, this assessment comes from a growing number of franchisors and franchisees.

Andy Bell is owner and president of Handyman Matters. With the company now in its fourth year working with The Growth Coach, he says, "We continue to see tangible benefits as a result of this proven coaching process." For his franchisees, he says, benefits include greater income, fewer hours working, less burnout, more satisfaction and joy, a greater sense of control and personal freedom, more balanced and fulfilling lives, and significant increases in the revenue and value of their businesses.

For franchisors, the benefits of business coaching include more satisfied franchisees, better validation, greater unit growth, increased system value, advantages in recruitment and retention, and improved prospects for a resale/exit strategy.

The Growth Coach is not the only business coaching kid on the block. The Entrepreneur's Source recently announced a collaboration with E-Myth Worldwide to offer a new product tailored for franchising (see page TK). And the number of business coaching organizations has grown steadily in recent years, as has acceptance of its tangible benefits.

Bob Hicks is senior vice president of franchise support at The Little Gym International, a position he's held since 2001. He's also a franchisee and still owns the Raynham, Mass., unit he bought in 1995. The brand has about 260 units in the U.S. and 40 abroad.

Despite The Little Gym's extensive training and support program, Hicks recognized a need for something more--or more accurately, something different... but what? The answer came in February 2007 at the IFA convention, when he spotted a book on an exhibitor's table: Becoming a Strategic Business Owner. The author was Dan Murphy, founder of The Growth Coach.

Hicks read the book on the plane ride back to Arizona. "It was all about instilling accountability in owners and learning to have a strategic mindset," he says. Hicks contacted Murphy, who explained the process and decided it was worth a try. In July, at the company's annual reunion (franchisee conference), he announced the opportunity for owners to get involved in the coaching program.

"Mark Eldridge from The Growth Coach came, and we made a presentation. We were hopeful we would get 15 or 16 owners to run a pilot program," says Hicks. They got 36 and started two pilots, one on each side of the country. "I was pleasantly shocked," he says. The first sessions were soon under way.

Eldridge, a franchisee of The Growth Coach in Omaha since 2004, also handles its national franchise accounts. He says the company's Strategic Mindset Process has five major objectives for its clients:
become more focused, effective, strategic, and productive;
earn more money;
work smarter;
live richer lives more freedom and personal time); and
build substantial business value.
The process
"We started these two pilots in September 2007 and the owners are through five of the eight sessions," says Hicks. "They met with such success that Mark and I decided at our most recent reunion in July to see if other owners were interested in it as well. We have a new group of 22 owners--we're now up to 58." That's about 30 percent of all U.S. Owners.

The two-year program is divided into eight quarterly all-day sessions, each focusing on a specific business element, but there's a good amount of repetition as well. The intent, says Hicks, is "to really change the natural behavior of owners. But more important is for owners to hold themselves accountable."

"For a franchisee to capitalize on their franchise investment, they need to invest in their most valuable asset--themselves--as well as their business. That's where we come in as a supplement to the franchisor's existing training and support," says Eldridge. "We believe you cannot improve the business without improving the owner/manager, and you can't bring greater freedom, happiness, and success without reshaping the business."

Jamie Mainvielle, who owns The Little Gym units in Torrance and Huntington Beach, Calif., and an undeveloped territory in Manhattan Beach, is in one of the pilot groups. "I like that we have different facets we focus on. There's a lot of repetition and I thought at first I'd go crazy because I'm speedy. But after almost a year and a half, the Strategic Mindset has become habitual."

When Mainvielle heard the initial presentation by Hicks and Eldridge, her single unit had been open only six months. "The people who signed up had been doing this for many years. They looked like the type of people I wanted to learn from, so I signed up." She went to the first session concerned that she may have been too early in the process, but that worry quickly faded. "The other owners said they wish they'd started earlier."

Participants in the program face two primary challenges, says Eldridge: 1) learning strategic concepts; and 2) changing how they think and act. "Whether you have zero or a thousand units, you have to wake up and think like a CEO. That's a big one. You have to learn it, and you have to stay focused on it," he says.

"Everything we talk about is not theoretical, it's learned," says Eldridge. "Is their time spent on the higher activities--leadership and marketing? There's more than enough work to do in the leadership area alone. Leadership is learned."

Each participant leaves the intensive, all-day session with a pocket-sized Strategic Planner, a road map that lays out their goals for the next 90 days. The planner includes not only the five most pertinent goals to accomplish in the coming quarter, but also "eight fun things to do," says Mainvielle.

"With the Strategic Planner, what I want to accomplish in the next 90 days is all in one document. It forces me to look at what my natural talents are, and am I leveraging them at a CEO level to make my business to be more successful? Especially people like me, where my talent is being social--how am I leveraging that?"

"It's a process, they follow a system," says Hicks. "Their personal planner has become their bible for the next 90 days and they refer to it almost daily."

During those three months, participants receive regular, topic-specific communications from their coach--for example, "a weekly email of what we've discussed to help keep them focused and on track with their plan," says Eldridge. "One big thing about our process is that it's not a huge time commitment. It's one intense day and has proven effective. Accountability is built in."

Learning not only the Strategic Mindset process, but participating with her fellow owners is "absolutely a huge aspect" of the program for Mainvielle. "Part is the camaraderie. Everybody is in the same boat and doing the same thing--from my mother's driving me crazy to leasing, staffing, and all the other issues."

Her group now arrives the night before the session to have dinner and exchange notes, information, ideas, and progress reports. "It's good to get people's advice, but I didn't think of it to the extent it was going to be," she says. "There are 16 people in my group. I consider them very close business friends I can call any time."

Eldridge agrees. "It's not only the process, but the peers," he says, adding that a lot comes out of the dinner conversations. He even adds an extra hour to the day to allow the franchisees to learn from each other.

"You can view this as a personal strategic retreat, four times a year, to improve the franchisee's business and their life," says Eldridge. "We're helping to enhance their strategic mindset, focus, and results. Real and lasting change comes from a shift in mindset."
The best laid plans...
Having a 90-day plan doesn't ensure the execution of that plan. "I stunk this last session," says Mainvielle. "I didn't get a lot done." That's where the coach comes in to evaluate what happened and help her improve in the coming quarter--and so do her fellow franchisees.

"They ask me, 'What prevented you from doing that?'" says Mainvielle. "There's a lot of accountability from these individuals, and that's nice to have--someone holding me accountable for my own business. If I have to report that back to somebody, I can't lie to myself or procrastinate."

Mainvielle is no stranger to group events where you work on yourself or your business. She says this is different. "It's not like seminars or a workshop where you attend and get a booklet you don't look at for three months. It's definitely a process, and you're growing," she says. "I call it the 'bubble-up effect.' In the one-day retreat, stuff comes up as you're getting information from the presenter and your colleagues about specific topics. The ideas that come out are great--it's the ins and outs, the how-to's that I can focus on."

"Mastering fundamentals creates greatness," says Eldridge. "We're helping to improve business management strategies such as strategic selling, strategic marketing, leadership development, people management, business planning and implementation, and developing strategic systems to name a few."

"It's not flowery, with platitudes and signs on the wall," says Hicks. "You set goals and hold yourself accountable."

When she started, Mainvielle says she had reservations but is glad she stuck with it. "It's setting up processes rather than having to break habits," she says. "I'm not expecting a big 'Oh, that's what I should do!' I'm looking to be coached in doing what I'm already doing better," she says.

Mainvielle opened her first gym in March 2007 and has since bought a resale unit. "I probably wouldn't have had the confidence to buy that second gym without this. I would have been nervous about my ability to manage away from a gym. I don't know if I would have had the confidence to trust my systems and have somebody implement them like I would have."

The program has also helped her in other ways. "I now have good systems in place and good people," she says. "I've hired the better people, and I've fired the ones who were not part of the team because of The Growth Coach as well."

The overarching message, she says, is to work on, not in, her business. However, the 38-year-old Mainvielle is under no illusion that this takes time. "Any new business owner has to be in the business and set the culture," she says. "I work like a dog, but I'm on a path, and now I can see that path."

After completing the eight sessions, graduates can continue with a Strategic Mastery program. Eldridge describes this as a combination of a mastermind roundtable along with coaching and accountability. Again, they create a strategic plan for the next 90 days, with accountability, he says, "but now they're tapping into the power of the group."
ROI--The money thing
"We have no hard data yet," says Hicks. "We won't know the specifics until the pilot program is finished, but I'm absolutely confident we're going to see growth in the gym owners who are involved in it--and the multi-unit owners will become better multi-unit owners," he says.

One reason the jury is still out for him is the 800-pound gorilla everyone is facing right now in trying to evaluate their brand's performance: the economy. "If times were normal," he says, it would be easier to measure any changes. "I don't know how you separate that out."

The cost of the program-who pays how much--is up to the franchisor. At The Little Gym, says Hicks, "There is no cost to us. We try to do it on a break-even basis. We charge the franchisees what our cost is."

"Generally, the franchisor is in a break-even or very low out-of-pocket position," says Eldridge. "We want the franchisee to pay the fee. A financial commitment means a psychological commitment. We want them to have skin in the game."

And despite it sounding like more vendor pitch, it's hard to argue with Eldridge when he says, "The franchisor is in the perfect position: low or no out-of-pocket expense to have a proven process with a professionally trained coach to guide their owners through a process that's proven effective."

Says Hicks, "We do it because it's smart business. The more successful our franchisees are, the more we are." Hard to argue with that, too.
Making the Case
Eldridge says he still faces resistance in making his business case to franchisors. "Until franchisors fully understand how our process works, they may initially feel we are just another training company. We are not trainers or consultants. We are coaches with a proven coaching and accountability process," he says.

"Business coaching does not change the training and support franchisors provide. We are supplemental to the franchisor's ongoing training and support. We are coaching franchisees to 'take ownership' of their success, stop making excuses, and become strategic in their way of thinking and acting," he says. "We have a process to help people become small business owners with big objectives."

Business coaching also helps with franchise retention and recruitment, he says. Franchisors can promote the program to existing, new, and prospective franchisees to differentiate themselves from competing brands.It also builds the value of the business, a plus in pitching an exit strategy to prospects. Before becoming a coach and franchisee, Eldridge was a business broker. He says there are two primary factors in selling a business. The first and obvious is its profitability. "Equally important is going to be what they have to sell: is it a job or an asset? If you had to go work for IBM one hour a week to invest in their stock, you'd buy another," he says."With our process, they are building an asset, with systems and processes in place, without being solely dependent on the owner." He says success stories are starting to roll out as people sell their business. "The value of other franchisees rises, as does the value of the entire system."
E-Myth + E-Source = Growth
This summer, E-Myth Worldwide teamed up with The Entrepreneur's Source (TES) to integrate their 30 years of E-Myth expertise with TES's 24 years as franchise consultant and coach.

"We collaborated to develop a modified E-Myth system designed specifically for the franchise world," says Walter Good, chief business development and strategy officer for E-Myth Worldwide. "I think it will fill a critical void in the franchising marketplace." The program, Franchise Accelerated Success Training (FAST) was rolled out October 1.

The basic premise of the E-Myth is that to succeed in business, an owner must wear--and balance--three hats: entrepreneur (the "E" in E-Myth), manager, and technician. Most businesses fail, according to this theory, because while owners usually are excellent at what they do (technician), they fail to develop themselves as managers and entrepreneurs. FAST seeks to remedy that for franchise systems.

Says Good, "There has been a very strong focus on delivering technical knowledge on running a franchise and how to comply with the system, but a very big piece was missing: how to look at the business as an entrepreneur and a manager, and how to align the business with your vision."

Teaming up with TES Founder Terry Powell and President Brian Miller, says Good, helped refine E-Myth's content around the needs and challenges of the franchise model--and provided immediate access to the franchising world.

"The E-Myth system has been focused on developing managers who have a vision of becoming multi-unit operators, but lack the fluency, skill, and knowledge to build a multi-unit system," says Good. "The existing franchise world is not developing multi-unit operators; they're happening, but they're not being developed in a meaningful way." For that to happen, he says, franchise owners must change how they look at the business and change their role in it. "Without that fundamental shift," he says, "fundamental success cannot take place."
Business Coaching Has Arrived
"The attitude toward business coaching has changed dramatically over the years," and for the better, says Brian Miller, president of The Entrepreneur's Source.

Miller is part of the executive team at FranchisEsource Brands International, which owns three business coaching brands--AdviCoach, The Entrepreneur's Source, and Business Partner Marketing--with 252 units in North America. The company recently teamed up with E-Myth Worldwide to integrate the E-Myth model into its coaching program.

Compared with five years ago, says Dan Murphy, founder of The Growth Coach, with 140 markets in North America, "Business coaching has very much arrived. It's a very credible service."

Business coaching has become big business. In a survey of 5,415 coaches in 73 countries with half of all respondents in the U.S.), the three most popular areas focused on business coaching: leadership 58.1December); executive 57.8December); and business/organizations 53.6December). The ICF Global Coaching Study, conducted in late 2006 by PricewaterhouseCoopers, estimated worldwide revenue generated by the coaching industry at close to Dec1.5 billion, with the U.S. accounting for half of that.

Is there still resistance to the value, even the idea, of business coaching? "Absolutely," says Miller. When he approaches a potential franchise client, he typically hears something like: "I already have a field ops team in place to do that." His job is to convince them that business coaching not only offers something different, but something more--and that it will translate into higher royalties, happier franchisees, and faster system growth.

Murphy says The Growth Coach's clients are small businesses with annual revenues of $5 million or less--95 percent of all businesses in North America. And most of that 95 percent are only beginning to wake up to the benefits of business coaching.

For Murphy, that dawning awareness is resulting in a booming business. System-wide revenues are up 53 percent in the past 12 months, year-to-date revenues 41 percent, and number of clients 59 percent. "Coaching is needed in good times and bad," he says.

Both of these companies are franchises, and for any franchisees interested in getting in on the action, Murphy notes that business coaching has plenty of room for growth. "Eventually, I think business coaching will be common in all franchise systems," he says. "The only question is will it be internal or outsourced."
The Personal Touch
After a successful career in franchise sales at Sylvan Learning Center, where she helped the system grow from 300 to more than 750 units, Flo Schell left her job as vice president of franchise sales to train as a personal and business coach. Today she's come full circle, working with franchisors and franchisees as a coach. In addition to coaching, Schell has written a book, Stop Selling...Start Clicking, to help business owners with selling and growth.

Growth "really is about relationships. In my days at Sylvan, I would talk more about communicating from the heart, talking to people as a human being, rather than just another prospect. When we do that, we're at our best," she says. "It's the same process I used that doubled our franchise system. There's certainly nothing soft about this."

One franchisor she worked with had eight area developers falling behind in their development schedule. "The issue for this company was that the ADs had purchased a larger region they promised to develop, and life was getting in the way. Every single day life will get in the way." She helps them discover ways to rise above the everyday and focus on developing their units and territories.

In addition to her 20-plus years in franchise operations and sales, Schell brings 6 years of training and certification as a coach. "Coaching is helpful because it goes deeper than the conversation you have with your franchisor, because you're protecting yourself there. With a coach, you're much more apt to dig deeper," she says. For her, coaching is a personal experience involving collaboration, interaction, co-creation, and trust. "The one-on-one aspect is ideal because you get to the heart of what's going on."
Business Coaching 101
Tim Shepelak was the original franchisee of The Growth Coach six years ago and today owns four territories in Cincinnati and Northern Kentucky. As a franchisee coaching franchisees, he brings "more of an understanding. I can relate to them at another level." Here are some of his observations on what business coaching is--and is not.
1) What it's not
Consulting--You pay someone to come in to tell you what to do and how to do it. Coaching is a self-discovery and development process. "I look at coaching as helping individuals to change their mindsets and behavior patterns to achieve better results."
Seminars--These usually are one-shot, quick-fix events with no follow-up. You get smart for a day, return to work all fired up for change, and in three days it's back to normal. "We help a person change from the inside out over a period of time, so the changes build, not recede."
Training and support--Franchisors (good ones) provide excellent training and field support to both new and existing franchisees. But the owners still have to run their business. Business coaching supplements franchisor training and support by developing leadership and management skills.
2) What it is
Ongoing--"It's not instant pudding. It's gradual, messy, not linear, and people fall off the wagon. That's why we have a two-year program."
Behavioral-based--"We help owners become more strategic behaviorally. As we go through these processes, they are fundamentally changing. It causes them to focus on the things they need to, and to look at things differently."
Self-discovery--"It's all of their own volition. Most hard-charging, high-performing people with healthy egos don't like to be told what to do. If they discover it themselves, it's the best idea in the world."
Strategic--Franchise owners are hard-working and have a lot of energy, he says, "but they focus it in the wrong places: down the organization, rather than up; internally not externally."
Confidential--What happens in a coaching session stays there. "We're confidential, like an attorney. I tell them that up front. There's a lot of value in that: they can tell me what they can't tell their wife, partners, or franchisor."
Measurable and accountable--Goals are set, tracked, measured, and the coach checks in regularly by phone in to see if those goals are being met--and if not, holds the franchisees accountable.


Business coaching is hard, inner work focused on creating leaders and growing the business. Its results are measured in the bottom line.
Published: January 5th, 2009
Share this Feature
Recommended Reading:
Comments:
comments powered by

Disqus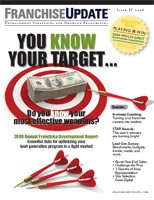 Franchise Update Magazine: Issue 4, 2008
Clayton Kendall provides franchise communities nationwide with comprehensive branded merchandise programs leading to greater brand exposure,...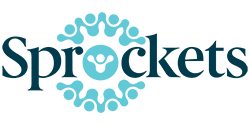 Sprockets is an AI-powered platform that helps franchisees maintain healthy staffing levels and improve employee retention. Our sophisticated...