Concentrated Intelligence: Highlights from the 2013 AFDR
The 2013 Annual Franchise Development Report (AFDR) is the comprehensive research guide to sales and lead generation performance in franchise recruitment. Each year the report digs deep into industry categories, investment levels, and recruitment budgets; provides marketing costs information; reports the top-producing sales and lead sources; reveals performance evaluations of franchise websites and follow-up to prospect inquiries; and analyzes current and historical industry growth trends.
This 150-page report provides a unique aggregation of data and analysis from more than 100 franchisors that can help you accelerate your system growth, increase selling performance, and make smarter, more cost-effective advertising and marketing decisions.
The Internet continues to dominate as the primary source of franchise leads (more than half of all leads). But as a sales producer, this year the data shifted the light away from franchisee referrals (tops last year) and back to the Internet. Referrals remain a solid sales producer at 32 percent, but the Internet was back in the top spot this year with a 42 percent share of sales.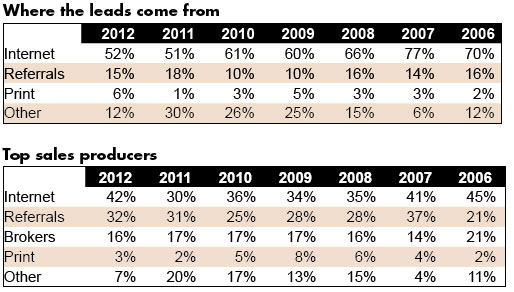 Also of note in this year's report, the number of franchisors offering incentives to franchisees for referrals dropped slightly from the previous year, with six of 10 (61 percent) respondents offering some type of incentive to franchisees for prospects who sign up, down slightly from 67 percent the year before. The median referral fee of $3,500 remained about the same as 2011.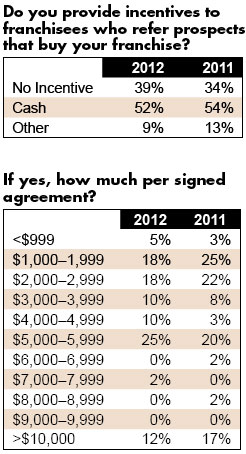 We continually seek ways to further raise franchisor awareness of development standards, and to create additional benchmarks that will continue the evolution of best practices in franchise recruitment. We welcome your comments--and participation--to help us better shape next year's report. To participate in the 2014 AFDR, contact Therese Thilgen at thereset@franchiseupdatemedia.com. All data is aggregated and kept confidential.
Note: The results of the 2013 Annual Franchise Development Report were collected and analyzed in late August and September 2012, using data gathered on sales and recruitment practices from 106 franchisors representing 43,497 units (34,566 franchised and 8,931 company-owned).
To learn more about the 2013 AFDR and to order a copy, click here.
Published: March 6th, 2013
Share this Feature
Recommended Reading:
Comments:
comments powered by

Disqus
Qiigo unifies digital marketing for national brands and their locations, building brand unity and success helping businesses get found locally....
Sociallybuzz, founded in 2009, is the #1 Social Media Marketing Agency to help franchisors and franchisees increase their revenues, drive sales, and...