Consumer Marketing News, Views, and Reviews: November 23, 2021
Welcome back to our monthly news roundup for franchise consumer marketers! Despite concerns of a possible double-whammy of the seasonal flu and a winter rebound of the pandemic, here come the holidays – and consumers are shopping like mad, both in person and online. And while there's currently a kink in the supply chain causing shortages of some items, predictions for a bumper crop of consumer spending predominate. Here's the latest on what's happening now – and what's likely to come for franchise consumer marketers this season.
MARKETING/CUSTOMER EXPERIENCE
The Future Belongs to the CMO with a Long-Term View
2021 State of Reviews (32-page e-book)
Practicing Media Hygiene in the Face of the Anxiety Pandemic
24 Media Plans of the Year that Cut Through the Noise
Using Contextual Targeting To Gain Immediately Actionable Insights
The New Rules Ahead for Streaming TV Advertising (White Paper)
How QSRs Are Seizing CTV Opportunities To Drive Growth
Kroger's Supermarkets New Service Offers Its First-Party Data to Advertisers
B2C Brands Are Investing in Social Commerce – and Succeeding (Study)
Loyalty Members' Checks in 2020 Were 6% More than Non-Members' (Paytronix)
Starbucks Boosts Rewards for Patrons, Employees in Tight Labor Market
Instagram Adds New Data Analytics To Provide More Performance Insight for Marketers
REOPENING & RECOVERY
National Retail Federation Predicts Highest Holiday Sales on Record
Study Finds NYC's Vaccine Mandate Has Been a Disaster for Restaurants
Proof of Vaccination Mandates Begins for Restaurants & Bars in Los Angeles
DC Mayor To Lift Indoor Mask Mandate, in Place Since July
5 Key Retail Trends for 2022 (Forrester)
Sweetgreen's Newest NYC Location Will Have No Indoor Dining
East Coast Wings + Grill Develops Fast Casual Model for New Market Franchise Expansion
TECHNOLOGY
Digital Sales Grow at Yum Brands, Accounting for Nearly 40% of Q3 Sales
C3 Launches Robot Delivery in Los Angeles Using Bots from Coco
OPERATIONS
Drive-Thru Continues To Pace QSR Recovery
Is Co-Branding Making a Comeback in Restaurant Franchising?
McDonald's Is Renegotiating Its Deals with Delivery Providers
LEADERSHIP
Spanx CEO Surprises Employees with 2 First-Class Plane Tickets and $10,000
FRANCHISING CARES
Papa John's Shaq-a-Roni Pizza with a Purpose Raises More than $3 Million
Published: November 23rd, 2021
Share this Feature
Recommended Reading:
Comments:
comments powered by

Disqus
Bring Order to Your Business. All-in-one management, print, and design solutions at your fingertips, on one platform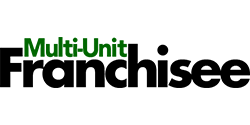 Published quarterly, Multi-Unit Franchisee Magazine is dedicated exclusively to Multi-Unit Franchisees. It delivers vital information and business...