Dickey's Barbecue Pit: New Chief Brand Officer Talks Development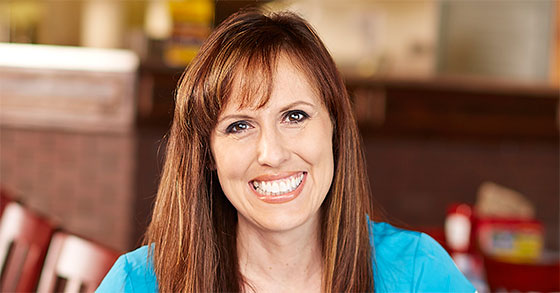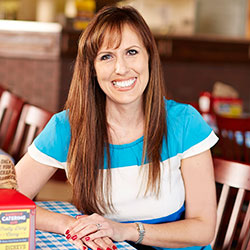 Christie Finley, chief brand officer at Dickey's Barbecue Pit, brings vision, drive, and creativity to the nation's largest barbecue brand, with more than 400 locations in 42 states. Finley says she's focused on "the basics done right," and on promoting the brand's core values of heritage, innovation, and craftmasnship. She previously led the strategic development and implementation of advertising and marketing campaigns at a diverse range of consumer and B2B brands, in both corporate and agency roles. Her experience will come in handy as the Dallas-based brand begins aggressively expanding to the West: Dickey's recently signed a 100-unit deal in California and has its sights set on Washington and Oregon.
Describe your role as CBO.
I own the brand experience and I don't take that charge lightly. This is a 73-year-old-brand, and brand loyalists and barbecue fanatics have grown up with Dickey's Barbecue Pit in heritage markets. Guests relate to the family-owned brand and the craftsmanship that comes with passing down recipes from generation to generation. In this newly created position, I will be guiding the overall brand direction cross-functionally, allowing it to continue energized expansion while expanding into new markets.
What are the 3 most important keys to being an effective brand leader today?
Balancing discipline and creativity. Creativity and accountability are never separated in marketing success.
Empathy. Understanding the voice of our guest is at the core of creating a relevant brand. We have to be very insightful about who we are and what we mean to our guests. 3) Zooming in and zooming out. The ability to understand the levers that affect business results, while also being able to see the bigger picture of the entire business strategy, is vital to success.
How do you measure marketing results and effectiveness?
We are a very goal-oriented company. What gets measured gets managed. Everyone has a metric and everyone has a goal. We have an entire whiteboard wall in our marketing department dedicated to daily and weekly goals for all sales and marketing channels, from business segments and social media to web traffic and public relations. We hit goals - period. Marketing is all about results and effectiveness.
Describe your marketing team and the role each plays.
Our marketing department operates as an in-house advertising agency. We have a creative team, social media, public relations, community marketing, web content, and media buyers on site to optimize the brand experience at every touch point. Our in-house team has extensive knowledge of the fast-casual industry, while taking into account the unique culture of barbecue when creating communications. Our owner/operators appreciate our in-house team as brand stewards and experts in brand marketing efforts. Having these in-house capabilities allows us greater flexibility and gives us the ability to turn projects around quickly with cost efficiencies, and most important, a high level of creative deliverables that produce marketing results.
Why is it so important for the marketing department to have a "personal touch" when it comes to helping the brand connect with franchise prospects?
Buying a franchise is a very personal commitment. Our franchise owners are entrepreneurs taking the leap to own their own business. Many times a potential franchise owner is investing funds they have saved over a lifetime. When they decide to buy a Dickey's Barbecue franchise, they are putting their trust in us and our commitment to providing tools to help them become successful. The Dickey family takes pride in providing an exciting franchise opportunity and looks for potential owner-operators who share their passion for the art of great barbecue.
How does this help your franchise sales and development effort?
We believe in taking a personal approach with potential franchise owners. This means getting to know their goals and lifestyles. Our development group really takes the time to explain the history of Dickey's Barbecue, franchise opportunities, and set expectations. The brand offers low start-up costs, multiple revenue streams, and an expert support team for franchise owners. We also have an extensive training program at Barbecue University, where we drill down on our approach to quality, authentic barbecue, and guest focus. In addition, our construction and real estate departments are here to assist franchise owners in site selection, lease negotiation, design, permitting, and equipment procurement. As a nationally established brand, Dickey's offers more than 73 years of restaurant knowledge and a team of experts to coach franchise owners through the opening experience.
Do today's prospects expect more from the franchise marketing department?
What, and how do you provide it? I'm not sure if it is a prospect's expectation, but it is our standard. We provide our franchise owners the same level of service they would expect from an advertising agency. They want transparency about the marketing support they are receiving, and we provide it in multiple formats from quarterly snapshots to newsletter content to training videos. We bring years of marketing experience to support the brand, providing strategic forethought, planning, and feedback loops to ensure all touch points are covered.
Published: August 7th, 2014
Share this Feature
Recommended Reading:
Comments:
comments powered by

Disqus
Clayton Kendall provides franchise communities nationwide with comprehensive branded merchandise programs leading to greater brand exposure,...
UMI has over 23 years of experience supporting fast-growing multi-unit brands. From strategic planning to design, execution to analysis, UMI...