Franchise Development in 2014: Show Candidates You "Get" Online
Online reviews, smartphones, and social media are not passing fads. Can they be useful to your franchise recruiting and development efforts? Or are these things just distractions from the true work of sales and recruiting, and best left to the marketing department?
We believe that effective management of your online presence, including social media, is a critical component of your franchise development strategy. Why? Because there is no better way to illustrate that your organization knows how to get found and manage customers at the local level, where it really counts.
Gathering customer insight has traditionally been a marketing function, but your franchise development team cannot afford to be out of the loop in regard to socially driven customer intelligence. Look at it this way: The cash register is one stream of data, but there are many other data streams you can leverage to improve your franchise recruiting and provide your candidates with certainty that you "get" today's consumer.
The most prominent of these data streams are the online reviews that are now available to everyone through Yelp, Google, Facebook, Angie's List, and many other sources. Being able to see and understand what your customers think about your products, services, and employees at the local level is the ultimate leg up for successful development - if you put this data to use.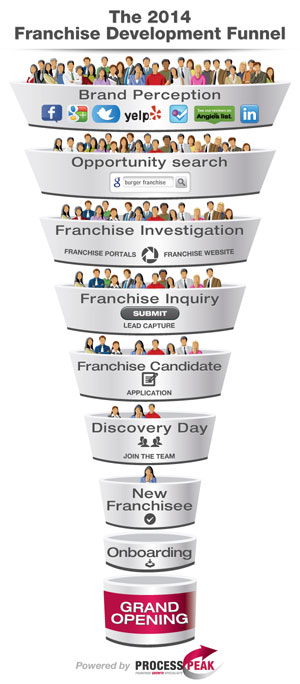 According to the 2013 Nielsen Global Trust in Advertising Survey, online reviews rank third for trust, behind only personal references and branded sites. The Nielsen survey also found that 84 percent say they are likely to take action on recommendations from people they know, followed by consumer opinions posted online (70 percent), ads served in search engine results (57 percent), and ads on social networks (55 percent).
Successful franchise development hinges on proactive validation; what a candidate discovers before completing your lead generation form.
We are witnessing a massive shift in consumer buying behavior. The smartphone is a recommendation engine that everyone is carrying in their pocket. Sure, but what does this have to do with recruiting franchisees? Well, would you rather buy a two-star cupcake or a five-star cupcake? The same logic applies when people are shopping for franchises.
Branding and advertising are customer-focused functions that belong to the marketing department. But your candidates are watching, too. They notice if your brand is connecting and engaging with prospective customers. And to do that and compete effectively, your brand must now be prepared to:
Optimize local directories - to get found
Monitor reviews at the local level - to be in the know
Respond appropriately - to illustrate you care
Leverage customer insights throughout your organization
Illustrate to candidates you know what it takes to be successful in 2014
When your brand executes well on these five bullets, your candidates see that and know that: 1) you're going to help them connect with prospective customers in their location, and 2) that you do other things right, too.
If you want to be seen as a brand on the move in 2014, then show up as one. Demonstrate to your customers and candidates that your brand gets it.
Tim Johnson is president of Process Peak, based in Carlsbad, Calif. For a complimentary "Franchise Funnel Analysis" that compares your brand's local online presences with the online franchise development efforts of more than 200 other brands, contact him at 760-720-5354 or info@processpeak.com.
Published: February 4th, 2014
Share this Feature
Recommended Reading:
Comments:
comments powered by

Disqus
Sociallybuzz, founded in 2009, is the #1 Social Media Marketing Agency to help franchisors and franchisees increase their revenues, drive sales, and...
The Titus Center for Franchising, one of Palm Beach Atlantic's Centers of Excellence, offers a concentration in franchising to business students.