Maximizing the Benefits of Your Franchisee Convention
Part 1 of this three-part series addressed how to improve attendance at your franchisee convention. In part two, we discuss how you can make your franchisee convention an event that provides the maximum benefit to your franchisees. As with part one, we use results gleaned from an online survey conducted by Speak!, Ingage Consulting, and Franchise Business Review, which drew responses from nearly 200 franchisors.
There is no better advertisement or promotion of your convention than having a top-quality event. "Your annual meeting can have a tremendously positive effect on a franchisee's productivity, profitability, and passion for the brand," says Katrina Mitchell, CEO of Speak!
When you have a winning event, the franchisees who attended not only put it on their calendar as a must-attend for next year, they pass that feedback on to other franchisees who did not attend, and to new franchisees. But how do you find the right mix of speakers, networking, vendors and other intangibles to make your convention a winning event for all involved?
Length. One factor not to be underestimated is the length of your convention. While this can be a determining factor in whether or not franchisees attend, it also can affect the benefits franchisees take away. Even the most attentive listener can be overwhelmed by too much information presented within the relatively short time span of a conference. Information overload can detract from the core message you want to get across and, worse, leave attendees wondering what it was they heard.
Fortunately, according to our survey, most franchisors understand, or are sensitive to, the importance of having a convention that is not too long, at least from a calendar perspective. According to those surveyed, 80 percent said their convention was three days or shorter.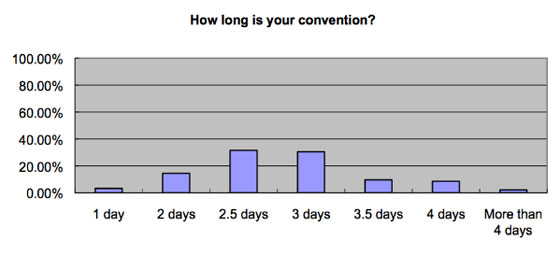 Agenda. While creating a convention that minimizes time away from the home office is important, the most critical element of a convention is the agenda. According to franchisors who have surveyed their systems pre-conference, franchisees expect the following from their convention, in order of importance:
Time to network with their peers (25.82%)
Business skills training from expert outside presenters (20.33%)
An open forum to exchange concerns, ideas, and suggestions with the corporate team (20.33%)
Training on new systems and products (14.84%)
Updates from the corporate office (10.44%)
With this in mind, your event should have an agenda that's at least 50 percent interactive, with networking opportunities, group activities, Q&A sessions, and other activities that promote discussion of the core messages you want to get across. Most important, while you want to have high-quality content throughout the event, hold back the highest-quality material for the end of the conference. This will give attendees a reason to stay for the entire event. Also, if you spread out the high-quality content, it makes it easier for attendees to absorb the material.
Speakers, experts, and presenters. Survey respondents indicated their organizations value what professional speakers and outside experts bring to their conferences. While the higher percentage of respondents admitted to having no budget for external speakers, nearly 75 percent allotted some conference budget for speakers. Says Mitchell, "Selecting the right speakers to kick off and close your meeting might just be the most important marketing decisions of the year."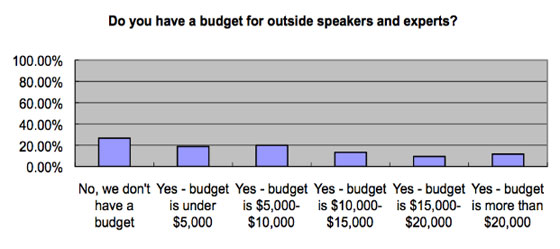 Education, training, and networking. Whether you have a high-priced keynote speaker or not, you still want to give your franchisees the convention experience while incorporating educational, training and networking opportunities into the program. Here are some things you can work into your franchisee conference to ensure attendees are getting what they want out of the experience, while ensuring that your core messages and themes come across:

Focus your key messages. Narrow the core messages of your conference to three key points or fewer. Activities and speakers over the course of the conference should reinforce those points. Avoid the trap of trying to communicate too much. Delivering too many messages almost always assures poor communication.
Improve networking opportunities. Include team-building activities as part of formal networking sessions. This can include group or table discussions after each speaker to review key points and help develop an action plan for attendees to take home from the conference.
Orientation session for new franchisees. This kind of session not only makes new franchisees feel more at ease, it also forges relationships with other new franchisees that can be invaluable both personally and as a resource to each other and to more senior franchisees and councils.
Buddy system for new franchisees. Pair up veteran franchisees with new franchisees at the conference in a buddy system. While this is not necessarily for formal mentoring, it will help break the ice for new franchisees.
Include more meals. Meals are an excellent time for networking, and a great way for management to spend quality time with the franchisees.
Involve your franchisees. Great motivational speakers are important to conference success, but sitting in a chair listening to others talk all day can wear out even the most attentive franchisee. You want attendees actively participating at least 50 percent of the time.
Give suppliers and vendors a larger role in the event. Franchisees like spending time visiting with suppliers and learning about what is new. Encourage vendors and suppliers to have special offers that are available only at the conference. Better yet, encourage them to save the best deals for the last day!
Action plans. Send franchisees home with an action plan - an actual physical document that they create - and can begin implementing the minute they get back.
In the final installment of this three-part series, we will look at how you can extend the life of your convention and ensure that you - and your franchisees - get the maximum benefit from your conventions.
---
Evan Hackel is the principal and founder of Ingage Consulting. He has 25 years of franchise experience having developed, implemented, and managed three successful new franchise systems. He can be reached at (781) 569-5900 or ehackel@ingageconsulting.com.
Published: August 1st, 2012
Share this Feature
Recommended Reading:
Comments:
comments powered by

Disqus
Bring Order to Your Business. All-in-one management, print, and design solutions at your fingertips, on one platform
Hub by Thryv is an end-to-end client experience platform custom-built for franchises. Its ready-to-use business apps help franchisees view their...