Schlotzsky's: How Marketing Supports Franchisee Recruitment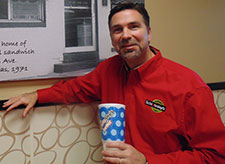 As CMO at Austin-based Schlotzsky's since January 2014, Mark Mears oversees the direction of the brand's marketing division, including the strategic management of its marketing and creative services departments, along with directing brand promotions, advertising, creative design, menu tests, and other initiatives. With nearly three decades of experience in QSR, fast casual, casual, and premium casual, he has a track record of building system value and driving innovation at high-profile brands. Schlotzsky's now has more than 350 locations worldwide, with plans for aggressive growth this year and beyond.
Describe your role as CMO.
I am the steward of the Schlotzsky's brand, a passionate advocate for the brand in relation to everything that touches our guests - including high-level strategic thought leadership, marketing calendar development/execution, culinary/menu research and development, mass/micro media, digital/social media and web/mobile interactivity, publicity/corporate communication, franchise and guest relations, and local restaurant/field marketing activities. Overall, my role is to work closely with our franchise partners to deliver a remarkable guest experience that leads to incremental, profitable sales growth.
Describe your marketing team and the role each plays.
I am blessed to work with a very talented, experienced, and dynamic in-house marketing, communication, and creative services team that works together to achieve our brand-building and sales-building goals. We do this by integrating several marketing disciplines, including strategic planning, consumer research and insights, menu research and development, creative design and production, field marketing and media planning, digital/social media and web interactivity, co-brand marketing, local restaurant marketing, and both franchise and guest relations. We work collaboratively as a team to ensure the best idea wins and is well executed in the marketplace so our franchise partners maximize the value of their investment in our brand.
Why is it so important for the marketing department to have a "personal touch" when it comes to helping the brand connect with prospects?
Quite often, the decision on which brand a prospective franchise partner chooses to invest in is based not only on their financial considerations, but also their perceived "fit" with key members of their support team. They want to see our level of personal passion for the brand and its success, demonstrating that we too have skin in the game.
How does this help your franchise development effort?
By bringing the Schlotzsky's brand to life in a small, intimate setting, we can help a prospective franchise partner envision themself being part of our success story. This supports the efforts of our business development teams in answering key questions about the brand that lead to closing a sales agreement.
What ways or tools do you rely on to do this?
Members of the executive team have dinner with prospective franchise partners the night before a 1- to 2-day presentation. This allows us to know one another on a personal level, while also determining whether or not Schlotzsky's is the right fit for both parties. We want to bring in only those franchise partners who will enrich our unique culture, uphold our brand standards, and help us reach our mutual growth objectives.
Do today's prospects expect more from the franchise marketing department? What, and how do you provide it?
Yes, and they most certainly should, given that most, if not all, of our franchise partners have invested their life's savings into our brand. As a result, it is incumbent upon us to help them maximize their return on their investment, treating every single dollar we spend as if it were our own money. We would not have jobs if it were not for the contributions of our franchise partners to our ad fund. We provide all our franchise partners with a comprehensive and integrated support team consisting of both a corporate support center and field marketing representatives, and we have a calendar of national and local marketing programs designed to stimulate profitable sales growth.
How is technology changing the way franchise marketing is done in terms of one-on-one contact?
We use a digital communications suite to ensure our franchise partners are kept updated in real time with news and information, as well as with tools and training techniques to execute key programs and initiatives to help maximize their business growth potential.
How are you assisting your existing franchisees with more contact and transparency? What are their immediate needs?
We very much value the experience and ideas of our franchise partners and have established various forums to ensure close contact and transparency in every way. Our Franchise Advisory Council is composed of elected franchise partners who meet in person four times a year. Specific subcommittees are formed to address key issues, and those groups participate in monthly conference calls. All franchise partners are invited to attend a biannual convention or series of regional road shows that alternate each year.
Published: July 15th, 2014
Share this Feature
Recommended Reading:
Comments:
comments powered by

Disqus
Tiger Pistol, the world's leading collaborative advertising platform, connects the power of brands with the knowledge and credibility of their...
From lead generation to increasing sales, Hot Dish Advertising is the pro at getting your message in front of those who matter most--consumers...