Smokin' the Competition: Dickey's Barbecue Pit Preps for Growth With A New CBO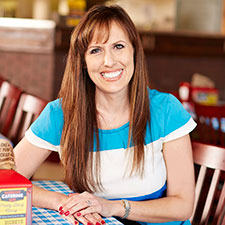 Texas-born and bred Dickey's Barbecue Pit is looking to expand. That's partly why executives of the family-owned brand recently created a new position - chief brand officer - and called on a fellow Texan to market that message and help build greater brand awareness nationwide.
Christie Finley brings vision, drive, and creativity to the nation's largest barbecue brand, which has more than 400 locations in 42 states. Finley says she's focused on "the basics done right," and on promoting the brand's core values of heritage, innovation, and craftmasnship.
As chief brand officer, Finley oversees all traditional marketing efforts of the brand, which is well-known in Texas for its big, bright yellow cups and savory, smoky barbecue. She says the brand relies on a multi-channel approach for creating awareness and driving customers in - and keeping them coming back time after time.
Finley previously led the strategic development and implementation of advertising and marketing campaigns at a diverse range of consumer and B2B brands, in both corporate and agency roles. Her experience is going to come in handy as the Dallas-based brand begins aggressively expanding to the west. Dickey's recently signed a 100-unit deal in California and has its sights set on Washington and Oregon.
The challenge right now for Finley is creating a consistent experience that crosses regional boundaries, and getting it to cacth fire in new territories where customers are not as familiar with the legacy brand. She says Dickey's quality and authenticity will be the perfect cornerstones to build the brand outside the Lone Star State.
"Our goal is to create brand loyalists," she says. "When you love your loyalists, they do the talking for you. This includes guests, our franchise owners, and even employees at the corporate office."
Describe your role as CBO.
I own the brand experience and I don't take that charge lightly. This is a 73-year-old-brand, and brand loyalists and barbecue fanatics have grown up with Dickey's Barbecue in heritage markets. Guests relate to the family-owned brand and the craftsmanship that comes with passing down recipes from generation to generation. In this newly created position, I will be guiding the overall brand direction cross-functionally, allowing it to continue energized expansion while expanding into new markets.
What's unique about the CBO position at Dickey's?
Dickey's Barbecue has been family owned and operated since 1941, which gives us a powerful brand story to share while keeping it relevant for new audiences. We are doing something that has never been done in the restaurant industry by taking barbecue to a national audience. This requires a certain degree of educating our consumers on the artisanal tradition of the brand and handcrafted nature of our product line. Our vision is to ensure that the brand is represented across the entire system, and that it transcends the "function" of marketing.
What's the most challenging part of being a CBO today?
Moving an entire franchise system behind one unified vision is an exciting challenge. Our entire system must be laser-focused on creating a consistent consumer experience that is reflective of our brand promise. The guest experience in California must be the same as the experience in New York and Texas. From the rustic design of our restaurants to the wood-fire smell from the smoker to the music playing in the background - it all sets the tone for our guests. Our brand must be consistent at every touch point.
What are the 3 most important keys to being an effective CBO leader today?
Balancing discipline and creativity; creativity and accountability are never separated in marketing success.
Empathy; understanding the voice of our guest is at the core of creating a relevant brand. We have to be very insightful about who we are and what we mean to our guests. 3) Zooming in and zooming out. The ability to understand the levers that affect business results, while also being able to see the bigger picture of the entire business strategy, is vital to success.
How do you prepare a marketing plan and execute the strategies?
I'm thrilled to join an organization that is so passionate about investing in and building a truly differentiated brand experience. In today's fast-paced, quick-serve environment, creating a relevant brand takes strategy and innovation. Preparing an effective marketing plan requires understanding our guests and focusing on the basics done right.
How do you measure marketing results and effectiveness?
We are a very goal-oriented company. What gets measured gets managed. Everyone has a metric and everyone has a goal. We have an entire whiteboard wall in our marketing department dedicated to daily and weekly goals for all sales and marketing channels, from business segments and social media to web traffic and public relations. We hit goals - period. Marketing is all about results and effectiveness.
Discuss your core consumer marketing strategies and objectives.
We use an integrated multi-channel approach to raise brand awareness and create preference. Dickey's core values - heritage, innovation, and craftsmanship - are represented in everything we do and across every marketing touch point. We are constantly testing, learning, and optimizing. The key is to stay flexible. We look at metrics daily, and information is available to allow us to continually improve. Our goal is to create brand loyalists. When you love your loyalists, they do the talking for you. This includes guests, our franchise owners, and even employees at the corporate office.
How do you go about creating a "customer-centric" marketing and brand philosophy?
Creating a successful brand is about knowing what makes your customers tick and being able to create that experience every time. Today's consumer relates to brands that are authentic, straightforward, and genuine in their approach. Dickey's Barbecue is recognized around the country, but when you walk into our stores it feels like a local barbecue joint. We know it's the details that make guests feel good about dining with us, and it's also what will keep them coming back. Consumers have more and more control over how they engage with a brand, which puts the onus on us as brand agents to stay relevant and listen to our guests. In Texas we have customers who already have a very strong emotional connection with our brand. As we expand into new markets, we aim to continue that two-way conversation through social media and loyalty programs.
Describe your marketing team and the role each plays.
Our marketing department operates as an in-house advertising agency. We have a creative team, social media, public relations, community marketing, web content, and media buyers on site to optimize the brand experience at every touch point. Our in-house team has extensive knowledge of the fast-casual industry, while taking into account the unique culture of barbecue when creating communications. Our owner/operators appreciate our in-house team as brand stewards and experts in brand marketing efforts. Having these in-house capabilities allows us greater flexibility and gives us the ability to turn projects around quickly with cost efficiencies, and most important, a high level of creative deliverables that produce marketing results.
What advice would you offer to aspiring CBO/CMO executives?
If you had asked me 5 or 10 years ago, I would have said being a CBO was the last thing on my career "to do list." I have an innate sense of curiosity. I love to dig deep, uncover insights, and then understand how those insights affect and shape a brand. Creativity and innovation drive me, and I like to roll up my sleeves and get my hands dirty. I am fortunate enough to be part of a brand that's built on passion, creativity, and innovation. I'm thrilled with the opportunity to lead the brand into the next generation.
Published: July 22nd, 2014
Share this Feature
Recommended Reading:
Comments:
comments powered by

Disqus
Conferences
InterContinental, Atlanta
OCT 18-20TH, 2023
From lead generation to increasing sales, Hot Dish Advertising is the pro at getting your message in front of those who matter most--consumers...
Support your multi-location brands and empower users. OneTouchPoint integrates localized marketing services and comprehensive brand management...