Social Media Roundup: October 10, 2017
Virtual Reality: Why Forward-Thinking CMOs Are Already Testing It
Virtual reality (VR) is getting more real every day as new uses for it are discovered and tested. One of those new uses is in advertising, according to an interview with Abigail Posner, head of strategic planning at Zoo, the creative think tank at Google. In an interview with Drew Neisser, founder of New York-based marketing agency Renegade, she discussed findings from a study she conducted on VR 180- and 360-degree video. Here are a few excerpts from her answers to give you an idea of what may be coming to an advertising campaign near you - perhaps as near as your own. For the full interview, see the Q&A on AdAge.com.
"The one thing [marketers] always want, especially CMOs, is people to connect with their brand. They want people to see the meaning of their brand, the value of their brand."
"With VR, you're getting to the essence of the brand, the essence of the meaning. What we're really doing is allowing CMOs to move from messaging to meaning-making with their brands, which is ultimately what they want."
This is not about story telling. It's about story living. Because, from the second you put whatever that headset is on, you are totally immersed in this experience."
"You jump into this experience. You are totally absorbed. What marketer is not going to want somebody totally absorbed in their brand? Nothing distracting them. And what happens is their brains go into this different mode."
"Because the whole narrative frame is broken, because all the expectations of what a story should be is broken, all of a sudden our minds are open. And what marketer wouldn't want an open mind regarding their brand and their category? That puts us into a totally different state. What happens in the end is that we have a very different type of experience where we get to the essence of this place or space or person."
A final note from Neisser: With VR expected to grow from 22.4 million users this year to 49.2 million in 2019, he advises CMOs to start testing it now - especially since it will take some time to get a master this new form of storytelling - that is, story living.
Search Ad Spending: The Shift from Desktop to Mobile Goes On
It's shouldn't come as news for consumer marketers that more of their search ad spending is going to mobile devices and less to desktops and laptops. A new report from eMarketer, "Search Marketing 2017: Marketers Seek Out Consumer Intent as Device Habits Evolve," puts some numbers on that, including the following:
An estimated 71.5% of the U.S. population will execute search queries online at least once a month in 2017, which translates to 85% of Internet users.
Searching on smartphones has become the norm among consumers in recent years: almost 3 in 5 will do so regularly this year, up from less than half as recently as 2015.
In 2016, almost two-thirds of U.S. search ad dollars went toward mobile placements. Mobile's share is expected to reach 70% this year, and by the end of 2021 will approach 80%.
Mobile search ad spending is expected to rise nearly 25% this year, as spending on desktop- and laptop-based searches declines.
A final observation from eMarketer: Keyword targeting remains the basis of search advertising, but search marketers are turning to additional targeting options that include demographics, location, and sophisticated forms of audience targeting.
The article also includes an 18-minute podcast on new trends in search marketing.
There's No Such Thing as Too Much Email (What?!)
In 2017, everybody knows email is annoying. That is, except for Dela Quist, CEO of Alchemy Worx, a global email marketing firm. Quist did some deep research into email and came up with some contrarian conclusions, or at least interesting ones, according to an article by Lissa Harris in Entrepreneur. Here's one to whet your email whistle:
"Receiving an email is a primary driver of sales," says Quist. "People who don't open emails are significantly more likely to buy than people who don't get the email at all." So, even if the email is nuked on sight, he asserts there's a positive afterglow. Want more?
"What we found was, no matter what we did, more email generated more revenue. You could not stop that happening," Quist says. As Harrison notes, according to Quist, nothing is likely to make you more money than sending another email. However, in a world of heavily over-spammed email recipients, it's easy to find a sizable few who might disagree. But Quist claims his conclusions are based on data, following years of in-depth research.
Bottom line, writes Harrison? "Don't worry about annoying your customers. The data says they don't hate email."
Taco Chic for Gen Z: Taco Bell and Forever 21 Partner on Clothing Line
It's not as committed as tattooing a brand's name on your forehead for a pile of money or free food for life, or even wrapping your vehicle in a brand's colors and logo, but starting tomorrow, October 11, you can wear your favorite brand on your clothing - provided your favorite brand is Taco Bell. The ubiquitous taco brand has joined with teen clothing purveyor Forever 21 for a new line of clothing and accessories: bodysuits, cropped hoodies, sweatshirts, anoraks, and graphic tees, according to an article on Eater.com. The target of this wear-what-you-eat campaign is Generation Z.
Published: October 8th, 2017
Share this Feature
Recommended Reading:
Comments:
comments powered by

Disqus
UMI has over 23 years of experience supporting fast-growing multi-unit brands. From strategic planning to design, execution to analysis, UMI...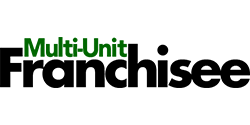 Published quarterly, Multi-Unit Franchisee Magazine is dedicated exclusively to Multi-Unit Franchisees. It delivers vital information and business...