STAR Award Winners Tell How They Do It
Each year, in advance of Franchise Update's Leadership & Development Conference, mystery shoppers pose as qualified prospects on the phone and online, contacting franchise sales departments at companies that pre-registered for the conference to evaluate how they perform. Scoring 152 registered companies on telephone response to prospects, and 127 franchisors on recruitment websites and response to website prospects, mystery shoppers judged how well--and how quickly --franchise sales and development staff replied to inquiries. In addition, online experts evaluated franchisors' recruitment websites and their use of social media.
The resulting STAR Awards (Speaking To And Responding) were presented at a special dinner during the annual Franchise Update Leadership & Development Conference, which took place from Oct. 9-11 in Atlanta. These two STAR Award winners came in second in the Best Overall Performance and Best Franchisee Satisfaction Performance categories. For the full list of winners, see Franchise Update's fourth quarter issue (available online soon).
Wild Birds Unlimited
Best Overall Performance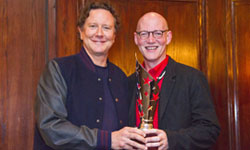 It's no surprise that Wild Birds Unlimited was recognized for a Best Overall Performance award. The brand has happy franchisees, happy customers, and a great product to sell, says Paul Pickett, vice president of franchise development. "We attract a bird-feeding hobby enthusiast, so they're already interested in the hobby and want to turn that interest and focus into a business enterprise," he says. "It's a sustainable business that can grow and become a wonderful asset."
Wild Birds, which opened in 1981 and became the original backyard bird-feeding franchise when it began awarding franchises in 1983, is 100 percent franchised with 284 units. "So obviously, our franchisees are very, very important to us," says Pickett. "They are our local experts in their communities and in franchising in general. They use our concepts, tools, and practices in their own markets and share our mission of bringing nature and people together and doing it with excellence."
Pickett, who studied ornithology in college, says that Wild Birds' culture of communication helps ensure that a "satisfied and happy group of franchisees are meeting their professional and financial goals and using our support to do that." The company has a dedicated email system that enables franchisees to communicate with each other, share good ideas, and get questions answered, he says. "We want to make sure every hobbyist and franchisee is blown away by the level of support, education, connection, and commitment Wild Birds offers."
Ensuring a win for all stakeholders sometimes means it's also about the birds, he says. "Ultimately, the final users of most of our products are birds. So whenever we introduce a new product or new marketing plan, the birds have to like it, the customers have to like it, and the franchisees have to be happy with the marketing materials, inventory assortment, and guidelines we provide."
Kona Ice
Best Franchisee Satisfaction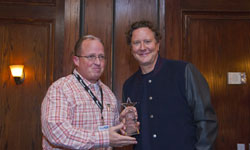 Tony Lamb, founder and CEO of Kona Ice, with its "upscale ice cream trucks and clean, cheerful drivers," says there's no other award that pleases him more than a STAR Award for franchisee satisfaction. "Every policy and program we implement, we do with franchisee benefit in mind," he says. "We take a flat royalty, so the relationship between the franchisor and the franchisee is not adversarial. We're not pushing them to get higher revenues so we can make more money. It truly is a partnership."
Lamb likens the franchisor/franchisee relationship to a marriage. "In both instances, it's all about expectations. I talk to every single franchisee and candidate about what their expectations are and tell them what mine are, as well. That way, everybody has all the information," he says. "I also ask them, 'Are you going to be happy doing this in a year? In two years?' Because what's exciting when it's new may not be as much when the day-to-day challenges set in."
He's most proud of the fact that, because Kona Ice, which started franchising in 2008, charges a flat annual royalty, franchisees can choose to work only three or four days a week, while others are pushing for every milestone they can. "And each of these types of franchisee is equally happy," he says.
Lamb also credits that satisfaction to regular, positive communication, including newsletters, conference calls, and webinars. "We even invite our franchisees to talk with other franchisees, which is something that would terrify some franchisors," he says.
In the end, it doesn't hurt that Kona Ice is a fun business, he says. "We sell sugar to kids and help organizations that need it. What could be better than that?"
Published: November 6th, 2013
Share this Feature
Recommended Reading:
Comments:
comments powered by

Disqus
Premium Services
Clayton Kendall
Clayton Kendall provides franchise communities nationwide with...

Xivic
XIVIC IS YOUR FRANCHISE DIGITAL PARTNER. Empower your customers. Build...

ApplePie Capital
ApplePie Capital provides a fresh new approach to franchise financing that...

AXIS Integrated
With over 25 years of experience in the franchise industry, AXIS...

Naranga
Naranga, a comprehensive franchise technology provider, delivers software...

FranConnect
FranConnect is the #1 provider of franchising solutions in the world with...

Mspark
Mspark is a direct marketing company with the proven ability to engage 26...

A targeted, quarterly magazine that takes CEO's, VPs and Sales Executives to the cutting edge of franchise development.