Tom Wood, CEO, Floor Coverings International Chairs October Franchise Development Conference
First-Ever Chair Named for Franchise Development Conference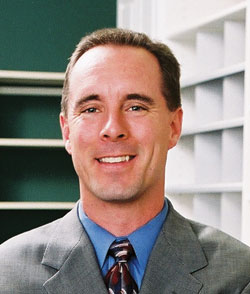 Tom Wood, President and CEO of Floor Coverings International, has been named the first-ever Chairman of the Franchise Leadership & Development Conference, now in its 15th year. The conference will take place October 9-11 in Atlanta at the InterContinental Buckhead. This year's theme is "Fast Times @ Franchise High."
"School is never out for the pros," said Wood. "So if you're serious about building your brand, don't miss this must-attend event. The pre-conference workshops are nearly sold out."
"Tom is a seasoned professional in growing franchise systems," said Therese Thilgen, CEO of Franchise Update Media Group. "He knows the formula for building attractive franchise programs and recruiting qualified franchisees, having accomplished this for several franchise brands through the years."
For more information about the conference, visit FranchiseDevelopmentConference.com or call 800-289-4232 x216.
Tom Wood's Message from the Chair
My first day in franchising came in May 1985, when I was a young college student. I had no idea where that decision would lead. After all, it was just a summer job! It turned out to be a great decision, introducing me to the world of "franchise development and growth through the addition of new franchisees" - something many of us still refer to as franchise sales.
The world has taken many twists and turns since then, constantly challenging those of us in "franchise development and growth" to innovate, improve, or be left behind.
One reliable way we stay ahead of the curve is to attend the Franchise Leadership & Development Conference every fall. Together we create the world's largest group of franchise development professionals, all gathered to learn, share, and commune. It's a chance to meet with other "forward thinkers," put our heads together, and look for ways to improve ourselves, our teams, and our brands.
What can you and I look forward to at this year's event? A lot! Beyond the excellent speakers, sessions, and panels featuring new and refreshed content dealing with today's needs, there also are opportunities for:
Experienced CEOs to meet with fellow CEOs and press each other on the constraints and opportunities they're facing.
Newer franchise development executives to participate in basic skills sessions focused on the fundamentals of franchise sales success.
Sales managers to work on leadership skills to improve the performance of their teams and to review some groundbreaking research that gets to the very heart of motivating and coaching outstanding sales talent.
And of course there's more - from inspiring keynote speakers to engaging educational sessions on how to build appropriate content, leverage technology, and attract the best candidates for our systems - as well as business solution roundtables and plenty of time to meet with your peers and solution providers and potential partners.
One of the most interesting things about such a large group of talented sales professionals coming together for this conference is seeing how some of the greatest and biggest egos in our business interact, share, and work together. Let's face it. We're in sales! We like to close transactions, and to do that we must have supreme confidence in our own abilities and the systems we work within.
This October 9-11, more than 400 supremely talented and confident franchise development specialists will converge in the same place, in the same rooms and hallways, and for the same reasons: to learn, to share, and to stay ahead of our competition.
I look forward to seeing you at the opening of the event, and to how we all respond to the many opportunities this conference provides. I hope you'll join me in making this the best event yet, stretching our individual skill sets to new limits and challenging our peers around us to do the same.
See you in Atlanta!
Tom
---
Tom Wood, President and CEO, Floor Coverings International
For more information about the conference, visit FranchiseDevelopmentConference.com or call 800-289-4232 x216.
Published: August 7th, 2013
Share this Feature
Recommended Reading:
Comments:
comments powered by

Disqus
Gravity Software is a cloud-based, multi-entity accounting solution that simplifies inter-company transactions and financial reporting. Built-in...
MSA provides domestic and international franchise advisory services to franchisors and companies seeking to establish franchise and licensing systems.