Watch Your Words: Text Ads Remain An Effective Online Advertising Spend
Despite all the buzz about "rich media," the simple text ad is still one of the most effective ways of bringing prospective franchisees to your website, according to a report from market research firm iPerceptions. The study is especially intriguing, given its substantial number of participants: 14,000 people were surveyed about their ad preferences after they visited leading media websites.

Among the choices of which types of online ad they were most likely to click on, 25 percent participants chose text-only ads--the leading individual ad unit, says Michael Whitehouse, senior marketing analyst at iPerceptions.

Banner ads, which an include graphics and/or animation, also proved popular in the iPerceptions study. Twenty percent of respondents said they were likely to click on banner ads that appear to the right of web content, and 12 percent said they were likely to click on banner ads that run across the top of web pages.

Whitehouse says successful online marketers are continually testing, innovating, deploying multiple-channel campaigns, and using web analytics to measure their effectiveness. "Display ads still have a lot of legs. The real thrust is the cost/benefit," he says, especially when it comes to video ads.

Not surprisingly, the study found the youngest web surfers were mostly likely to view a video ad. Nearly 33 percent of people under the age of 25 say they were likely to click on a video ad while visiting a website. Whitehouse cautions online advertisers to weigh the cost of video ads (production, shooting, and editing) against expected benefits.

The survey also looked at income levels of respondents. Lower-income visitors in the survey tended to be more likely to click on ads than their more well-heeled counterparts: 40 percent of consumers reporting annual income of less than $50,000 said they were likely to click on some kind of advertising when they visit a site, while only 15 percent of visitors making $150,000 or more said they were likely to click on ads.

Lower-income consumers were also most likely click on video ads, which could simply be the result of younger people generally having lower income levels. Forty nine percent of the less-than-$50,000 crowd said they were likely to click on a video ad; whereas only 13 percent of $150,000 visitors said they even bother with video ads.

Choosing which online advertising vehicles work best also is a function of your product or service, as well as the intended target of any ad campaign, says Whitehouse.

Another major predictor of ad efficacy: repeat visitors. Sixty five percent of people who frequented the same website on a daily or weekly bases said they were likely to click on ads there, according to iPerceptions, while only 15 percent of first-time website visitors said they would click on an ad they found on a site. Again, determining which websites your target audience frequents regularly will increase the efficacy of your ad spend.

Fortunately, if you're looking to give text ads a try, you're in luck. Getting into the text ad market is extremely easy. With the intense competition for text ad dollars by the major search engines, they make it easy for you to pay to play.
The game plan
Experiment with the big three ad networks first. Google (https://adwords.google.com), Yahoo! (http://searchmarketing.yahoo.com/as) and MSN (http://advertising.microsoft.com/home/home) all have highly evolved ad networks that have been designed for non-techie use. Any of these is a good place to learn the basics. Once you're acquainted with the medium, you can begin to take advantage of the free ad analytics these companies offer as part of their services. These analytics will help you hone your text ad message, and ideally ensure you get the best ROI for your ad dollar. A new service to check out once you're comfortable with online text ads is MySpace MyAds: (https://advertise.myspace.com). iPerceptions also offers a free service, called 4Q, that asks visitors four questions about their experience on your website (http://4q.iperceptions.com/default.aspx).
Embed keywords in ad headline and copy. While it's not always possible, embedding the primary keyword for your product or service in the ad headline and copy will often guarantee the best results.
Offer a free trial or discount. As with conventional advertising, "free" and "discount" are reported to be extremely effective words in online text ads.
Avoid jargon. This is a no-brainer. But even so, it never hurts to run your ad by your grandmother before it goes live.
Include a call to action. Sometimes people get so entranced in the ad writing process that they forget this simple requirement. Always include an explicit request to buy, purchase, order, or perform some related action.
Create a custom landing page. You'll get more sales if your text ad link leads directly to a specific product/service page for your offer. Ideally, that page will include images and copy designed to help take a prospect to the next step of your sales process. Conversely, you'll have fewer sales if your text ad link simply leads to your home page, forcing consumers to hunt for the offer you're advertising.
Set your ad placement on "rotate." If you're running more than one version of your text ad to see which performs best (good idea), be sure to set your ad distribution on "rotate" when advertising with the ad networks. Some of the bigger networks are programmed to analyze which text ad performs best for you, and then automatically run that ad for you to the exclusion of the others. This auto-selection is fine for advertisers who would rather not get involved in the selection process. However, if you prefer to maintain control over what is seen by your potential customers, make sure all your test ads are evenly rotated.
Test, test, test! While experimenting to find the best-performing ad is nothing new, having powerful analytics to help you perform those tests is. Each of the big three offer varying analytics programs that will help you get at the heart of what text ad is working best for you, and why. It pays to invest a little time and master these analytics
.

Joe Dysart is an Internet speaker and business consultant based in Manhattan. Voice: (646) 233-4089. Email: joe@joedysart.com. Web: www.joedysart.com.

Published: April 6th, 2009
Share this Feature
Recommended Reading:
Comments:
comments powered by

Disqus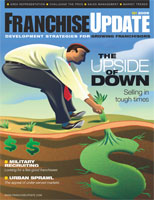 Franchise Update Magazine: Issue 1, 2009
UMI has over 23 years of experience supporting fast-growing multi-unit brands. From strategic planning to design, execution to analysis, UMI...
Location3 Media is a digital marketing agency that delivers enterprise-level strategy with local market activation. Founded in 1999 and located in...