A Lot to Love About LemonShark Poke´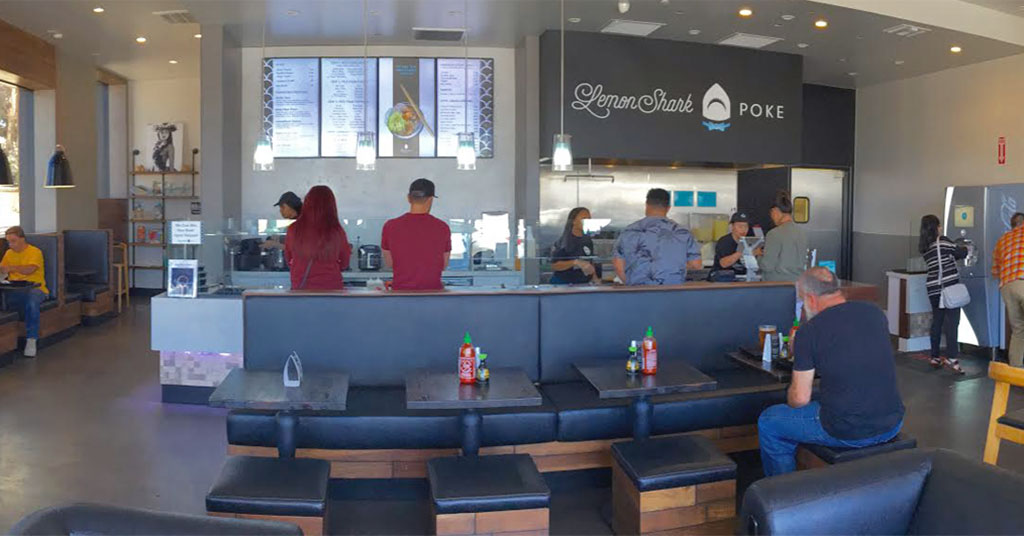 Emerging franchise LemonShark Poke´ is surging on to the national scene with a winning restaurant blueprint for expansion as a premium brand with staying power.
With six restaurants in California and Florida and as many as 25 locations set to open in 2018, LemonShark is the fastest growing poke concept in the U.S. The brand, serving up fresh, locally sourced and crafted poke in an upscale setting, has already inked 90-plus franchise licenses with 25 groups and is closing in on a mega development plan with multi-brand franchisee Andres Garcia. The agreement, under the umbrella of Garcia's Pompano Beach, Florida-based JAE Restaurant Group, calls for the development of 100 LemonShark restaurants over the next five years, notes Tobi Miller, president and chief operating officer of LemonShark, which launched franchising in 2017.
This flurry of multi-unit franchise deals with seasoned operators has paved the way for the "fine casual" brand to hit the road to nationwide growth with experience.
"We are only selling multiple units to people already entrenched in retail franchising," says Miller, who founded LemonShark in 2016 with partner and childhood friend, Richard Gottleib, who serves as board chairman.
There is a lot to love about LemonShark Poke´, the California-based brand, named after the Hawaiian native shark known as a powerful, discerning feeder.
In a franchise segment "hyper focused" on the grab-and-go lunch crowd, LemonShark is taking a more relaxed, upscale approach to both lunch and dinner. The menu includes the best raw fresh fish signature bowls, build-your-own options, expanded family friendly food offerings, plus beer and sake, in a comfortable setting that Miller describes as "Tropical Modernism."
"We are doing something different than all the other poke guys," says Miller. "We see ourselves as a premium brand—more of an expanded concept—that gives people the experience of eating out at a nice place and not just grabbing a quick disposable poke bowl at lunch."
The colorful brand has equally interesting and strong leadership in Miller, a founding member and lead guitarist in the '90s rock band The Wallflowers, and Gottlieb, a former pro race-car driver, whose legendary Big Red Camaro boasts its own fan following.
Friends since third grade, Miller often joined Gottlieb on their annual family vacations to the Aloha State, where they were poke devotees long before the traditional raw fish salad dish became one of the nation's hottest food trends.
"We have a deep love and a history for the food," remarks Miller.
Along with a passion for poke, Miller and Gottleib are successful real estate developers who bring extensive know-how to the brand. The franchise is focused on securing the best terms, at the right price, in prime locations, says Miller, who is committed to visiting each prospective LemonShark site before a lease is signed.
"We are involved in every restaurant location," Miller says. "It is not a decision that can be undone, and we want it to be a homerun for our franchisees."
Unlike most poke concepts, with a Subway-type layout of 1,000 to 1,200 square feet, LemonShark's "sweet spot" ranges from 1,500 to 2,400 square feet in size, notes Miller. The brand offers two franchise options: food court/kiosk models and larger in-line restaurants with "really nice interior build outs," featuring a subtle combination of Hawaiian and Japanese elements for a clean, contemporary look, Miller says.
Miller, who also brings the franchise partner perspective to the brand as a veteran Yogurtland franchisee, says LemonShark has assembled a hefty corporate team of more than 50 restaurant and real estate industry pros to ensure strong franchisor support from the start.
"We truly are taking the long view on our company," says Miller. "We have an opportunity here that doesn't come around often in a new category where there is no category leader. This isn't about building a bunch of stores and finding somebody to take it on. This is about building a sustainable company. It is a once in a lifetime opportunity and we want to do it right."
Published: April 2nd, 2018
Share this Feature
Comments:
comments powered by

Disqus
The only publication dedicated exclusively to the hottest topic in franchising - Multi-Unit and Multi-Brand Franchisees.
APR. 23-26, 2017 | Caesars Palace, Las Vegas, NV
A unique event because it is highly influenced by its advisory board, consisting of the very best multi-unit franchisees. The board works diligently to ensure that the conference delivers on its promise of being the best platform for franchisees to learn how to grow their businesses.