Freezing Moo Ice Cream Concept Is On A Roll
Thai rolled ice cream is a cool dessert trend that is spreading like wildfire across America. And Overland Park, Kansas-based Freezing Moo is the franchise brand seeking to lead the way.
Freezing Moo started in 2016 with its original Overland Park locations. The brand now has seven locations in the Kansas City suburb, two in Wichita, one in St. Louis, and another in Atlanta, GA. A location opening in Omaha, NE, July 2019 and four in development. Customers nationwide are raving about the East Asian ice cream treat and many are asking how to get a Freezing Moo in their town.
"We are on the path to expansion," says Amy Su, a partner and vice president of operations. "They contact us and say please tell me how I can bring this to my city."
Thai rolled ice cream is an Asian treat that is almost as fun to watch being prepared as it is to eat. It begins with sweetened whole milk poured over an extremely cold metal surface that is chilled dropping temperatures well below freezing. As the liquid begins to freeze on the surface, the ice cream makers use spatulas to work the frozen concoction into shape, flattening it across the icy cold surface as it's tossed and turned back and forth, up and down. Once frozen, the ice cream maker pushes the spatula underneath, peeling off the ice cream one row at a time and creating concentric "rolls" rather than traditional scoops. Customers get to add a number of toppings such as fruit and candy to sweeten the deal even further. The entire creative process takes less than two minutes.
Freezing Moo's ice cream is made with all natural ingredients and uses no chemicals or preservatives. The company only uses fresh milk, cream, cane sugar, and fruit. The brand's flavors include bestsellers such as Whole Latte Love (coffee, cookies, caramel), Mint To Be (mint Oreo, chocolate), and Cookie Monster (Oreo cookie, chocolate). There are even Asian-influenced flavors such as the Green Giant which uses green tea, lychee fruit, and condensed milk.
But Freezing Moo is not just ice cream, it's a unique experience. Cameras in the shops show the ice cream being made as well as the faces of the customers watching it all on a live feed. "Selfie walls" and "selfie stations" allow customers to print out photos of themselves in the shop and tape them to a giant wall.
"The demand for our franchise and this unique product is there," says Su. "Now we just have to strategically develop markets and territories and team up with the right franchisees to do it."
Sometimes referred to as "hibachi for ice cream," Freezing Moo is an experience for the senses, with its delicious flavors and aesthetic appeal. It's an emerging brand that is looking to grow and offers franchisees assistance with location and site selection, marketing support, and training and operations support.
To find out about franchising opportunities with Freezing Moo, contact Franchise Director Bob Crow at 913-499-7899 or 1(866) 825-2925, or visit the brand online at www.freezingmoo.com.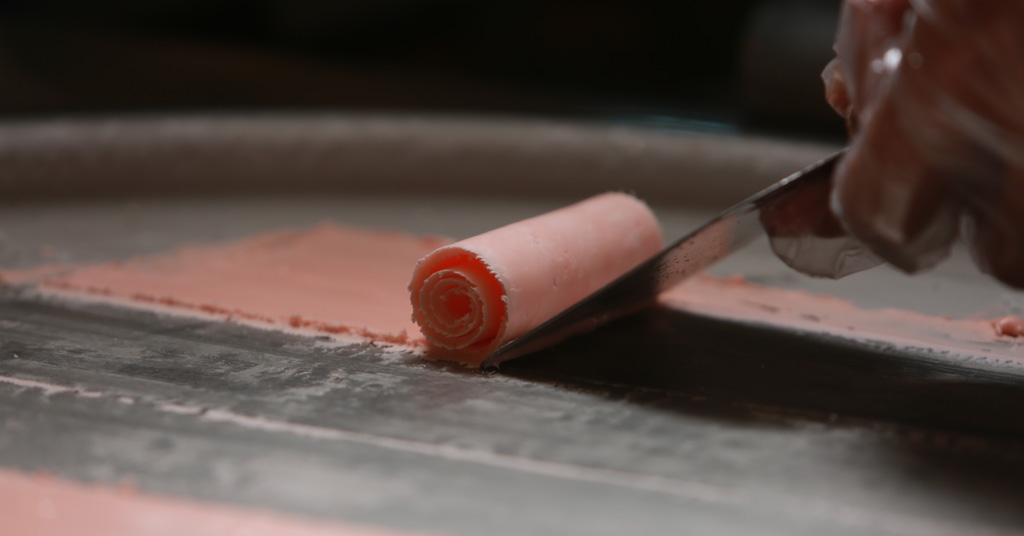 Published: June 17th, 2019
Share this Feature
Comments:
comments powered by

Disqus