Pearle Vision Thrives As A National Brand With Community Connections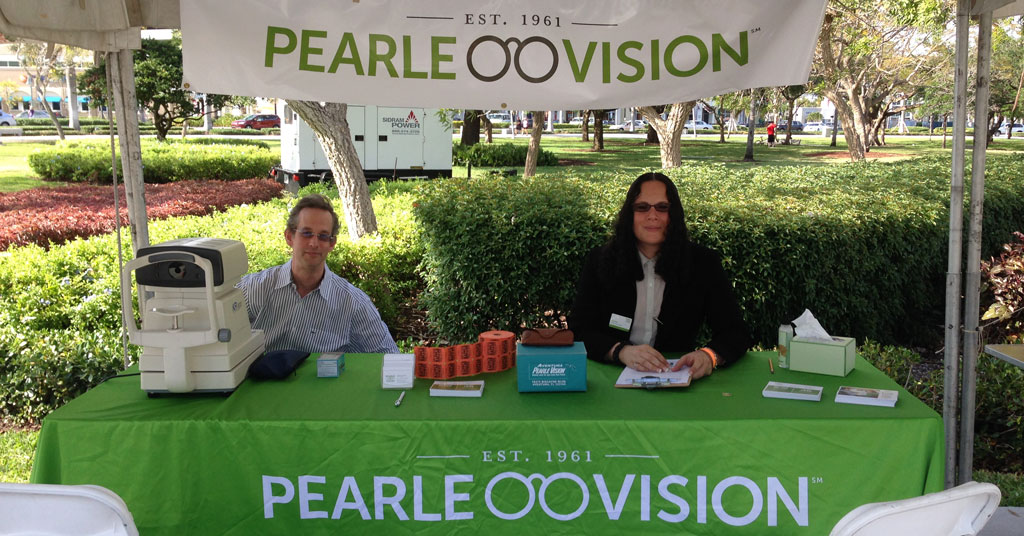 Leading national franchise brand Pearle Vision takes its community commitment to genuine eyecare personally.
"If you're are going to be a neighborhood-based business, you first and foremost need to meet your neighbors," says Doug Zarkin, vice president and chief marketing officer for Pearle Vision. "We believe that the power of Pearle is in the people behind the eyes. This is true, not only for the patients we serve but also the people who represent our brand."
Pearle's high touch/high tech local approach to community outreach stays true to the roots of the premium retail chain and the original vision of Dr. Stanley Pearle, who founded the brand in 1961 to serve as a trusted neighborhood destination for best-of-class eyecare.
This past year alone, Pearle Vision has been a local presence at nearly 600 community events through CORNEA (Community Outreach Reinforcement of Neighborhood Eye Care Activation), the brand-operated initiative launched in 2013. Licensed owners can be found conducting free screenings, cleanings, and adjustments at high school football games, health fairs, churches, synagogues, assisted living facilities, or anywhere the community gathers.
These community events have touched lives in amazing ways, says Zarkin, ranging from improving the eyesight, through a simple screening, for someone who never realized they had trouble seeing, to providing health care to those in desperate need.
"What this program allows us to do is really personalize the brand and make powerful connections," Zarkin notes. "Word of mouth and your reputation are the two most powerful marketing tools that you have in your arsenal."
Field marketers work hand-in-hand with local owners to ensure a consistent brand message and easy execution. CORNEA's toolkit of support includes everything from a tablecloth for set up, to the technology to make on-the-spot eye appointments.
"We will guide them on how to do their first CORNEA event," explains Zarkin. "Once they have done one, the returns are so significant that the power of the program takes on its own life. The rest is easy because they realize how powerful it is to make these connections."
Pearle Vision's focused strategy for outreach expands far and wide. The brand has aligned with the leading global vision nonprofit, OneSight, to volunteer on one or two-week clinics to deliver eyecare to those in need and raise money and awareness of the importance of eye care and eyewear. In October, Pearle Vision used the power of social media with a campaign to commemorate World Sight Day 2018. As part of #RaiseYourGlasses, consumers were asked to share photos online of themselves in their first or favorite pair of glasses. With each post, Pearle Vision donated to OneSight to help a child in need receive a free pair of glasses.
These brand-driven community connections have also been a great way to show the power the Pearle Vision platform provides to independent eyecare doctors who join the brand.
"We are not going to tell you how to practice medicine," Zarkin explains. "We want to deliver your expression of genuine eyecare, but there are certain pillars and premises that guide us to be consistent. The best way a local owner can demonstrate their approach to genuine eye care is to get out in the community and meet the people they are trusting with their business."
In return, Pearle Vision's partners are finding community horsepower, fueled by geotargeted search tools and social media, that result in a solid franchise investment.
"It is exciting when you can leverage your heritage and DNA and do it in a contemporary way," Zarkin says. "The way we assess that our marketing is adding value is the way our owners believe we are adding value to their portfolio."
To learn more about the Pearle Vision franchise opportunity, visit www.ownapearlevision.com.
Published: December 5th, 2018
Share this Feature
Comments:
comments powered by

Disqus