Quaker Steak & Lube Giving Back To Communities
Quaker Steak & Lube, the casual dining franchise known for its award-winning food, wings, and more than 20 sauces, also earns kudos for its nationwide commitment to communities.
There is always something happening something happening at The Lube®, where giving back is part of the brand's DNA.
"Our involvement in the community is creative and diverse," says Andi Rice, marketing director of restaurants for TA Restaurant Group. "It is amazing how our team members really do strive to make sure that they are constantly in a state of gratefulness to their community in planning activities that give back. We also know that guests have a choice, so we want to support things they are passionate about that provide opportunity to help communities grow and thrive."
With 50 uniquely motor-themed locations in 14 states, community-driven passion abounds. From the trademark Bike Nites to bartender-created pink drinks to promote breast cancer awareness, Quaker Steak & Lube's charitable efforts are big and small, innovative and quirky, behind the scenes and in partnership with local and national nonprofits doing good works.
A sampling of The Lube's charitable efforts includes:
Bike Nite and Car Cruise-In. Always a popular spot for motorcycle and car enthusiasts, these restaurant parking lot gatherings have evolved as a great place for food, live music and powerful charitable giving. For instance, franchise partner JDK Management Co., with eight Quaker Steak & Lube locations, raised more than $128,000 last year for children's organizations with such creative strategies as auctioning off reserved parking spots at the beginning of the Bike Night season.
All-American support for military and veteran support groups. Highlights include Patriot Day hosted each September by The Lube team in Austintown, Ohio and Wounded Warriors Family Support (WWFS). The commemoration, the county's largest veteran recognition ceremony, includes military displays, patriotic music, a U.S. flag carrying champion skydiver drop in, and food discounts for military members. Additionally, the WWFS High Five Tour, in its eighth year, features a Ford-donated vehicle, traveling the country to raise dollars and awareness. In 2017, the tour stopped at nine Quaker Steak & Lube restaurants along the way. The chain also works closely with Folds of Honor to provide educational scholarships to the children and spouses of America's fallen and disabled service members. Guests at participating locations can roundup their tab and provide the name of a service member to honor during the campaign.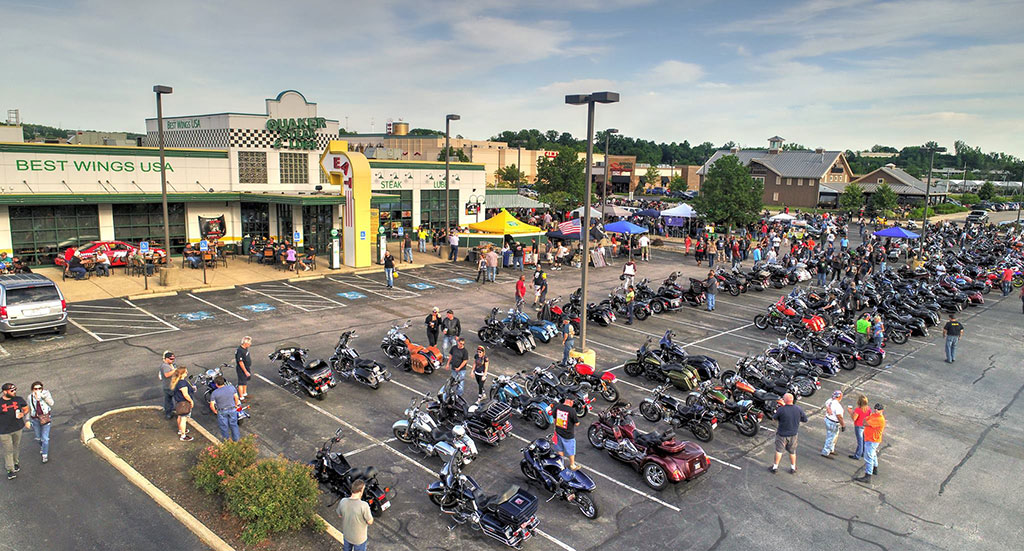 The spirit of giving is a year-round practice. The Lube is home to frozen turkey bowling to collect money and canned goods for local food banks and shelters, the Wishes Can Happen Wish-a-Thon, and fundraisers for every nonprofit imaginable through Dine 2 Donate, Chicken 4 Charity, Bangin' Drums 4 Music Education, and other events.
No matter the cause, this purposeful and passionate commitment happens from the start, notes Denny O'Deens, vice president of operations for Quaker Steak & Lube.
"Before we even open, we are thinking about how we are going to engage the community," says O'Deens. "How are we going to make it their own? And how are we are going to connect with the guest with the whole experience? And certainly that translates to the core of our philosophy: fun, great taste, high energy and we care. As an operator, it is important to engage your team and have authentic team members and employees that not only connect with the guest, but also the community."
At Quaker Steak & Lube, helping those in need at a moment's notice is standard practice. One such illustration last year hit close to home for Vermilion, Ohio employees, who reached out to a former coworker, whose father was a highway patrolman killed in the line of duty.
"It was a great loss to the community, so we put together a fundraiser for his family, and to help the community come together to share time and stories about this great officer," says Rice. "We were also able to demonstrate to our team member that, basically, once you are a member of our team, you are always a member of the team."
At Quaker Steak & Lube, giving back where they live and work is what they do.
Interested in learning more about franchise opportunities with QSL? Visit, LubeFranchising.com or contact Bruce Lane at BLane@thelube.com
Published: August 24th, 2017
Share this Feature
Comments:
comments powered by

Disqus