Successful Franchisees Validate Pigtails & Crewcuts As Top Investment Opportunity
Speak with any Pigtails & Crewcuts franchisee and it won't take them long to extol all the things they love about the brand – the opportunity to be your own boss, flexible hours, extensive operations and marketing support, and a "family" atmosphere among franchisees that makes the brand a truly unique business and lifestyle opportunity.
Pigtails & Crewcuts is an Atlanta-based children's hair salon franchise created by parents for kids to offer a haircutting experience that is stress-free for the whole family. Additional revenue stream opportunities come from the brand's custom line of kid-centric hair products and accessories, gifts, and private party rooms that provide the perfect setting for birthday celebrations.
The brand has been a great professional and lifestyle choice for franchisees like Kelly Hailey. She has been a franchisee with Pigtails & Crewcuts since 2011 and operates two stores in Chattanooga, Tennessee. "We liked the look, the brand, the colors, and its clean, streamlined interior and we knew it would work well in our community," she says of why she chose the brand. "The work-life balance has been great for me because I get to pick up my kids from school, I get to go to all their events and participate in their lives, and I still have an income and a job."
Bob Farster is another successful Pigtails & Crewcuts franchisee who, like Hailey, was attracted to the brand's fun feel and upscale looks. "The culture is helpful, thoughtful, and friendly," he says. "The brand supports us and they want to see us succeed."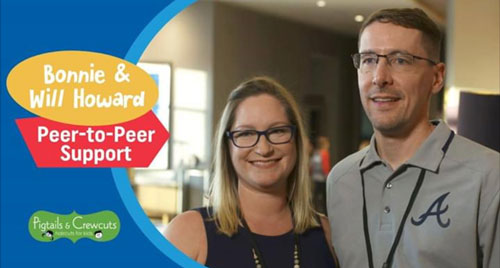 In Smyrna, Georgia, Bonnie and Will Howard were attracted to the Pigtails & Crewcuts model and opened a location there. "We both love the flexible schedule that operating a Pigtails & Crewcuts offers us," says Will. "And it's so rewarding for me to see kids come in for haircuts and not cry, which makes the parents overjoyed."
Bonnie adds, "We have more support from our peers than I ever would have imagined." Will points to how they can talk to other franchisees online and share solutions and interact on a Facebook Group page. "I can post something there on a Friday night and have four answers right away, and 10 answers within 24 hours," he says.
Out in California, Reyna Patel and Sneha Bhavan have been with the brand since 2018. They too were attracted to the brand's "clean, classy, and cute" feel. But Bhavan also likes how it has given her the opportunity to be her own boss. "It's a business that we own, we can grow, we can expand the business, invest in our employees, and we have complete control of our growth," she says.
Patel notes how the brand offers extensive marketing support and provides materials and collateral for franchisees to easily access and use. "We have support from a marketing firm, we can talk with other owners about what they do, and the brand also provides access to tools that allow us to create our own marketing," she says.
If this sounds like the kind of investment opportunity that you're looking for, the Pigtails & Crewcuts proven model, simple operations, and comprehensive training and support might just be for you. The brand is looking for qualified candidates. To learn more about franchise opportunities and available territories throughout the United States, visit www.pigtailsandcrewcutsfranchise.com, call 770-752-6800, or contact Hannah Swanson, Franchise Development Coordinator, at hswanson@pigtailsandcrewcuts.com.
Published: August 28th, 2020
Share this Feature
Comments:
comments powered by

Disqus