Top Five Reasons to Franchise with The Vitamin Shoppe®
When it comes to investing in an innovative franchise primed for explosive growth, there's a lot to love about The Vitamin Shoppe®.
The iconic omnichannel specialty retailer of nutritional products is set to expand its U.S. footprint through franchising as a proven leader and one of the industry's hottest brands.
Here are five reasons The Vitamin Shoppe is a compelling choice for entrepreneurs seeking a top franchise opportunity:
More than a Vitamin Store
The Vitamin Shoppe has vitamins and then some. Since launching in 1977, The Vitamin Shoppe has grown into the premier global destination for trusted health and wellness solutions with more than 5 million active customers.
With more than 680 stores nationwide, the New Jersey-based retail chain offers the most extensive retail assortment of high-quality, cutting-edge vitamin, mineral, and specialty supplement products in the U.S. But that's not all. The Vitamin Shoppe also carries herbs, sports nutrition, homeopathic remedies, green living and natural beauty products, and the recent launch of dedicated CBD sections in most stores.
Digital-First Mindset
As shopping preferences evolve, The Vitamin Shoppe has expanded its approach beyond traditional brick and mortar with an omnichannel strategy across VitaminShoppe.com, the VShoppe app, and social media. Franchisees benefit from this omni-channel approach by earning profits on customer transactions made locally in-store and online.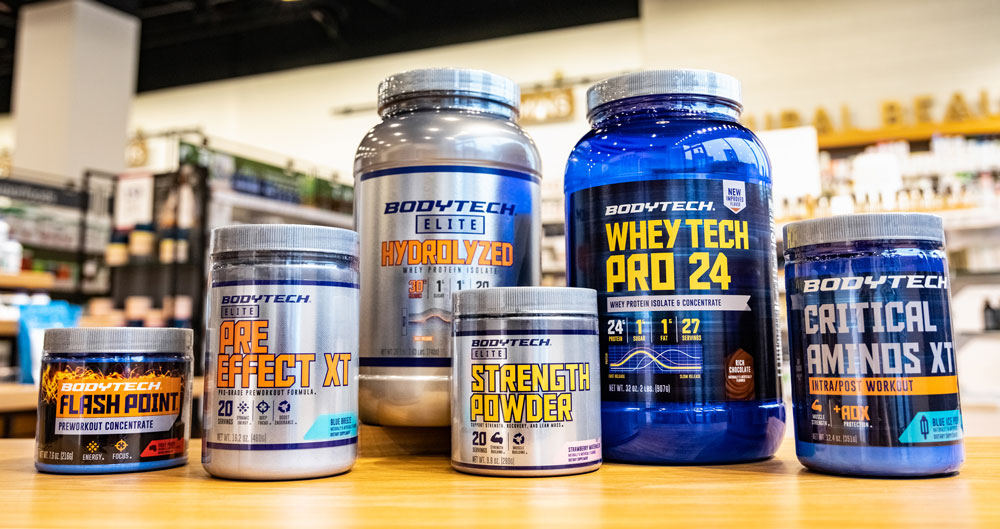 Proprietary Brands and Robust Partnerships
The Vitamin Shoppe's expanding portfolio features more than 400 national brands and a proprietary lineup that includes The Vitamin Shoppe®, Vthrive The Vitamin Shoppe™, BodyTech®, BodyTech® Elite, fitfactor Weight Management System™, fitfactor KETO™, plnt®, ProBioCare®, and True Athlete®. Every brand in The Vitamin Shoppe family is put through 320 rigorous quality assurance steps; independent, third-party labs verify ingredient purity and potency.
The brand boasts high-profile partnerships with health enthusiasts and organizations like champion wrestler David Taylor, U.S. figure skating champion Bradie Tennell, and the IRONMAN U.S. Series. The Vitamin Shoppe also proudly supports Vitamin Angels, and its mission is to provide essential vitamins and minerals to pregnant women and children in low and middle-income communities worldwide.
Strong Systems and Tools
Franchisees can count on comprehensive support throughout the franchising process and the life of the partnership. The journey to franchise ownership with The Vitamin Shoppe can be completed in an estimated 6 to 8 weeks. The company's leadership team leverages nearly 200 years of combined industry experience to support and advise on operations, marketing, legal, real estate, and digital, so franchise partners can focus solely on running the business.
Proven and Profitable Business Model
There's never been a better time to leverage the trusted quality of The Vitamin Shoppe brand and its unparalleled expertise in the fast-growing health and wellness sector.
The Vitamin Shoppe franchise opportunity is backed by a proven operating model with limitless room for growth. On average, the company's top 25% of stores generate $1,710,624 in revenue per store with $300,717 contribution per store.*
Franchise markets are available in all U.S. states, except Washington and Oregon, where The Vitamin Shoppe operates stores under the Super Supplements banner. Franchisees should have a passion for health and wellness, proven success in franchising, and the financial resources to get started.
Visit www.OwnAVitaminShoppe.com to begin the discovery and application process, including financial disclosures and requirements.
*This information reflects the Average Revenue and Average Contribution for the Top 25% of the Vitamin Shoppe company-owned stores, which were open for at least one full year as of fiscal year end 2020. Of these 171 stores, 65 attained or surpassed the Average Revenue and 82 attained or surpassed the Average Contribution described above. We refer you to Item 19 of our 2021 Franchise Disclosure Document for additional information. A NEW FRANCHISEE'S RESULTS MAY DIFFER FROM THE REPRESENTED PERFORMANCE. This is not intended as an offer to sell, or the solicitation of an offer to buy, a franchise. Offerings made by prospectus only and in compliance with the applicable pre-sale registration and disclosure requirements in your state. ©2021 The Vitamin Shoppe®. All rights reserved.
SPONSORED BY:
Vitamin Shoppe
After investing more than 45 years in building the most trusted brand in health and wellness, The Vitamin Shoppe is now franchising with only 234 exclusive territories available. Learn More
Published: October 29th, 2021
Share this Feature
Comments:
comments powered by

Disqus