Top Upscale Fast Casual Franchise Taboonette Middleterranean Set to Expand
Taboonette Middleterranean Kitchen, the original wood fired Middleterranean® authority, continues to expand its presence as a revolutionary culinary experience and franchise concept that is all about simplicity.
The fast-casual upscale gem of famed New York staple Taboon, Taboonette serves up the same slow-cooked, healthy fusion of Mediterranean and Middle Eastern fare made famous at its fine-dining parent, in a modified quick-service setting.
Set to build on the momentum of Taboonette's second location, recently opened in New York's trendy Greenwich Village neighborhood, the brand stands ready to build on its seasoned approach to success with nationwide franchise expansion.
Taboonette takes a modern approach to food created in age-old, wood-fired taboon ovens, with healthy, made-from-scratch recipes, curated by Taboon's founder and renowned NYC Restauranteur Danny Hodak, with Israeli Executive Chef Efi Naon.
Using the highest-quality ingredients, Taboonette's hummus, falafel, and pocket foods: meat, seafood, and vegetable fillings in pitas, bowls, or plates are easily and consistently delivered with the brand's top-tiered, foodservice technology.
"In a world with ever-changing palettes craving new, high quality, skillfully prepared products, Taboonette's simplified operations provides a real solution for franchisees," says Fred J. Kirvan, founder of FK Consulting. "All recipes are prepared in-house using lots of fresh herbs, meats, and vegetables. This new technology facilitates the aspects of Taboonette's chef-designed recipes that generally require skilled labor-minimizing the preparation time for adding ingredients, chopping, mixing, or simple cooking methods."
While Taboonette's food dished out in an open kitchen concept is the star, the smart use of technology behind-the-scenes provides franchisees with a competitive edge.
"The RATIONAL SelfCookingCenters are the heart of our kitchens for our franchisees," says Danny Hodak, Taboonette's founder and CEO. "These computer-based smart ovens can monitor and control the unique cooking profiles for every item on our menu. They can do this for multiple menu items at the same time and signal when each item is ready."
The cooking system uses a sophisticated computer-driven process that involves water, temperature, and air. Taboonette can upload its cooking profiles to a new franchisee's center via a USB port on the oven and monitor, change, and troubleshoot from a remote location. Limited time offers or new menu items can also be uploaded remotely throughout the whole franchise system. Cooking profiles are locked and cannot be altered by employees.
Self-serve ordering kiosks at the front of the house guide, educate, and upsell the guest's order, which is then sent to a fine-tuned assembly line, supported by food processing and vegetable preparation units to help minimize the labor necessary to execute Taboonette's simple, yet sophisticated menu.
"All recipes are designed to fill cold tables, drawers, and warming drawers so that line cooks utilize mostly scoop and serve methods to fulfill most orders," adds Kirvan. "The clearest evidence that the chef's operations have been optimized is in observing the line's ability to maintain three to five-minute ticket times with up to eight restaurant order points."
Taboonette's state-of-the-art technology is bolstered by an established brand model rooted in hospitality with best-in-class service and operations. The brand seeks to expand its footprint in select prime metropolitan markets with experienced franchise partners.
Head over https://taboonettefranchise.com to discover the benefits of franchising with original Middleterranean® restaurant brand.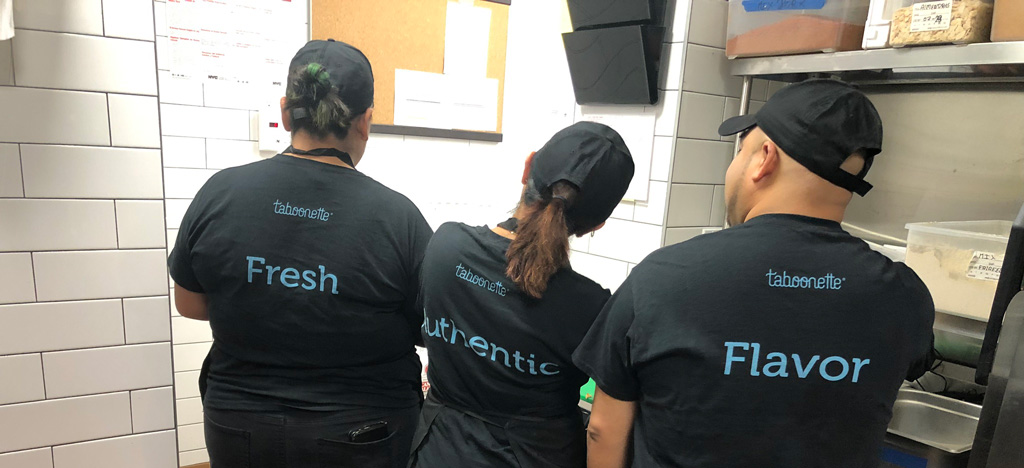 Published: September 10th, 2019
Share this Feature
Comments:
comments powered by

Disqus