2020 AFDR: How Do You Measure Up? Part 2, Recruitment Budgets
annual franchise development report, afdr, recruitment budgets, sales budgets, franchise recruitment, franchise development, sales benchmarking, sales data, best practices, franchise update mediaResults from the 2020 Annual Franchise Development Report (AFDR) were unveiled in late October at the 21st annual Franchise Leadership & Development Conference (FLDC). The 2020 AFDR is based on responses from 122 franchisors representing 30,119 units.
Participants consisted of franchisors that completed an in-depth online questionnaire. Responses were aggregated and analyzed to produce a broad picture of the recruitment and development practices, budgets, and strategies of a wide cross-section of franchisors. The data and accompanying commentary and analysis provided the basis of the 2020 AFDR.
Highlights from the report were presented at the conference by Franchise Update Media's CEO Therese Thilgen and Executive Vice President and Chief Content Officer Diane Phibbs. This is part 2 of 6 on some of the report's major findings.
Ordering information can be found here. (Conference attendees received a complimentary copy.)
Recruitment Budgets
After remaining relatively level from 2014 through 2019, average and median plans for 2020 franchise sales and recruitment budgets (advertising and media expenses not including brokers and employee compensation) are both increasing.
From 2014 through 2019, average recruitment budgets ranged between a low of $162,821 (2016) and a high of $204,262 (2018); and median recruitment budgets ranged from a low of $100,000 (2015) to a high of $140,000 (2018). For 2020 both the average and median budget plans among the respondents are higher: $215,173 and $150,000, respectively.
"We've heard that franchise sales have been slow for some brands this year," says Phibbs. "The change in budgets could be an indication of slowing sales. The economy can play a part in this too. If the economy is good and jobs plentiful, people aren't looking for their next opportunity as much as they are in a weak economy."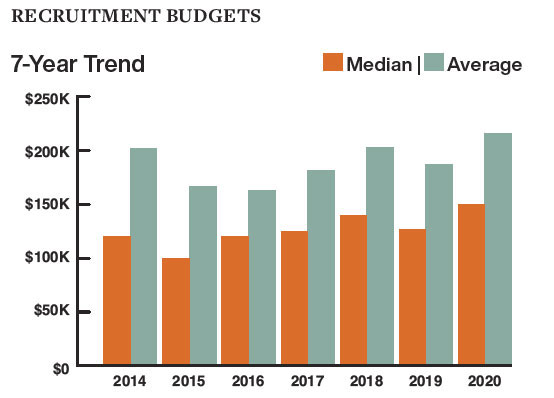 Published: December 3rd, 2019
Share this Feature
Recommended Reading:
Comments:
comments powered by

Disqus
BoeFly drives growth by delivering financially qualified candidates increasing lead-to-franchisee conversion, and helping franchisees secure...
Location3 Media is a digital marketing agency that delivers enterprise-level strategy with local market activation. Founded in 1999 and located in...