Tech Tools '22: How 4 franchise brands are leveraging technology
Franchising technology has come a long way from the "old days" of paper loyalty cards updated with a pen and mailing standardized marketing materials to each franchisee. New cloud-based software and platforms have allowed brands and their franchisees to go paperless, while also gaining invaluable data and marketplace intelligence and introducing more friendly and efficient customer services.
In a study conducted by FranConnect, 50% of franchisees said technology tools were among the top values a franchisor provides. And on the franchisor side, the study reported, "Franchises are recognizing there may be limits to their expansion unless they keep pace with technology needs."
But while the introduction of leading-edge technology has helped move brands into the future and made life easier for franchisors and franchisees alike, it isn't always an easy integration. With any new technology upgrade comes a capital investment that can easily reach six figures for major overhauls at larger franchises, along with the learning curve time required for everyone in the organization to get up to speed with the new tools or platforms.
"When you introduce a new technology to your franchise base, do so carefully," advises Kristen Pechacek, chief growth officer MassageLuXe, a membership-based massage and facial services company with 70 locations nationwide and 20-plus more projected to open in 2022. "Consider a proof-of-concept and a pilot before rolling out systemwide," she says. "Watch franchise adoption carefully. If it is not being used by more than 50% of your franchisees, you may be paying too much or investing too much time into the technology."
We reached out to four franchise brands that are aggressively growing to learn what new technology software and platforms they have adopted in recent years, and the impact they are making. Here is what they shared.
MassageLuXe
To accelerate its reach and systemwide growth, MassageLuXe is relying mainly on native technology for its digital advertising, says Pechacek. "Placing ads in our platform versus using third-party tools allows us to ensure that the latest targeting and creative abilities are being used by our in-house team," she says.
"Additionally, with restrictions in targeting because of iOS updates and privacy policy changes, the ability to target like we used to is not possible. We rely much more heavily on first-party data to inform our targeting strategy," she says.
For traditional advertising needs, MassageLuXe franchisees are provided with a marketing portal through which they can access materials, customize them for their location, and send them to print seamlessly, she says. Franchisees have access to the materials through an intranet and post natively to the platforms. They also are provided with regular updates to their campaigns through Google Sheets that are automatically updated through a master sheet by the franchisor. Analytics are emailed once a month on performance.
Perhaps the technology investment with the most impact, says Pechacek, is the brand's upgrades to it CRM system. To increase market size and frequency of visit, MassageLuXe determined it was far cheaper to target existing customers than to constantly acquire new ones, especially with digital advertising on Facebook and Google becoming more difficult because of the new privacy restrictions. The new CRM capability, built inside the existing POS system, was first implemented in 2015 and continues to pay big dividends, she says.
"It is extremely important that our franchisee tech stack isn't overwhelming. Franchisees don't have time to open four different programs to get their marketing working. They should be focused on building relationships in their community and fine-tuning their business operation," she says.
Bruster's Real Ice Cream
Even in the super-competitive premium ice cream market, where consumer tastes and brand loyalty drive bottom lines, top franchises are looking to technology to give them an advantage over their competitors. Bruster's—where franchisees craft at least 24 flavors of ice cream daily at more than 200 locations in 21 states and Guyana and South Korea—is no exception.
"We've made some substantial investments in our technology in recent years to become a fully efficient drive-thru service," says Jennifer Brinker, vice president of marketing. "We are leveraging technology to increase our reach and meet the needs of our consumers as we continue to evolve in this new digital world we find ourselves in."
To help make the sales process more seamless for customers, Bruster's has installed the online ordering platform Olo, and integrated third party-in home residential delivery services directly into its POS system, says Sean Krings, Bruster's vice president of operations and IT. Meanwhile, on the franchise development side, Bruster's is working with Pinpoint, a retail mapping platform, to help gain insights on where new development should be focused.
"We identified the top 25% of our system, based on annual revenue, and did an analysis of the area, demographics, psychographics, commercial real estate costs, retail trends, competition, and GPS data to establish a weighted scale of common characteristics that we want to duplicate," says Kim Ellis, vice president of franchise development and legal for Bruster's.
"Pinpoint took that data and built an algorithm and applied it to every intersection across the U.S.," she says. "I can turn on a layer in my platform and it will show me exactly what areas of a market meet our top characteristics. These become the areas I focus on for new development, and I will create a development map to share with candidates interested in that market."
The benefit? "The Bruster's franchise candidate feels confident knowing that the areas they select for development are already vetted and meet the characteristics of our top-performing locations," says Ellis.
Brinker says Bruster's posted a 17% year-over-year increase in overall revenue during the pandemic, when consumer appetites for premium ice cream peaked, with a projected growth of 12% in 2022.
"We signed 44 franchise agreements in 2020, 51 franchise agreements in 2021, and anticipate opening 25 to 30 new locations in 2022," says Ellis. "We currently have 23 stores under construction and anticipate opening more than half of those by the end of June."
Moran Family of Brands
Moran Family of Brands, one of the nation's leading franchisors of aftermarket general automotive repair and accessories through seven individual brands, credits technology upgrades with helping the company navigate the challenges of the pandemic over the past 2 years.
"We brought on a lot of different platforms to help us on the technology aspect," says Marketing Director Amanda Maquet. "We were very lucky in implementing some of these things before Covid."
Moran operates more than 120 franchise locations nationwide under the brand names of Mr. Transmission, Milex Complete Auto Care, Turbo Tint, Alta Mere, SmartView Window Solutions, Multistate Transmissions, and Dr. Nick's Transmissions.
"We switched to SOCi in the beginning of 2021, which gave us the social media aspect of being able to publish and post and then get reporting for our social media campaigns," says Maquet. "We can see what's coming in and be able to better access the review side from Google, Yelp, and Facebook and then fill in the missing components."
Adopting SOCi, she says, has played a big role in the company's marketing and operational support to its franchisees. "We are able to manage all of our franchisees' social platforms, reviews, and listings all from the platform. In addition, we get some valuable reporting on all three of these activities that we share with our ops team and the franchisees directly."
Pre-Covid, Moran had started working with Kukui, a CRM system and marketing vendor specializing in the automotive industry. "We were able to get ahead of the curve by keeping in contact with our customers and sending them information about our business through that system," says Maquet. "We also were able to track our marketing ROI to see what worked and what didn't. This has helped our franchisees have confidence in their marketing plans and see that their dollars are being spent wisely."
American Family Care
"American Family Care has been around for 40 years, and it's in many ways a forward-thinking company and, ironically, in some ways it's still 'old school' when it comes to technology," says Sean Hart, vice president of franchise development at AFC, an urgent care franchise with more than 280 locations in nearly 30 states. "But at the same time we know we have to move forward in order to remain competitive," he says.
"Physicians in general tend to not like technology unless it very, very clearly makes their life better. Electronic medical records are the bane of every physician's existence, yet at the same time, we are reliant on technology for our business."
Since joining the corporate team in 2018, Hart has helped lead a major technology overhaul at AFC. Some of the new tech tools the franchise has adopted include the following.
Perhaps the most significant technology upgrade at AFC, he says, was the company's adoption of 919 Insights, a content marketing data analytics tool, which, he says, helps him make better marketing decisions based on the behavior of franchise prospects online.
"The platform tracks what online topics drive prospects to the AFC website, what topics prospects actually engage with and ones they ignore, and what topics drive conversions," says Hart. From this analysis, he says, AFC is able to make website refinements to optimize for SEO, social media content, and even drive paid advertising messaging based on the topics most likely to convert.
"Better customer insights lead to better marketing performance, and the results they have generated prove it. It's been nothing less than amazing," says Hart, who reports that AFC's franchisee candidate leads have shot up from under 50 a month in 2018 to more than 400 for Q1 2022 since integrating the tool.
AFC closed an impressive 58 new franchise deals in 2021, a 132% increase in the number of franchises sold the previous year. Thanks to this accelerated growth, AFC is on track to open at least 500 urgent care locations by 2025.
Published: May 22nd, 2022
Share this Feature
Recommended Reading:
Comments:
comments powered by

Disqus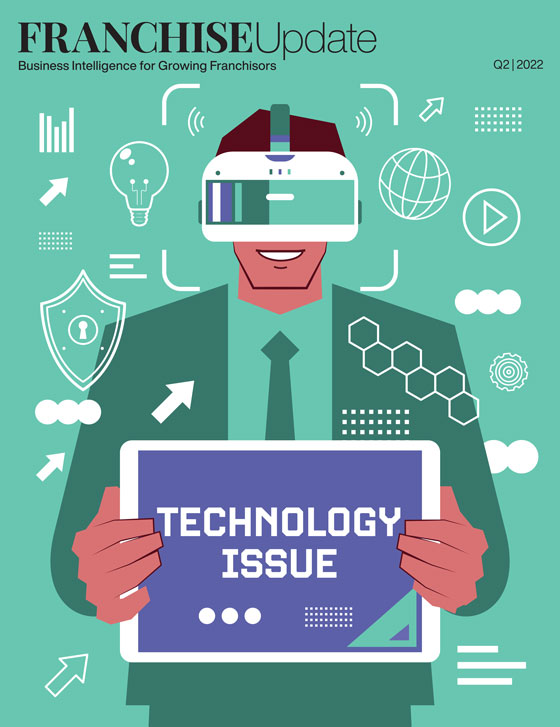 Franchise Update Magazine: Issue 2, 2022
Conferences
InterContinental, Atlanta
OCT 18-20TH, 2023
Clayton Kendall provides franchise communities nationwide with comprehensive branded merchandise programs leading to greater brand exposure,...
Support your multi-location brands and empower users. OneTouchPoint integrates localized marketing services and comprehensive brand management...