Crossing the Great Divide
Helping young people understand your opportunity

A few weeks ago I found myself at a conference in New Orleans speaking to a few hundred college recruiters. The brands represented in the room were well-known: Shell, Geico, Valpak, Wal-Mart, Enterprise, Jaguar, Boeing. My topic was the tremendous disconnect between young people today and the companies that work so hard to pursue and attract them.

I have to admit, I keep expecting to walk into one of these rooms and find them sparsely filled. But instead, they seem to be overflowing. Entrepreneurs and executives everywhere are catching on to how big an issue the emerging workforce is to the future of their companies. If you and your company are still at the early end of the learning curve, rest assured, you're not alone. The biggest corporations in the world are right there with you.

The great disconnect between opportunity providers and young seekers is profound. The culprits, however, are far from insurmountable. In my experience, here are a few of the biggest challenges to address with simple solutions to start closing the Great Divide.
Approachability. Even if you have the greatest sales and recruiting team representing your franchise or working expo floors, most young people are not used to interacting with companies, executives, or even trade show booths. Don't let their standoffishness come across as a lack of interest. Recognize that they may be unsure of what to ask about or say. Make it your job to break the ice and guide them through initial conversations.
Context. Never assume they understand your industry, your company, or even how business in general works. Their foundation knowledge has everything to do with their upbringing, surroundings, education, and experience to date. Believe it or not, even Ivy League graduates often have a very crude understanding of how businesses function ("I don't want to go into marketing because I don't like sales."). Coach your executives to set the proper context about what the business does, who it serves, and even what the individual roles and objectives are of recruiters to make them more "relatable."
Relevance. If you or your company's objectives don't make sense to them, your attempts to communicate won't stand a chance with their short attention spans. These are people who were born in the midst of the information age; so while they are well accustomed to taking in tons of information (often in multiple media formats--simultaneously!), they are also very adept at parsing out what catches their interest and what doesn't. Enlist the help of your youngest staffers, team members, and franchisees to sculpt and review your website, sales brochures, and recruiting materials. Their gut intuition is often more valuable than months of market research.
Options. Figuring out what they want to do with their lives, let alone in the short term, is an overwhelming task for many young people. The faster you can explain the different career paths available, or ways they can fit into your company, the better they can make an informed decision about whether to pursue an opportunity with you. Also remember that as a franchise company, you have several potential points of entry and opportunities to explore. Build case studies of how successful people in your business have entered as hourly or part-time workers and then moved into management and over to corporate operations or franchise ownership. This proves that they can build a career with you or at least set a great foundation for one.
Location. You've heard the saying a million times--location, location, location! If you're trying to reach young people as consumers or recruit them as employees or franchisees, think of this concept from their perspective. They live online. While you think in terms of prime real estate, traffic patterns, and ingress/egress, they think in terms of social networking, online videos, blogs, RSS feeds, and widgets. If you want to attract them, you need to be online, in the right places, leveraging the latest Web 2.0 technology, and be hip to what's appropriate when and where. Again, ask the youngest, coolest people in your company for help. Whether you're starting your online communications from scratch or fine-tuning your existing efforts, the best insight might just be right under your nose.


Jennifer Kushell is the President & Co-founder of YSN.com--Your Success Network, the first global marketplace that connects ambitious young people in over 100 countries with opportunities to launch their careers. If you are interested in new, innovative, and dynamic ways to reach this generation, contact her at Jennifer@ysn.com.

Published: September 8th, 2008
Share this Feature
Recommended Reading:
Comments:
comments powered by

Disqus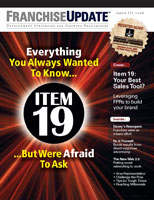 Franchise Update Magazine: Issue 3, 2008
Gravity Software is a cloud-based, multi-entity accounting solution that simplifies inter-company transactions and financial reporting. Built-in...
Our franchise management software helps increase unit growth, reduce opening time, track and improve unit performance, automate financial reporting...