Denny's Chief Brand Officer & EVP Discusses Her Role in Development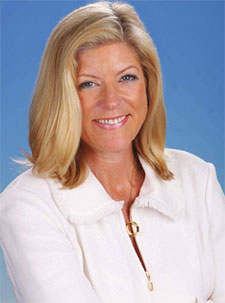 Frances Allen, executive vice president and chief brand officer for Denny's since July 2010, is no stranger to big brands. Over the past 25 years, she's logged successful stints as a senior marketing executive at Dunkin' Donuts, Sony Ericsson, PepsiCo, and Frito-Lay. During that time she spearheaded brand repositioning initiatives, led new product introduction strategies, and launched expansion into international markets. At Denny's, Allen is responsible for the overall direction of the brand's marketing strategies and initiatives, positioning, advertising campaigns, menu development, and restaurant image.?We asked her about her role and its relationship to franchise development and recruitment.
Describe your role as EVP and CBO.
To create a vision for the brand based on real consumer insight. The most important part of my job, though, is to inspire all those around me to want to deliver that vision... not just the marketing department. I need everyone, from the customer service department to the operations team, the operators, and the finance group to be just as motivated and committed to delivering against our brand positioning. This requires all departments to be striving to deliver an authentic brand experience. This is especially true in the restaurant or retail business. At Denny's that vision is "America's Diner," a place that feels like home for everyone who walks through diner doors, no matter what life stage, age, gender, or ethnicity. It's a come-as-you-are, no-nonsense, democratic environment where people can relax, be themselves, and connect with the people they care about. It's a unique, competitively distinct, yet powerful consumer proposition that is absolutely authentic to who we are as a brand. Whether we are thinking about service, environment, or food, "America's Diner" is our North Star that guides our strategies and our initiatives.
What are the 3 most important keys to being an effective brand leader today?
1) The ability to balance left and right brain thinking. Using data to make a creative leap into a big idea or unique insight. Reading the data and listening to your gut. 2) The ability to communicate, inspire, and lead with a clear, compelling vision. 3) And, once communicated, the ability to get out of the way to let a talented team of people deliver, to do their jobs with passion and purpose.
Describe your marketing team and the role each plays.
Our diverse team includes many roles from insights to product development, product marketing to consumer engagement (advertising, menu, merchandising, etc.) and field execution. We're a group of talented individuals dedicated to working together and delivering the brand promise.
Why is it so important for the marketing department to have a "personal touch" when it comes to helping the brand connect with prospects?
People don't buy a "what," they buy a "why." They are more loyal if they feel a brand is a brand for them, versus a rational transaction.
How does this help your franchise development effort?
Our North Star, "America's Diner," is all about the emotional connection. It's also the reason franchisees bought into the brand.
What ways/tools do you rely on to do this?
Our advisory board for both marketing and operations is very involved in the development of system-wide marketing programs such that our vision, mission, and values statements are authored by both franchisee and corporate leaders. This has allowed us to make better-informed decisions on programs and marketing campaigns that will best resonate with our guests. We do this through the cascading of information through field teams, internal communication, annual conventions, local market meetings, training, and the like.
Do today's prospects expect more from the franchise marketing department? What, and how do you provide it?
Like all shareholders and stakeholders, they expect us to be better informed and do more with less. They expect us to be focused on both the short and long term. They want a silver bullet, but I honestly believe they realize it doesn't exist today. Finally they want and expect us to lead while making sure we have listened to their points of view.
How is technology changing the way franchise marketing is done in terms of one-on-one contact?
As a heavily franchised organization, it is critically important that we work very closely with the Denny's Franchisee Association on the brand strategy and direction. Today's technology and communications tools certainly make that flow of communication more engaging and efficient. Our franchisees hear directly from the guests and are invaluable in shaping the decisions for the brand. Our one-on-one interaction with them helps us make balanced and well-informed decisions in a timely manner on behalf of the system.
How have marketing strategies and tools changed over the past decade, and how have you adapted?
Throughout my career I have always stayed true to five core principles that I believe are important, no matter what industry you are in or what product you are marketing. Those principles are certainly followed closely at Denny's. We stay relevant by using these core principles, which are:
Understanding our core brand DNA, what we mean to our guests and what role we play in their lives.
Driving our brand positioning throughout the entire organization, from marketing communications to food and service, all consumer touchpoints.
Engaging with consumers in a more meaningful two-way versus one-way conversation through social media, creating a relationship that is unique and valuable to each of our different audiences, whether Millennials, Boomers, Hispanics, or families.
Innovating across all areas of our marketing plan, whether through product introductions like the Maple Bacon Sundae, or through our $2/$4/$6/$8 Value Menu, or our engaging media strategy.
Reading, reacting, and refining constantly to hone our approach. Innovation is key, but learning from the risks we take and the new approaches we apply is equally important.
Driving our brand promise throughout the entire organization has been imperative to the success of repositioning our brand as "America's Diner," and we have used additional tools like media fragmentation, media modeling analysis, smarter POS data analysis, etc. to help us better measure consumer interactions and effectively understand these insights to improve our brand strategy.
Published: March 18th, 2014
Share this Feature
Recommended Reading:
Comments:
comments powered by

Disqus
Conferences
InterContinental, Atlanta
OCT 18-20TH, 2022
Franchise Update Media (FUM) is the trusted resource for the franchise industry. For 30+ years, FUM has been the leader in providing valuable...
Oct. 17-20, 2022. Atlanta, GA. FLDC is an exclusive event for franchisor CEOs, Presidents, COOs, CDOs and Development Executives. The conference...