Driving Force: 2008 Franchise Leadership & Development Conference Focuses On Top Performance During Tough Times
Franchise attorney Brian Schnell said it all during a session on franchising sales fundamentals at Franchise UPDATE's Franchise Leadership & Development Conference in late September: "There's nothing fundamental about franchise sales right now."

That summed up much of the feeling on the conference floor during the three-day event, held at the Drake Hotel in the Windy City. Despite that, spirits were high as more than 300 franchise executives and sales professionals gathered for the annual event, which offers as much in networking opportunities as it does in educational workshops and sessions and exhibitors.

This year's theme, "Driving Performance in Tough Times," touched a nerve with the group. Everyone was looking for nuggets of business-changing information they could take home and apply in their development efforts.

The conference kicked off Wednesday morning with three concurrent in-depth workshops that ran through most of the day. One was geared for CEOs and presidents and dealt with executing strategies at the top. A sales management forum examined the ingredients necessary to an effective sales process. Sales pros Nikki Sells (Tasti D-Lite), Steve Greenbaum (PostNet), Lynette McKee (Dunkin' Brands), and Scott Haner, (YUM! Brands) shared their philosophies, experience, and strategies ranging from consistently adhering to a sales process to using technology to stay on top of their process.

Nearby, attorney Schnell of Faegre & Benson, Kurt Landwehr from BrandOne Franchise Development, and Mike Herrera from Home Franchise Concepts worked closely with a group of franchise sales professionals to emphasize key elements of the franchise sales success. "Having a franchise plan is great, but it's the effective execution of the plan that makes a difference," said Landwehr. Although there are some core fundamentals, he said, the sales process cannot be a one-size-fits-all approach. All three sessions were characterized by a steady stream of questions and answers between audience and panelists.

The sessions were followed by the grand opening of the sponsor networking area. Among a plentiful flow of cocktails and hors d'oeuvres, vendors and suppliers mingled with franchise executives looking for tips and tools to help their companies grow.
Keynoters And Presenters
Thursday was the busiest day of the event. It began with breakfast in the sponsor networking area, followed by the first of two keynote addresses. First up was economist and CNN and Fox Business News contributor Stuart Varney. It was the perfect moment to hear from an economist as the Wall Street and government bailout rumors were at a fevered pitch. Varney provided a whimsical but reassuring assessment of the current situation and long-term outlook. One surprising observation: "This is not about economics, depression, recession, or the housing debacle, but about lower fertility rates throughout the world." Explaining that, he noted that many developed countries in Europe and Asia are witnessing steep population declines, which Varney said will lead to fewer employees, customers, and less-competitive economies in the coming decades. Ultimately, he said, the U.S. would be fine because it is maintaining population growth through birth rates and immigration.

Following Varney, FRANdata President Darrell Johnson delivered an overview on the state of the economy, zeroing in on how current events and trends are affecting the franchise industry. "There will be no bounce in 2009," he said. "I thought it might happen, but it looks like it will be 2010 at the earliest before an economic stabilization takes place." Johnson also noted the "crisis of credit that's becoming a crisis of confidence." He said new brands will continue to enter the market, only at a slower pace than in previous years, and that brand acquisition trends should continue. He concluded by observing that capital access may be the single biggest issue facing the industry. On a more upbeat note, he said, "This is a tough crisis right now, but just as in the past, we can get through it again."

Next up, Franchise Update Publisher Steve Olson introduced the sales and development themes from his new book, Grow to Greatness: How to build a world-class franchise system faster!He touched on key areas such as successful lead generation and franchisee satisfaction, noting they are paramount to building and selling a successful franchise brand.

The core of Olson's presentation centered around Franchise Update Media Group's just-released Annual Franchise Development Report. The report analyzed responses from 148 franchise companies--representing some 57,000 units and more than 39,000 franchisees--and examined how franchises create and spend recruitment budgets, how they gather and qualify leads, set benchmarks, and more. (For the full story click here) One intriguing find in this year's report was the rise of social networks as a recruiting source. Websites such as craigslist, YouTube, and blogs are making inroads as franchise sales producers.

The morning was capped off by a CEO panel discussion, moderated by Linda Burzynski, president of V/L Service Corp., and featuring PuroSystems President Keith Gerson, Mr. Rooter President Mary Thompson, and PostNet CEO Steve Greenbaum. Each candidly answered questions concerning how they had overcome challenges and set and achieved their franchise goals.

Following lunch in the sponsor networking area, attendees gathered for a keynote address by Peter Leyden, the first managing editor of Wired magazine and now a futurist who heads up the New Politics Institute, a think tank that brings together politics, new media transformation, and demographics. His rapid-fire, whirlwind delivery highlighted what he called a "different kind of historical moment." He spoke of a "global reframe" that is causing a "morphing into a highly connected global society." At the center of this movement are advances in technology, such as computers continuing to rapidly increase in speed, capabilities, connectedness, and mobility at a rapid pace while their prices keep falling. He predicted that emerging 21st century media will be radically different than what we know today, and will be more "consumer controlled."

Workshops and roundtables filled out the rest of the afternoon--sessions with titles such as "Strong Franchisee Satisfaction," "Successful Lead Generation," and "High-Performance Sales." The roundtable session buzzed with conversation as facilitators guided attendees at 21 different tables through open discussions of a wide range of topics centered around franchise sales and development.

The evening featured the signature event of each year's Leadership & Development Conference: the STAR Awards. These annual awards--based on a mystery shopper evaluation of the franchise organizations that registered for the conference--recognize the franchisors that responded best to the mystery shoppers' requests for information on buying a franchise. The awards are based on their phone and Internet responsiveness to those requests. This year's overall winners are:

1st Place: Fastsigns International
2nd Place: Wireless Zone
3rd Place: PostNet International

After the dinner and award presentation, music from two bands filled the room. First, a band composed of a half-dozen musically talented franchise executives took the stage and rocked the house with a set list of classic rock oldies. They were followed by a Blues Brothers look-alike band that laid on the soulful grooves while attendees more than held up their end on the dance floor.
The Finish Line
Friday morning began with a breakfast followed by two concurrent sessions: a legal program focusing on state regulators and Item 19 of the FDD, and a session reviewing the current state of financing in franchising. The final program, wrapping up a full, fast-paced, three days, consisted of three concurrent "mindshare" sessions: two on sales, broken out by investment levels (above and below $150,000), and the third on multi-concept development.

The next Franchise Update Media Group conference is the 2009 Multi-Unit Franchising Conference, April 15-18 at the Bellagio in Las Vegas.
Published: December 8th, 2008
Share this Feature
Recommended Reading:
Comments:
comments powered by

Disqus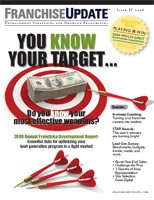 Franchise Update Magazine: Issue 4, 2008
The Titus Center for Franchising, one of Palm Beach Atlantic's Centers of Excellence, offers a concentration in franchising to business students.
Clayton Kendall provides franchise communities nationwide with comprehensive branded merchandise programs leading to greater brand exposure,...