Farming for Customers: Using Social Media to Boost Unit Sales
7-Eleven is going to the chickens--or at least whatever animals are on FarmVille, the popular Facebook game. It's all part of the company's new ad campaign designed to drive Facebookers to visit their convenience store franchisees. And it's working.
But what do farm animal games and Slurpees mean to your business? It's a great example of how social media can, and will, drive business to your franchisees, strengthen brand awareness, and drive franchise sales. And it's not just for tweens anymore.
Bridging the generational gap
The Rolling Stones vs. Lady Gaga. Jersey Shore vs. CNN. Skinny jeans vs. bell bottoms. There's not much the different generations agree on, and for franchisors this is a problem. You need to target potential investors who could open a new franchise location, as well as those people who are going to frequent and purchase goods and services from that new franchisee. The type of marketing and advertising that works with one group is highly unlikely to work for the other--that is, until social media came along.
Yes, tweens and teens were the early adopters. But the Baby Boomers are the highest-growing age range on Facebook today, proving that if you want to reach both of these age groups, social media is the way to do it. Let's revisit the 7-Eleven promo.
Learning by example
The gist is that 7-Eleven has partnered with Facebook game producer Zynga to distribute cups and other store-brand products with access codes for FarmVille, Mafia Wars, and YoVille. These promo codes unlock downloads of virtual goods that can be used in these games.
Gotta have it. So if you play one of these games, you'll want to go to a 7-Eleven, purchase a Slurpee, and get your promo code. This drives business to the 7-Eleven franchisees. It raises awareness about the brand among Millennials and works to strengthen brand awareness with the older generations. Both are using social media (i.e., Facebook), both play the Zynga-brand games, and (thanks to social media), both generations have the same wants that 7-Eleven can fulfill at the same time. The result? For franchisees, business is good.
Cashing in on the success. Don't forget that your potential investors are also on social networks. They're connecting with people on Facebook who play FarmVille and Mafia Wars. Odds are they've even given the games a shot themselves. This 7-Eleven promo is raising brand awareness with them, showing potential investors that they are a brand that "gets it." They're a franchisor that can, and will, throw out the old, rigid guidebooks and try something new to help their franchisees succeed. They're a brand that's worth looking into. The result? More qualified investors interested in opening more franchise locations.
Making it work for you. What if you're not 7-Eleven? What if you don't sell consumer products at all (maid service franchises, for example)? How do you make social media work for you? The first thing to do is to get involved. If you don't have one already, set up a Facebook business page and start communicating with your customers. Find out what their wants and needs are. Maybe it's as simple as offering a coupon on your Facebook business page. Maybe it's a little more complex and fun, like a sweepstakes or photo contest.
When it comes to social media, there are tons of ways to connect with your customers and potential investors. Don't be shy: if you need help, partner with a digital marketing company that understands your franchise's unique needs and knows how to get results.
Lisa Wehr is CEO and founder of Oneupweb, a digital marketing agency. She is in no way affiliated with 7-Eleven, but does enjoy the occasional wild cherry Slurpee. To contact her, visit oneupweb.com, email info@oneupweb.com or send her a tweet @LisaWehr.
Published: August 9th, 2010
Share this Feature
Recommended Reading:
Comments:
comments powered by

Disqus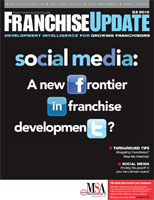 Franchise Update Magazine: Issue 3, 2010
Qiigo unifies digital marketing for national brands and their locations, building brand unity and success helping businesses get found locally....
Franchise Update Media (FUM) is the trusted resource for the franchise industry. For 30+ years, FUM has been the leader in providing valuable...