Franchise Marketing Lessons from a Two-Headed Turtle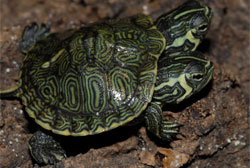 What does franchise marketing have in common with a two-headed turtle? I know... it sounds like a bad joke. But hang in there with me because the lessons you can learn are anything but a punch line.
Meet Ditto, a two-headed turtle found on the shore of a pond in Massachusetts. While the two heads of Ditto had individual brains, they shared one heart, one set of lungs, one stomach, and one common fate.
Despite all they shared, the two heads of Ditto fought like crazy. They fought over whether to go swimming or stay on shore, whether to walk left or right, and, most especially, they fought over food to feed their shared stomach.
It's sad when you think about it. If only the two heads could have learned to work together, Ditto could have been a super-turtle. One head could have stayed above water breathing while the other hunted for food without ever needing to surface for air. Or, one head could have been on the lookout for predators while the other was sleeping. If only...
In many ways, franchises also have two heads -- one head concerned with franchise development marketing and the other focused on consumer marketing. And, all too often, these heads just can't seem to get along. They'll fight over brand strategy, advertising agencies, messaging, internal resources, and more. Yet, just like Ditto, they could accomplish amazing things if they'd just learn to work together.
If your franchise development and consumer marketing department act as two heads instead of one, here are some tips to help you join forces for the benefit of your company, your brand and your customers.
LESSONS For Consumer Marketing Professionals
1) Understand their perspective
The first step toward working together is simply understanding that development sales pros have a different perspective on franchise marketing. To learn what you can about their perspective, take a day, or even just a few hours, preferably offsite without BlackBerries and iPhones, to sit down with a franchise sales pro and ask questions such as:
What do you think are the most important parts of our brand? Why?
What messages and/or offers appeal most to potential franchisees?
What advertising mediums are the most effective for you?
Why do franchisees choose us? Why would they choose someone else?
Who do you think are our biggest competitors? What can we learn from them?
What's the single greatest challenge to our franchise development?
Since franchise development pros work closely with existing and potential franchisees, just one step removed from the customer, you may be pleasantly surprised by how many good ideas you'll walk away with to improve consumer marketing.
2) Walk in the same direction
The single most important asset of any franchise is its brand. Even though you have many unique audiences (potential customers, existing customers, potential franchisees, current franchisees, investors, employees, etc.) you have just one brand. As such, you must make sure all your marketing divisions use its assets the same way, from logos and colors to themes and values.
When various marketing divisions can't agree on how to use the brand, you brand becomes fragmented and you essentially become just like Ditto, with two heads competing over where to go, and going nowhere as a result.
Make sure that your brand is defined clearly enough to allow for consistent usage across various mediums and messaging, yet is flexible enough to appeal to many different audiences.
Also, be sure your internal marketing departments use the brand consistently. When you work together, you'll increase brand awareness and generate brand equity much faster than you ever would by fighting over it.
3) Share your food
As with just about any company, a franchise has limited supplies of time, money, and expertise. Whenever a resource is limited, it's natural to become protective of what you have. But no matter how natural that may be, it's silly for various franchise marketing departments to fight over them -- just like its was ridiculous for Ditto's two heads to fight over food.
Don't get me wrong... I'm not to trying to get you to pool your marketing budgets (although you might get some great media and printing buys if you could figure out how to do it). Instead, I'm suggesting you share your time and unique expertise to help your counterpart solve some of their problems.
Remember the conversation you had with that franchise pro? More than likely, somewhere in that discussion, you learned about several different challenges or frustrations they have. If possible, figure out how you can help them with one or more of these. In my experience, this "help to be helped" philosophy is one of the surest ways to make friends, create genuine alliances, and, at the same time, make your own job both easier and more effective.
Melinda Caughill is Partner, Strategic Marketing at Third Person, Inc., a marketing, advertising, and web design company based in Milwaukee. Contact her at melinda@third-person.net or 414-221-9810 x302.
Published: December 21st, 2011
Share this Feature
Recommended Reading:
Comments:
comments powered by

Disqus
The Titus Center for Franchising, one of Palm Beach Atlantic's Centers of Excellence, offers a concentration in franchising to business students.
Sociallybuzz, founded in 2009, is the #1 Social Media Marketing Agency to help franchisors and franchisees increase their revenues, drive sales, and...