Idea Man: Steve Sager Continues his Innovative Ways
Steve Sager knows a good idea when he sees one. The franchise veteran championed Subway's innovative $5 footlong sandwich as a nationwide promotion and pioneered the brand's use of speedy ovens to offer customers toasted subs in a flash. So when Sager says he sees financial promise in a new fast casual pizza franchise, you might want to listen. Sager, who owns 16 Subways in South Florida and 7 Auntie Anne's in Florida, Alabama, and Mississippi, is in on the ground floor of a development plan for Persona Neapolitan Pizzeria, a create-your-own, handcrafted pizza concept out of Santa Barbara.
At Subway, Sager opened 265 stores over the years as a development agent and has grown accustomed to fielding queries from franchising candidates seeking his funding and expertise. Still, Sager wasn't shopping for a new brand when he traveled to California to check out Persona, co-founded by classically trained chef Joe Baumel, the son of a family friend. The 30-year franchisee was intrigued by the idea of serving up a custom wood-fired pizza in 90 seconds. He inked Persona's first franchise development agreement--for 20 restaurants in South Florida that he plans to roll out over the next 3 to 5 years. The game changer, he says, was how good the pizza tasted.
"It wasn't in my mindset to grow another food company, but I found something that was unique enough that got me excited," says Sager, president of Boca Raton, Fla.-based Sager Management Group. "The reality is, to make money in the food business is not easy. You really have to have a brand that is going to cut through the clutter, and that is not always easy to do."
Sager knows what it takes to succeed in franchising. Thanks to "luck" and the financial backing of his father, who felt his son was suited to be his own boss, Sager was 25 when he opened his first Subway in 1985. In just four years, the pair would open 12 South Florida locations.
"Back then, it was unheard of to be a multi-unit franchisee that quickly," Sager says. "It just wasn't the kind of business people did. We just started expanding, and I really loved the business right away."
The folks at Subway noticed. Subway founder Fred DeLuca tapped the young entrepreneur to become a development agent to own and build the brand in a struggling territory in Northern New Jersey. He sold his rights in 1997 and moved back to Florida to launch an aggressive development plan for Subway at home.
From 1999 to 2011, the University of Florida graduate opened 135 stores, almost doubled average unit sales, and seized on a pricing idea backed by a catchy jingle that became a marketing darling. When a Subway with weak sales was returned to Sager's portfolio, he adopted and expanded on a $5 footlong idea that a Miami franchisee had used to boost sagging weekend sales. Sager still has the banner in his garage that touts $5 footlongs, all day, every day. Sales doubled the first day and then doubled again the first week of the promotion.
Sager implemented the idea throughout his 220 stores, boosting sales as much as 35 percent, compared with flat growth chain-wide. Within three months, the sandwich bargain was winning customers nationwide. "When something works like that and happens by synergy, it doesn't take much to make it go forward," Sager says.
In 2003, he had another idea to add to Subway's winning sales strategy when he spotted a giant oven promising hot pizza cooked in 1 minute being installed in a restaurant next to a Subway in a mall location. A year later, the TurboChef technology was adapted to deliver oven-toasted sandwiches in seconds in Sager's restaurants, and eventually throughout the Subway system.
"People literally have been in the room and said, 'Steve, our sales are flat. What is our next idea?'" he says laughing. "I would like to think that I am good at what I do because I enjoy it--and I understand operations and marketing. But if you have something that is so good, a lot of that is timing and luck."
Sager now hopes to turn his luck and knack for development and innovation to personalized pizza. In addition opening stores in Florida, he plans to add Persona locations in the Chicago area. He is also working closely with founders Baumel and fellow master pizza chef Glenn Cybulski to develop and enhance operational systems for franchisees. The company hopes to open 250 restaurants nationwide in the next 5 years. "My goal would be to never change the integrity of that product, never shortcut it," says Sager.
No matter where Sager's journey takes him, you can bet he will always be looking to change things up for the better. "We do things every day in our own stores that move the needle to create a better experience for our customers," Sager says. " In this business, it is never done. To be relevant you always have to willing to adapt."
Name: Steven Sager
Title: President
Company: Sager Management Group
No. of units: 16 Subways, 7 Auntie Anne's; Persona Neapolitan Pizzeria (agreement to develop 20 units in 3 to 5 years)
Age: 53
Family: Wife Rebecca, daughter Remy
Years in franchising: 30
Years in current position: I have been a franchisee and development agent of Subway for 30 years.
Personal
First job:
Stringing tennis rackets.
Formative influences/events:
My mom for unconditional love. My dad for teaching me the importance of loyalty and "your word is your bond."
Key accomplishments:
My daughter, considering I had her at 50!
Biggest mistake:
Too many to mention--no one bats 1,000. The key is that the good decisions outweigh the bad ones.
Smartest mistake:
Missing an important meeting I should have attended--it led me to meeting my wife.
Decision I wish I could do over:
Being a better student. I should have taken college more seriously.
Work week:
It varies. Good or bad, I am always in touch and available 24 hours a day to my staff and franchisees. With that said, I always make time to unwind and spend quality time with my family and friends.
How do you spend a typical day?
It is never the same. I visit stores, meet with landlords, work on R&D. Put out fires. Check lots of emails!
Favorite fun activities:
Traveling, golf, flag football, skiing. Watching Sunday football. I am a long-suffering Miami Dolphins fan.
Exercise/workout:
I run 4 to 5 miles, four days a week and lift weights twice a week. Just starting to do yoga.
Favorite tech toys:
I really like technology, but mostly it is just getting the newest iPhone when it comes out.
What are you reading?
I like current events, so I read three morning papers and assorted magazines.
Do you have a favorite quote?
"The devil is in the details." In the restaurant business the small stuff can make the biggest difference.
Best advice you ever got:
"You can will it to happen." My father said that to me many years ago. The way I take that advice is, you better work hard and believe in yourself, because if you don't no one else will.
What gets you out of bed in the morning?
My daughter. She comes in the room and pulls on my arm and says, "Get out, Daddy."
What's your passion in business?
To stay relevant. It is exciting to work hard and adapt to changing business environments. It keeps you on your toes.
How do you balance life and work?
It is always a struggle, because of the unknown, but you do the best you can. Always make time for your family. Otherwise, all the success in the world is meaningless.
Last vacation:
Does Disney World count? My wife and I went to London in the fall.
Person I'd most like to have lunch with:
My grandmother. She died when I was young, and I did not get to appreciate the amazing women she was. I would love to hear her story about life in the 1930s. She moved from New York to Miami as a widow, with two young boys and no resources, but somehow bought real estate, became a singer, and provided for my dad and uncle.
Management
Business philosophy:
To strive for excellence.
Management method or style:
I usually have a softer approach. I always felt that I spend as much time with my staff as I do with my family, and I so want the office atmosphere to be enjoyable and productive.
How do others describe you?
Honest, loyal, caring, a little eccentric, and sometimes late--not my best quality.
One thing I'm looking to do better:
I can always be more patient.
How I give my team room to innovate and experiment:
Always, in any business, if you think it begins and ends with you, that is a recipe for failure. The field is where the best ideas will always come, and it is always about the team.
How close are you to operations?
Very. I believe it is what I do best. The quality of a product and customer service is where it starts and ends.
What are the two most important things you rely on from your franchisor?
A proven way to do things and procedures that provide a basis for success. It gives you the feeling that you are not in this alone.
What I need from vendors:
Fair prices and consistent quality.
Have you changed your marketing strategy in response to the economy? How?
It is a balance. When I was the development agent for Subway in South Florida, we developed the $5 footlong. This strategy went on to be the biggest event in franchising. The key is knowing when to stop one marketing strategy and go on to the next. It can be difficult. In a slow economy, discounting is always the first idea, but it must be a balanced approach. I always like to focus on great products as the main focal point in our marketing.
How is social media affecting your business?
Social media is a two-edged sword. With the new technologies, we now have mobile ordering apps and customers can comment on their experience on many different platforms, which is great. The negative is when a comment is inaccurate. Once a person reads it, they tend to believe it, and it can be difficult to change their perception.
How do you hire and fire?
I have hired through most routes. My favorite is by a referral, someone I know and whose opinion I trust. I am sure, like most, that I don't like to fire people. I have had to do it many times over the years. It's necessary, but not the best part of my position.
How do you train and retain?
Our training is very comprehensive and always starts and ends with customer service. Training is teaching someone something new. It has to be done in a manner that is detailed and in-depth. Sometimes current staff forgets how difficult it can be to learn something new, no matter how basic it may be. So patience is the key.
How do you deal with problem employees?
Quickly! If the problem is more detailed training, we will work on that issue. If it is an attitude, or how the employee is treating customers, they will be let go.
Fastest way into my doghouse:
Lie to me. Or cause drama in the office or store.
Bottom Line
2015 goals:
To open our first Persona in the South Florida area.
Growth meter: How do you measure your growth?
By the success of the franchise. If we open and customers love our product, which I believe they will, we will have 20 stores open in the next 3 years.
Vision meter: Where do you want to be in 5 years? 10 years?
Happy and healthy and growing a great new chain that can revolutionize the pizza industry.
How is the economy in your regions affecting you, your employees, and your customers?
The economy is always a factor. It is a constant that is always dealt with--how you market and advertise, employee wages, value to your customers. Value is never just about the cost of a product, it is how much your customer enjoys their purchase in relation to what they paid.
Are you experiencing economic growth in your market?
South Florida is currently going through a growth cycle. The real estate and tourism industries have experienced huge growth in the past few years, and all of South Florida, especially Miami and Miami Beach, have become international cities with tremendous foreign investment dollars coming in.
How do you forecast for your business?
It can be difficult because we rely on past customer counts to predict the future. We all do it, but it is not an exact science.
Have you used private equity, local banks, national banks, other? Why/why not?
I have had great experiences with my local banks. We usually borrow varying amounts for each franchise we open. Banks like franchises because of the track record for success and knowing they will be paid back on their loan.
How are you handling rising employee costs (payroll, minimum wage, healthcare, etc.)?
Ultimately, those costs are going to be passed on to the consumer. Everyone wants a living wage and healthcare, but if the franchisees aren't profitable it can't happen.
How do you reward/recognize top-performing employees?
We have goals that are tangible so everyone knows what they are striving for. We have monthly meetings where we recognize our top-performing employees with bonuses and awards.
What kind of exit strategy do you have in place?
Right now, none. I enjoy what I am doing way too much to concentrate on anything but growing Persona.
Published: September 14th, 2015
Share this Feature
Recommended Reading:
Comments:
comments powered by

Disqus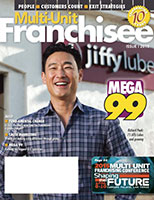 Multi-Unit Franchisee Magazine: Issue 1, 2015
Owning your own Pancheros restaurant is a chance to start a business without starting from scratch.
Cash Required:
$250,000
Bonchon is an internationally recognized Korean Fried Chicken concept. Bonchon means "my hometown" in Korean, and represents our...
Cash Required:
$250,000