Look to Non-Banks for Financing
Lending experts say if you haven't provided financing information on non-bank lenders to prospective franchisees, you may be missing an important opportunity. There are a number of advantages to using non-bank lenders for franchise development, and franchisees who need financing help will appreciate the information you provide.

Non-bank lenders can offer franchisees as well as franchisors loans of varying amounts and terms. In addition, most will lend up to $1 million or more, and can provide longer term, fully amortized loans with no balloon penalties.

Of course a longer term means smaller monthly payments, which helps leave more cash for investment in the business. As you probably know, many banks require loans to be repaid within five to 15 years, but non-bank lenders can extend their loans for up to 25 years. Non-bank lenders also have earned preferred lender status with the Small Business Administration, which means SBA loans can be approved and processed with relative speed.

There are other differences between banks and non-banks to keep in mind. For example, banks usually require significant down payments and are very selective about the collateral they will accept to secure a loan. Non-bank lenders have been known to be innovative, and are more likely to evaluate cash flow, which can be used to mitigate collateral risk. In addition, they are specialists when it comes to lending to business and many have experience lending to the franchise industry.

Another advantage of non-bank lenders is that they are not restricted by geographic boundaries, as banks may be with their charters. In addition, they don't face the regulatory constraints that many bankers face. As a result, non-banks can be somewhat more flexible not just about terms but credit history as well. Keep in mind that since non-bank lenders take on more risk, they will often charge a higher interest rate or extra fees to cover the increased risk.

There are a wide variety of non-bank lenders to consider. Here is a list of some of those actively involved in the lending process:

Amresco Commercial Finance-Headquartered in Boise, Idaho, ACFI has been in the commercial loan servicing and origination business for approximately 10 years. It has originated more than 2,400 loans in all 50 states. It specializes in the retail services sector, specifically in franchised and non-branded restaurants, convenience stores, health clubs, hotels, car wash, funeral homes, and the automotive-aftermarket retail industry. www.amresco.com.

Business Lenders-Based in Hartford, Conn., Business Lenders can lend borrowers from $100,000 to $2 million on both SBA and conventional loans. It offers long-term loans (seven to 25 years) to meet the financing needs of growing businesses. www.businesslenders.com.

Business Loan Express-Headquartered in New York City, Business Loan Express is a non-bank financial services company that specializes in making long-term loans for a variety of industries including franchising. It services a portfolio of more than 3,330 loans totaling more than $2.4 billion. Its loan programs are designed specifically for borrowers with financing needs from $200,000 to $4 million. The company's loan products include conventional business and commercial loans, as well as government-guaranteed SBA loans. It is classified as an SBA preferred lender in all 50 states. For more, click on www.blxonline.com.

CIT Group-Founded in 1908, CIT has nearly $60 billion in assets under management. Clients range from homeowners to small businesses to multinational corporations. The company's commercial finance business offers clients a wide range of secured lending, leasing, and factoring products including direct loans and leases, secured revolving lines of credit, and term loans. Headquartered in New York City with corporate offices in Livingston, N.J., CIT has assisted startup and established franchise enterprises in the fast food, casual dining, sports, and child-care industries. It can provide financing for starting, expanding, or improving a franchise business. Some of its well-known franchisor clients include Dunkin' Donuts, Meineke, Mail Boxes Etc., and Pearl Vision Centers. www.cit.com.

Commercial Capital Corp.-CCC is a leading commercial lender in Canada acting as agents for non-bank financial institutions. Based in in Toronto, CCC offers a variety of financing strategies including term and operating loans, leasing, asset-based financing, and project financing. www.commercialcapital.ca.

Franchise Finance-FF originates loans and leases for the franchise industry. More than 200 franchise systems are approved with Franchise Finance to finance all their growth needs. This includes startups, multiple owners, resales, remodels, or franchisor corporate stores. Items financed may include franchise fee, equipment, and leaseholds. Land and building financing is available for SBA terms of 25 years. The company finances up to 70 to 80 percent of the total project and maintains that financing second locations is easier once a borrower has an FF account. www.franchise-finance.com.

GE Commercial Finance, Franchise Finance-GEFF is a leading lender for the franchise finance market via direct sales and portfolio acquisition in the U.S. and Canada. With more than $12 billion in served assets, GEFF serves more than 6,000 customers and 21,000 property locations, primarily in the restaurant, hospitality, branded beverage, storage, and automotive industries. Providing franchise financing solutions for more than 20 years with growth more than tripling between 1991 and 2000, GEFF is a subsidiary of General Electric. www.cefcorp.com/franchise/index.html.
Global Financial Services-Whether prospective borrowers need financing for new equipment, to finance accounts receivable, working capital, or to acquire a company, Global says it can help provide the funds. Global has been designated as a preferred financial services company by SBA lenders. www.globaleasing.com

Textron Financial-Textron has been providing financing solutions that have helped thousands of small and mid-size companies in traditional commercial finance markets and in specialized niche markets. It has more than $8 billion in managed assets and is a subsidiary of Textron Inc. (Bell Helicopters, Cessna Aircraft, and E-Z-GO golf carts). www.textron.com.

As this listing demonstrates, there are a number of non-bank companies available for prospective and current franchisees and franchisors to tap for funding. Don't neglect to take the time to develop this information for franchise growth.
Published: October 18th, 2005
Share this Feature
Recommended Reading:
Comments:
comments powered by

Disqus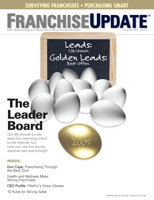 Franchise Update Magazine: Issue 3, 2005
UMI has over 23 years of experience supporting fast-growing multi-unit brands. From strategic planning to design, execution to analysis, UMI...
ServiceScore helps businesses get the results they want from phone calls.