Looking for a Few Good Millennials
Are you armed with solid answers to their most important questions?

Even with a billion young people entering the global workforce over the next 10 years, we still face the tough challenge of hiring top talent for our organizations.

Attracting, recruiting, and retaining top talent are challenges I faced as director of talent services (recruiting) at Wal-Mart. Recruiting has become more than just building relationships; it is about producing ROI and justifying expenses made throughout the process.

In this economic environment, it is even more important to understand the future workforce and the solutions to our recruiting challenges. Finding the right person for the right job, at the right time and for the right cost, is an overwhelming task. Add to that an unemployment rate that has hit a five-year high of 6.1 percent, a lack of awareness about franchising opportunities, and a disdain for entry-level jobs, and you too face a challenge of finding that next-generation talent.

So what are you doing to meet this challenge? Here are some questions to ask your organization as you fight the war for talent.

The Millennial generation has information at their fingertips. They are the first generation to grow up with computers. They access information as easily with their cell phones as we do watching the news or reading the newspaper. They want to know who you are. They want to see your words matching your actions. They are searching for transparency so they can have the opportunity to drive the organization's mission. Consider these questions:
Can you clearly articulate the mission of your organization?
What differentiates you from other franchises?
Why work for you?

Today's young workforce has been raised by a generation (Baby Boomers) who protected, coddled, and coached their children to success. Remember, they don't know how to lose. They received a trophy regardless of where they placed and didn't keep score in the game. They want to make your organization successful. Can you answer these questions?
Can you define what success looks like?
Are your success goals clear, and can you provide a plan they can buy in to and help you achieve?
Are you willing to embrace parents who want to be involved in the hiring process?

We are all motivated and driven by different factors. This generation is not all about the "dollar." Many make their final decision of whether or not to work for an organization based on factors other than money. They want to add value to an organization and know that they are not just another hire, but are truly making a difference. This workforce is driven by the opportunity to make a difference in their local communities and to provide a better world for the future. Consider these questions:
How is your organization involved in the local community?
Are there opportunities to work globally?
How is your organization sustaining a "green" environment?
How can your employees become involved in these programs?

As we searched for exempt and non-exempt talent for Wal-Mart, we struggled to find those key factors that would make us the "employer of choice." As we began to look at our employees and understand the future workforce, we began to clearly articulate the answers to the above questions.

Pull your staff together and pose these questions as a launching point for facing your hiring challenges. Honestly examine your organization and put forth a clear message of how you can become the employer of choice. As you develop your strategy and your understanding of this emerging workforce, you will begin to see victory.

Randy Cox worked at Wal-Mart for 12 years in operations and recruiting. He currently is senior vice president of YS Interactive, the first global marketplace that connects young, ambitious people in more than 100 countries with opportunities to launch their careers. If you are interested in new, innovative, dynamic ways to reach this generation, contact him at randyc@ysn.com.
Published: December 22nd, 2008
Share this Feature
Recommended Reading:
Comments:
comments powered by

Disqus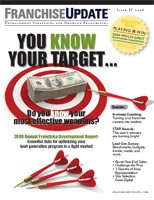 Franchise Update Magazine: Issue 4, 2008
MSA provides domestic and international franchise advisory services to franchisors and companies seeking to establish franchise and licensing systems.
919 Marketing Co. is a national content marketing, PR and social media agency serving franchise brands. Our proprietary social relations approach...