Optimizing Your Franchisee Conventions
This is the first of a three-part series on how to optimize your franchisee conventions. In this first part, we examine how to get more franchisees to attend your convention. In the second, we will address how to get the maximum benefit from your conventions. Finally, in the third part, we will look at how you can extend the life of your conventions and ensure you derive the maximum benefit from them.
No singular event is as powerful as your convention in terms of communicating with your franchisees. It is the single most effective form of franchisor-franchisee communication. According to Katrina Mitchell, CEO of Speak!, "A key investment for most franchise systems is their annual franchise convention. With careful planning and a focus on what you want your franchisees to take away from the experience, your annual meeting can have a tremendously positive effect on a franchisee's productivity, profitability, and passion for the brand." Because of this investment, it is critical that you maximize this event. Part of maximization is high attendance.
No matter how great your convention content and agenda are, if you are delivering it to an empty room it has no value to your system. Perhaps more frustrating than no franchisees attending is when only half of them show up. This results in part of your system being extremely excited and motivated, and the other part significantly lagging behind. It is critical that you have as close to 100 percent attendance as possible.
Recently, Speak!, Ingage Consulting, and Franchise Business Review conducted an online survey of franchisors about their franchisee conventions. Nearly 200 franchisors responded. The following are some of the survey results: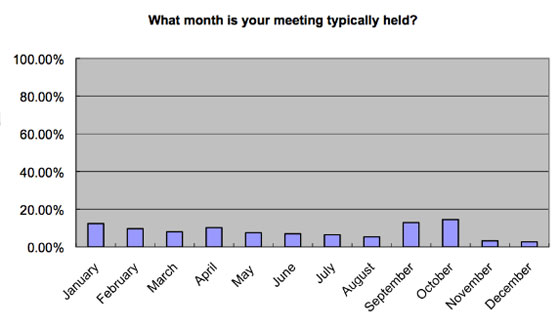 Maximizing attendance
The question is, how do you maximize attendance? The long-term answer to this issue is to have an event so valuable that no franchisee would want to miss it. This topic will be addressed in the second part of this series. So let's look at some short-term ideas:
Culturally, you need to make your convention a "Must Attend" event. You start this process in the recruiting stage. When you are presenting your brand to a potential franchisee, talk about your convention as one of the major benefits of being part of your organization, and why no one would want to miss it. Continue developing the idea that this is a "Must Attend" event during onboarding and throughout the entire relationship with your franchisees.
Ensure that your staff sees your convention as a "Must Attend" event. It's amazing how often your own staff doesn't fully understand the value of the event. Your staff's attitude is critical to attendance, and how they present the concept (and encourage attendance) to your franchisees will have a large impact on getting people excited about attending the conference.
Measure results, looking at the sales and profitability growth of the attendees versus those who don't attend. In working with several franchisor clients it's amazing to note the correlation between conference attendance and sales growth and profitability. This, of course, reinforces the value of the event and gives franchisees a great reason to attend.
Get your advisory council involved. A call from a council member is much more effective than a call from staff. If your council members have regions, have a fun contest and give a small prize to the region with the highest attendance.
Host your convention in the best month for the event, not the least expensive month. For example, the best month could the one that conflicts the least with your organization's sales cycle.
Provide economic incentives at the convention. Offering special buys and lower-cost services if purchased at the convention provides value, makes selling easier, and is an incentive to attend.
If your conventions are mandatory, use a variance committee for franchisees to approve anyone who cannot attend. This takes the heat off management, and franchisees are normally tougher than management.
If your penalty for non-attendance is termination, provide an option of a fine instead; termination is too drastic. Put the funds for the fines in a special account available for franchisees with financial hardship who need some financial assistance to attend. The same variance committee can choose who receives the funds. You also can do fundraising for that account. Having an auction to raise money for the fund can be popular, fun, and makes the point of how important your conventions are.
Plan your conventions at least 12 months in advance and offer a special for signing up for the next convention at the current one. The convention is when franchisees are the most excited. It's easier to sign up people then, plus it saves you from having to make an effort later.
Always promote what will be new at your convention. What is new will be of the highest interest and encourage the most attendance. This further reinforces among your franchisees that they will indeed be missing something of value by not attending, which builds upon the concept of your convention being a "Must Attend" event.
In the next installment we will talk about how to get the most out of your franchisee convention.
---
Evan Hackel is the principal and founder of Ingage Consulting. He has 25 years of franchise experience having developed, implemented, and managed three successful new franchise systems. He can be reached at (781) 569-5900 or ehackel@ingageconsulting.com.
Published: July 5th, 2012
Share this Feature
Recommended Reading:
Comments:
comments powered by

Disqus
Conferences
InterContinental, Atlanta
OCT 18-20TH, 2023
Oct. 18-20, Atlanta, GA. An exclusive event for franchisor CEOs, Presidents, COOs, CDOs and Franchise Development Executives.
Bring Order to Your Business. All-in-one management, print, and design solutions at your fingertips, on one platform