Pick Up the Damn Phone! Personal Contact Is Still the Best Sales Tool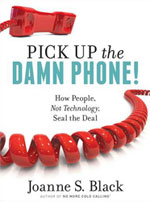 One of the biggest problems salespeople face with social media and technology is the lack of real, meaningful contact and communication. Sure, it's quick and easy, but when it comes to closing deals, does it really produce the results you need?
It's easy to get sucked into technology. But the personal touch is the best deal-maker there is. Relationships matter more than anything else. The digital world – as great as it is – threatens personal connections. Humans need personal contact with others. Email, texting, and social networking all certainly have a place in business today, but none of them replaces the power of a personal connection.
Based on my years of research and experience, here are my thoughts on the critical elements for business success, where creating powerful personal trust with executives and customers is necessary to produce immediate and long-term mutual economic benefit.
Stop typing. Stop texting. Get personal right now. Pick up the phone and call. Go down the hall, take a walk, get in your car, take a train, get on a plane, hop on a bus, take the metro, and go and see the right person or people right now. Make arrangements to see the people you work with face-to face. Go and meet your prospects and clients in person. Thrash your competition. They are still tapping away on the keyboard. Even in our technology-driven world, nothing replaces a handshake and in-person interaction for both building and maintaining business relationships. Face-to-face meetings aren't luxuries.
Our smartphones are not so smart. Everyone looks down at their phones – bumping into people on the street, at networking events, on the subway, at restaurants, in bed, at home. Our addiction to technology is bleeding into our personal lives. There's no conversation. Kids are ignored. When you used to go into a public place, you assumed everyone was in that place with you. Now everyone is somewhere else. No one is talking. No one is connecting.
Are you spammed? Salespeople think that technology can do their job. They are under the mistaken belief that if they do some research and identify specific trigger events and mutual connections they can now spam away. It's like digital snake oil. Executives don't have "Meet with salesperson" on the top of their list; however, they will always take a meeting with a personal introduction from someone they know and trust.
We're smarter than our buyers. The digital buyer, Buyer 2.0, learns all about us with a click of the mouse. Salespeople are armed with the same tools. Even though buyers may know a lot about you, you know just as much or more about them. Clients don't usually recognize exactly what they need. You do. Because so much information can be found online, the standard is now higher for sales to add value. Information isn't knowledge. Knowledge comes from wisdom and experience. Just being tech-savvy doesn't mean you're smarter than your buyer.
Message to marketing: Keep your hands off my clients! It's up to salespeople to nurture their own relationships – not just with marketing automation, but with one-on-one conversations. Marketing should not be qualifying leads. That's your job. Not only is generating leads your responsibility, it's a task you don't want marketing (or anyone else) doing for you. These are your clients, and you must continue to cultivate these relationships. These are the people who can send you the best, hottest referrals. So marketing, keep your hands off my clients!
Bring in your team. Don't be a lone ranger. If you are the manager, bring your technology experts with you. If you are the technology expert, bring your manager with you. Knock people's socks off by giving them access to the right people, those who matter to the solution of their problem. Show clients that you trust your teammates and that they can trust you. When you share data, strategies, best practices, and even people, you make the best impression and win loyalty that lasts for a long time.
There's no such thing as a "warm" call. If you don't have a referral introduction, your lead is freezing cold – even though you mistakenly think you've been able to avoid sounding like a pesky telemarketer. A referral allows you to walk straight into meetings with your ideal prospects – without cold calling or trying to figure out how to bypass the gatekeeper. If you've been introduced by a trusted source, these gatekeepers will welcome your call. The secret isn't duping them (trust me, they're onto you). Make referral selling your primary sales driver and convert more than 50 percent of prospects to clients.
Shine the light! Prove that live and in person is best. Social networking isn't the next big thing. You are! It's not technology, but rather the person using the technology, that sets salespeople apart. Social selling is a great way to expedite the first few important steps in prospecting: researching potential clients and identifying referral sources. Beyond that, it's not social intelligence we need, it's relationship intelligence that seals the deal.
It's people, not technology, that seal the deal. It's the real thing.
---

Joanne S. Black, an expert on referral selling, is the author of two books: Pick Up the Damn Phone: How People, Not Technology, Seal the Deal, and No More Cold Calling! She also is a popular speaker who teaches how to build referral networks to quickly attract more business, decrease operating costs, and ace out the competition every time. Contact her at joanne@nomorecoldcalling.com or by picking up the damn phone at 415-461-8763.
Published: November 6th, 2013
Share this Feature
Recommended Reading:
Comments:
comments powered by

Disqus
Qiigo unifies digital marketing for national brands and their locations, building brand unity and success helping businesses get found locally....
MSA provides domestic and international franchise advisory services to franchisors and companies seeking to establish franchise and licensing systems.