STAR Time!: Lessons Galore from this Year's Best Performers
Kix Mobile, an emerging cellphone exchange franchise, is less than a year old. But as a pre-registrant for the annual Franchise Leadership & Development Conference, Paul Wolbert, Kix's director and CEO, signed up to be mystery shopped by a team of sales and lead generation experts. Wolbert wanted to know how well his newly formed team is doing.
"The franchise business is so competitive you have to bring your A game all the time," he says. "This mystery shopping allows you to test how well you're doing that."
For a first-timer, Kix Mobile placed well: runner-up in the Best Telephone Prospect Follow-Up category. Not bad for a brand new franchise up against 136 other franchise competitors!
In addition to telephone follow-up, mystery shoppers evaluated brands on franchisee satisfaction, website response, websites, and FDDs. The results are scored and the top performers in each category, and the overall winners, are recognized with STAR Awards at a banquet held on the final night of the conference. The awards dinner, sponsored this year by ApplePie Capital, was held at Maggiano's Little Italy, a short walk from the InterContinental Buckhead, where the conference took place.
What did the winners do to perform so well? STAR Award (Speaking To And Responding) honorees share their thoughts on winning strategies and tactics for outstanding franchise development performance--and the value of the STAR Award to their future recruitment and development efforts.
To learn more about the methodology employed by the mystery shoppers--and more important, their observations, analyses, and suggestions for improvement--see page 42. A longer list of this year's winners and top runners-up appears at the end of this article, on page 48.
Best Overall Performance
1st Place
BrightStar Care
Last year, BrightStar took home a STAR Award for Best Overall Responsiveness and was a runner-up in the Best Telephone Prospect Follow-Up category. This year BrightStar stepped up to earn the top STAR Award. But the plan and campaign to win the top honor began at last year's awards banquet where Shelly Sun, the company's CEO and co-founder told a colleague, "Next year, we're taking Best Overall."
That goal "was a kick in the butt," she says. "We set out an action plan and spent the last 10 to 12 months revamping. Seventy-five percent of our organization was rebuilt." Still, Sun says, she was surprised--pleasantly--by this year's more comprehensive win.
Of course, the work was not just about winning the top award, she says. "We felt we'd lost momentum and entrepreneurial push." She wanted fresh eyes and expertise, so she worked with BrightStar's board and asked David Bloom, chief development officer at Capriotti's Sandwich Shop, to consult for two days with the team, "to make sure we had a message that would resonate with our franchisees," she says. (Sun is an investor in Capriotti's.)
Changes were made to all forms of BrightStar's social media and to website content aimed at prospects. "We asked, 'What would I need to know if I'm going to invest?' and discovered that 20 percent of the old content answered that question. The other 80 percent was covered in training," she says.
The fresh look at that content, such as who reports to whom, and messaging honed to be on point with BrightStar's differentiators, has produced great results. The evidence?
"We're closing more deals," says Sun. Winning the award, she adds, is a bonus and "validation of all the time and money we've invested."
Best Overall Performance
2nd Place
Christian Brothers Automotive
Christian Brothers also was a runner-up in three other categories this year: Best Social Media, Best Website Prospect Follow-Up and Best Overall Responsiveness; and tied for second place in Website Best Practices.
"We are so pleased and feel so blessed," says Josh Wall, vice president, franchise and strategic development, whose list of alterations and additions to the brand's development efforts is long. And 2017 has been a good year, he says, with unit-level economics "better than they've ever been."
Expanding from one development manager to three front-line recruiters is one example of what Wall says could be the theme of all the work that's been done in the past year. "It comes down to how we are allocating people's time and talents," he says.
Another change: Wall stepped back from the responsibility for 100 percent of lead generation to take over the franchise's real estate and development team. He then promoted a franchise development specialist as the front-line leader of that area. It wasn't so much a question of delegating, but rather one of having enough of the right people to carry the ball, he says.
He also cut back on the long blog posts he'd been writing and asked an outside vendor to do some streamlining and freshening of the website. The new website was launched in May, around the time the mystery shoppers were testing performance. "We're still tweaking it," Wall says, "and looking for our next breakthrough."
Best Overall Responsiveness
1st Place
Wild Birds Unlimited
"We know there's a limited amount of time and that our candidates are very busy, and we are honored to have anyone even consider us," says Chief Development Officer Paul Pickett. "We have, in the past, received a first place for Best Telephone Prospect Follow-Up," he notes. Whether by phone or online, the responses must be authentic and reflect the idea that "we listen more than talk, and respond rather than react," he says. "We are always editing, always massaging the way we reach new candidates, to find people who are a good solid match." Wild Birds also placed first for Best Website Prospect Follow-Up. "I have to admit I was surprised, especially for our website," he says, but changes to the brand's website have made it easier for people to navigate. "The old website was not optimized for mobile. Now, right under our name is our phone number, and all you have to do to call is click it," he says. And when people call, they will have a conversation with one of three people, including Pickett. Cross-training and a willingness to take calls, regardless of one's primary job, he says, avoids long waits for callbacks or responses to initial calls.
Best Franchisee Satisfaction
1st Place
Home Instead Senior Care
Franchise Development Manager Kathleen McKay says the brand is "very honored and proud" to have received this award in both of the first two years it has participated. "For us, winning the Best Franchisee Satisfaction award back-to-back is a welcome acknowledgment of how seriously we take our owner vetting process. It ensures we partner with incredible business owners with exceptional integrity and heart for making a positive difference in the lives of seniors and their families," she says. Following last year's win, McKay's team has added another lead qualification specialist. Home Instead also was a runner-up in Website Best Practices.
Website Best Practices
1st Place
The Melting Pot
"Our practice has been continuous improvement," says Chief Business and People Development Officer Dan Stone. "When we go to conferences, for instance, we look for key nuggets to improve our website and social media." The brand recently signed a contract with Internet marketing company Scorpion to develop a refreshed franchise development website. It won't necessarily mean new content, says Stone, but it will mean that many functional additions can be sorted out from scratch. Stone wants to make sure that people can find the information they seek without so much effort that they leave the website. "People want what they want when they want it," he says. "If it's not at their fingertips, we've found they will move on." The new website, which will reflect innovations at the brand, also will continue to feature business-to-business stories that prospects will find useful, an image gallery, testimonials, and an interactive map that shows The Melting Pot's operating and available locations. Scorpion, Stone says, can provide updates as needed and raise the level of the site's SEO marketing. The Melting Pot also earned a second place finish in Best Social Media. The double awards, Stone says, "are flattering and a proud moment for us to be recognized by our peers."
Website Best Practices
2nd Place (tie)
Arby's, Christian Brothers Automotive
"All the credit goes to our franchising team here," says Greg Vojnovic, Arby's chief development officer. The award, he adds, is a "wonderful recognition for the team." That team, led by Joe Sieve, Daphne McManus, Bert Lane, and Jodi Fraser has done "an incredible job of focusing our franchising efforts," he says. At the heart of Arby's franchise development approach, says Vojnovic, is the idea that anyone who takes the time to ask about a franchise is someone who likes Arby's. That drives a process that doesn't initially filter candidates, so a softer filter is especially important, he says. "Some people have a dream, and if they don't have the resources, we say, 'We want you to be successful. Here's what you need to do to qualify. If you can do that, then let's talk.' You don't want to be dismissive or disrespectful," he says. "Sometimes being big can work against you, and sometimes people have preconceived notions. So we concentrate on being very gracious."
Best Website Prospect Follow-Up
2nd Place (tie)
Window Genie, Showhomes Home Staging
"An award like this confirms why we get out of bed every day excited to support our owners," says Rik Nonelle, Window Genie's president and founder. "It's always great to be recognized and validated for something you're doing right so we can continue to believe in what we're doing to grow the system." The Dwyer Group bought the franchise in 2016. This increased the brand'sdevelopment team, but it didn't change its franchise development philosophy. "We pride ourselves on not being pushy and on being more available and helpful than other franchise systems our prospect may be pursuing," says Nonelle. Using technology to the fullest, including Skype and reminder emails, keeps candidates feeling organized and in control of the process, he says.
Best Telephone Prospect Follow-Up
1st Place
Office Pride Commercial Cleaning Services
Office Pride's win explained some unusual pre-dinner behavior at the conference. "A couple of my staff asked me if I was going to the awards dinner. I was a little suspicious," says Gerry Henley, executive vice president. "We really appreciate the honor," says Henley, who has been with the franchise only two years, during which he's made some new hires, including Richard Helm as franchise development manager. "Rich won us this award," says Henley. "He has set an example for how to implement and be accountable for a process we already had in place." The award, Henley believes, honors the idea that "It's not just how fast you answer the phone, but what happens after, how you interact. It's all about engaging prospects where they're at." That idea evolved into the addition of another category of prospect: engaged. "It means that a prospect is still qualifying and we're not pushing. We guide them through the system, on getting to know them while they're getting to know us. It's a mutual qualification." Some leads may stay at that level for months, Henley says. "We don't start measuring our closure rate until there's a franchise application."
Best Telephone Prospect Follow-Up
2nd Place
College Hunks Hauling Junk & Moving
College Hunks includes texting in its follow-up options. This is for a very good reason, says Franchise Development Officer Chelsea Renno: "Many of our prospects are currently employed." Responding to a text can be done silently. This sensitivity to a prospect's current employment status also prompted her to offer callback appointments on weekends and evenings. "I've had a lot of success with it. We want people to be comfortable and relaxed when we talk, instead of having to run out to their car to talk," she says. To increase that comfort and relaxation, Renno also tells prospects, "We'll take it easy. You're driving the bus. I'm just the tour guide." College Hunks was also runner-up for Website Best Practices. The two recognitions were a "nice surprise," she said.
Best Social Media
1st Place
Capriotti's Sandwich Shop
Capriotti's, says Chief Development Officer David Bloom, "has most definitely taken a multi-channel approach to social media." In part, that's been aided by a strong set of partnerships. In January, Capriotti's added a PR partner, Fishman Public Relations, which has helped the franchisor build a process that has produced "a thorough understanding and passion for the brand," Bloom says. "That enabled us to spark new ideas and execute them on a whole new level." The content generated by Fishman boosted the work of another partnership, with The Producers Network, to design outstanding email and social media campaigns on LinkedIn and Facebook. Capriotti's thinks of LinkedIn not as a transactional sales tool, but "rather as a long-term relationship and reputation builder," says Bloom. "I personally work on expanding and communicating with my network on a daily basis, and have been doing so for years. To date, I have established well over 10,000 direct industry connections on LinkedIn, which has taken me years to build. This network of industry leaders, owners, and operators enables me to accelerate Capriotti's brand exposure on a national and even global basis." Capriotti's also takes advantage of networking at industry events. "Our CEO Ashley Morris and President Jason Smylie are extremely active outside the four walls of our office, and our marketing team does a tremendous job of socializing at every event," Bloom says. "When we take a look at our brand presence, we are amazed at the progress we have made," Bloom says. "We plan on continuing to incorporate all of the above tactics into one, comprehensive social media strategy.
Best Social Media
Runner-Up
Taco John's
When Taco John's took home the Best Overall Performance trophy two years ago, Van Ingram, vice president of development, used that as an internal validation tool for those who "might not understand all we do to generate new leads and new franchises," he says. "It also helps us justify our ad budgets and overall spend. Winning these awards is a third-party verification that we are not only adhering to best practices--we're excelling."
This year, Taco John's was a runner-up in Best Social Media and in Best Website Prospect Follow-Up.
During the past year, Ingram and his team have added new features to their process that they feel have made a big difference, especially because the team is small. "We've added the ability for people to set a time that's convenient for them for us to get back to them," he says. "That makes it easier for us and for them. It's dramatically improved our ability to connect with our candidates."
To bolster the team, Ingram asked Steve Lazenby, director of construction, to take a more active role in sales. "He just completed his first franchise signing, and he was the person who took the mystery shopper call," says Ingram.
Since 2015, Taco John's has worked with Franchise Performance Group, which has been "helping us to cultivate a professional, responsive, and comprehensive social media platform," he says.
It all adds up, says Ingram. "These awards are a great honor when you see that we are being compared with 136 other franchise development departments. There are a lot of really smart people in the competition, and to be mentioned in the top tier is exhilarating."
Published: December 2nd, 2017
Share this Feature
Recommended Reading:
Comments:
comments powered by

Disqus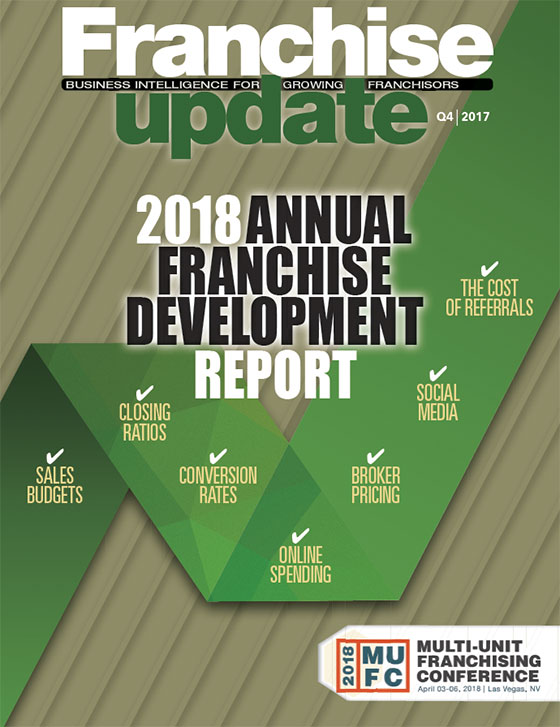 Franchise Update Magazine: Issue 4, 2017
Conferences
InterContinental, Atlanta
OCT 18-20TH, 2023
BoeFly drives growth by delivering financially qualified candidates increasing lead-to-franchisee conversion, and helping franchisees secure...
From lead generation to increasing sales, Hot Dish Advertising is the pro at getting your message in front of those who matter most--consumers...