Start Me Up!: These Five Young Brands are Off to the Races
Starting up a new company is risky business, even in a healthy economy. Despite the troubles and fears that have plagued the economy and business world in the past year, many new franchise concepts have hung out shingles, and others that were just barely off the ground are thriving today.

We talked with top executives from five "new" franchise concepts about where they came from and how they've made it work--amidst the challenges, and against the odds. Each is characterized by a unique, innovative product offering, and for some, a distinctive delivery approach. As you'll see, these entrepreneurs believe in their brands, and are not letting anything--especially the headlines--get in the way of their continued growth.
Game Time
About two years ago, David Pikoff and his brother, Stuart, began seriously talking about going into business together. They thought about buying a franchise, but couldn't find a concept they liked. "We're both fun guys, we love kids, and we love games," says Pikoff. "So we thought, 'Why not create our own game franchise?'"

The brothers' innovative idea was a mobile video game theater that brings the party to the customer. They dubbed the concept Games2U. Pikoff, the company's co-founder and CEO, says he's seen nothing else like it.

"People have to go to the Main Event or Dave & Buster's for games and recreation, and that, plus food and beverage, can be expensive," he says. "It's a lot less expensive to have the games come to you."

So they bought a couple of trucks and outfitted them with games--all kinds of platforms like Wii and PlayStation, and all kinds of games like Guitar Hero and Halo 2. And to top it all off, they also offered laser tag. "We ran the trucks ourselves for the first few months. It was a great experience for observing, learning, and thinking about how to develop and market the company," he says.

In March 2008, they sold those two trucks to their first franchisee and have been franchising ever since. As of this June, they had 36 franchises open and operating, and another 100 sold and in the process of launching. Pikoff says they handle all sales internally, but do have two deals with area developers in San Francisco and Portland, Ore.

Pikoff believes the concept is gaining traction for a number of reasons. First, he says, "Games2U allows parents to have their kids feel like a rock star for a day, at a very reasonable price." He also sees kids, games, and parties as being immune to recessions. "Parents are always going to have money available to make memories with their kids."

The biggest obstacle so far? Not surprisingly, financing. Pikoff says it's been tough for prospects to obtain the capital they need to become franchisees. "I'd say two out of every three prospects we have can't secure financing," he says, adding that he does the best he can to point them to the SBA and other funding resources.

To keep their momentum going, Games2U recently added a new, lower-cost franchise option. Until now, franchisees had to purchase either a Mercedes-Benz Sprinter van or a truck with a trailer, which were then prepared inside and out to serve as rolling Games2U vehicles. This spring, the company launched it G3 party van option--a portable game room that allows franchisees to get on board for nearly half the cost ($85,000, compared with $150,000 and up).

"Our goal is to sell 300 franchises by the end of this year, and I think we can do it," says Pikoff. "We have a unique concept, a solid infrastructure, and a focus on support for the franchisees." Oh yes, and a universe of game-hungry kids.
Spoon-fed
The yogurt and ice cream market is a growing and competitive sector. But the youth movement--with it characteristic lifestyle and desires--is driving one new upstart brand based in Salt Lake City. That's where Ryan Combe, CEO and co-founder of Spoon Me, has kick-started a new yogurt concept with a fresh perspective.

"There are a lot of yogurt and ice cream concepts out there," says the 27-year-old, "but we were looking to create a larger 'brand' and not just be another yogurt seller."

That larger brand, he explains, begins with the unique and whimsical name--Spoon Me--and the appeal of yogurt as a healthy snack alternative. It continues through a green-focused approach, where everything is recycled and biodegradable (including the spoon), and the cultivation of a community feeling where employees and customers alike share common values. "It's a lifestyle concept, not just a product," he says.

The first Spoon Me location opened in October 2007, and Combe says they were exploring franchising possibilities within a month. The first franchised location opened in March 2008. There are now six franchised units open (five in Utah, one in Arizona), with three more scheduled to open this summer and several more sold. The original site and two other company-owned stores still operate as "test sites" for research and product development, he says.

The youth movement at Spoon Me is reflected in the corporate office (where everyone is still under 30) and in the operators and target customers (high school through college age). "The recession doesn't hit younger people as hard as others," says Combe. "They don't have mortgages to worry about and they have more disposable income."

And as for that big, bad economy, Combe says the brand is doing well because "We're not selling a $30,000 truck, but a $4 yogurt. Families are eating out less, cooking at home, and then going out for ice cream and yogurt for dessert."

Still, for the Spoon Me prospects that have come his way, Combe says financing has been an issue. Although he says the tight market has been showing some small signs of improvement lately, he's not waiting around for that to kick in.

"We have investors we know who don't want to operate the units but just fund them," he says. "So we're teaming them up with some young, passionate operators who can run the place day to day."

Earlier this year, Spoon Me got a financial shot in the arm when it sold about a quarter of its interest to Franchise Foundry, a strategic investment partner.

The economic turmoil has provided some opportunities for the emerging franchise. Says Combe, "We've been able to negotiate better lease agreements, better contracts with food vendors, and construction costs are very low."

Combe says the plans are to grow the concept "cautiously and slowly." For now, they are building primarily in the mountain west region but he admits they just signed their first deal in Canada, in Calgary. "We just want to be careful in how we grow. It's easy to grow next door but not as easy several thousand miles away."

Spoon Me is seeking to operate a business "the way it used to be in America--service-oriented," Combe says. "We want to let our customers know that we appreciate them and their business, and we want to show that by actively giving back to the local communities." Which is where all of the tip money from each location is sent.
By the book(keeping)
"There's no other franchise company doing what we do," says Greg Jones, CEO at Bookkeeping Express. "We have a unique niche as a provider of bookkeeping services for small businesses. There's no H&R Block for bookkeeping--and that's what we offer."

Bookkeeping Express actually was founded in 1984 in Southern California and grew for years through a licensing process. Fast forward to 2007, when Jones and two partners purchased the company with the intent to move it to McLean, Va., and start opening corporate locations and begin franchising.

"I have franchising industry experience," says Jones, "and after analyzing the marketplace I believed we could successfully franchise Bookkeeping Express." As a side note, he is also a franchisee for 5 Guys Burgers & Fries and is currently building out a territory in Florida.

Bookkeeping Express began offering franchises for sale in July 2008. The first franchisee came aboard in August, and as of this past June 2009, there were 116 territories sold to 14 franchisees and 16 locations open. "We really only look at multi-unit operators," says Jones.

He says the brand is very "systematic and process-oriented." That's part of the reason they operate two corporate units. Those stores not only provide revenue, he says, they also offer a great testing ground, providing "firsthand insight that helps us continue to tweak the programs and services we offer." Jones says that to serve a variety of small businesses (typically $100,000 to $3 million in annual revenue), the company has had to be flexible and develop a number of different services and products.

Since starting to franchise, he's received a boost from an unexpected source. "The economy has been more of a help to us than a hindrance," says Jones. "As businesses have been forced to lay off employees, some of those companies have turned to us to outsource their bookkeeping needs." Also, a number of laid-off workers have come knocking at his door in search of a future in franchising.

Indeed, there's been no shortage of prospects, according to Jones, who says they average more than 60 inquiries a month. "Finding the right candidate is important, and the sales process is an important determiner for both sides," he says. Slow and steady growth and a focus on supporting the existing franchisee base is fundamental at Bookkeeping Express.

"We don't want to get too far ahead of the wheel," he says. "We must pay attention to our existing franchisees and in developing and providing the products and services they need."

There are Bookkeeping Express locations in eight states right now and Jones says the brand is looking to grow throughout the U.S. He says they'd like to sell another 25 territories in 2009, 30 more in 2010, and 32 during 2011. At present, aA corporate staff of a dozen handles all sales and support functions. The cost of entry is $30,000 per territory and franchisees can choose a home-based model, storefront, or commercial location.

"It's all about ROI, and we believe our business model offers that," says Jones. He should know.
Flip-ped out
Brian Curin stumbled on a unique shop selling nothing but flip flops in a shopping mall a couple of years ago. He thought it would make a great concept for franchising.

With his two partners, Darin Kraetsch and Alan Woods, and their years of experience in the franchise industry with brands including Cold Stone Creamery and Moe's Southwest Grill, the wheels began to turn. They acquired Flip Flop Shops, struck a deal with its founders, rebranded and tweaked it, and prepared it for franchising.

"We started franchising in January of 2008, and as of today we have sold 21 units and have 8 shops open and operating," says Curin. The company has plans to franchise 236 shops by 2013.

He says they felt that by drawing on their experience in franchising and their passion for the concept they can make it work. But there was one unknown. "We had a lot of franchise food experience, but none with flip flops and sandals," he says.

Building relationships with the sandal and flip flop-making community was a challenge at first, says Curin. "We were, perhaps a little brash in the beginning. But we soon realized what great people these folks were, and we quickly began developing key and critical relationships with them and turned it into more of a collaborative relationship." Today, it's a good fit: he and his partners understand the franchise business model, and the sandal and flip flop makers understand the shoes and the market--a $20 billion industry.

Things are looking good for this new brand. After all, the flip flop and sandal market is now outselling athletic shoes, and there's no other retailer that deals exclusively in flip flops and sandals. Curin likens their business model to that of the Sunglass Hut. And surprisingly, he says, flip flops are not as seasonal as one might think. Warmer southern climes and tropical travelers keep the shoes in demand. "People are wearing them all the time," says Curin.

As you might expect, the corporate attitude at Flip Flop Shops is laid back. Says Curin, "I'm wearing flips flops, shorts, and a t-shirt right now."

And the sight, sound, and smell of the shops recreate the concept's lifestyle focus. Each shop promotes "green" interior design featuring recycled particleboard and bamboo design elements and cork floor, and an aroma system that fills each shop with the beach-inspired scent of coconut suntan oil.

Curin says a hands-on sales approach has been effective for recruiting so far, and they have relied predominantly on the Internet and portals to generate leads. "We're looking for a controlled, organic growth," says Curin, with a focus on Western Canada, the U.S., and parts of the Caribbean. They've hired an outside vendor to assist with identifying hot properties and locations.

For now, two company-operated shops are used for training and product testing. "We love to entertain ideas from our franchisees," says Curin. "You never know when somebody's going to create the next Egg McMuffin."

The cost of entry at Flip Flop Shops is between $165,000 and $185,000 to get the doors open. Says Curin, "It's not just about the money. Attitude is first. We're looking for people who are passionate and excited about the brand."
New heights
Elevation Burger, which began franchising in the second quarter of 2008, wants to take the customer experience and the quality of food to new heights--and its founders believe the time is right.

"We're really at a zeitgeist time of organic food, healthy eating, and in general, a sense of taking care of the planet," says founder and CEO Hans Hess. "What we've created is certainly in a growth category."

That creation is essentially a fast casual concept that offers organic beef (courtesy of grass-fed, free-range cows), veggie burgers, and French fries cooked in olive oil. It's healthy fast food for health-conscious and earth-conscious consumers. And according to Hess it's creating quite a buzz.

The company, based in Washington, D.C., has sold 33 franchises to date. Four were open at the time of the interview, with 3 more set to open this summer. So far the restaurants are primarily along the East Coast, and Hess says they are "seeing interest and talking to prospects as far west as Colorado and California."

Lead generation is handled by Fransmart. Hess and his staff evaluate the qualified leads. Once the franchisees have signed, Hess relies on two longtime directors to handle everything from training to store opening and support.

"I know everybody says they look for passionate franchisees, but it really is important. I always say passion produces excellence," says Hess, who has an extensive background in business. Additionally, he and his team like prospects to have previous restaurant experience and a deep understanding of customer service.

The management philosophy at Elevation Burger flows down from the top. "We have a concept we refer to as the 'triple bottom line': Take care of people, the planet, and profits. We see all of those things as being closely related," he says.

Hess offers a unique take on the idea of innovation. "I don't think we're innovative because of our menu, I think we're innovative because we focus on creating a quality customer experience."

Employees are critical in making this succeed and his franchisees look for quality employees and are not afraid to pay more to get them. "We help them identify potential employees because, ultimately, if they take care of our customers it will take care of our business."

Hess has had to adapt some procedures during his first as a franchisor, but says he's pretty happy with the way things have gone. "Just little things here and there--tweaking the way we cook the burgers, implementing personality tests for hiring--but I always say entrepreneurs solve one problem and then another and then another."

Further illustrating his passion for the environment, Hess also has founded EnviroCab, an all-hybrid taxi fleet company in the D.C. area. Its hybrid vehicles emit fewer emissions than standard cars and Hess purchases carbon offset credits to make up for the emissions they do produce.

"Starting a franchise, or any company, is demanding and you have to wear a lot of hats, but it's also incredibly fulfilling," he says.
Published: August 10th, 2009
Share this Feature
Recommended Reading:
Comments:
comments powered by

Disqus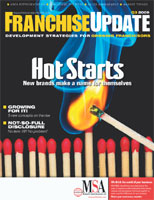 Franchise Update Magazine: Issue 3, 2009
919 Marketing Co. is a national content marketing, PR and social media agency serving franchise brands. Our proprietary social relations approach...
ApplePie Capital provides a fresh new approach to franchise financing that is focused on your growth and success.