Strength in Numbers: Pooling Area Rep Marketing Budgets Helps Emerging Franchisors
"The one with the most money wins the battle in recruiting new franchisees" is an axiom that means more now than ever.

Emerging franchise companies have a difficult time getting the attention of serious franchise candidates in today's challenging economic environment. This is because new advertising and marketing channels are emerging, and more franchisors are chasing a limited number of qualified franchisee candidates.

The area representative (AR) business model has many overlooked benefits as a franchise growth strategy. One such benefit is the multiplier effect of leveraging AR advertising and marketing dollars by pooling the marketing budgets of the area representatives. Amazingly, most AR programs I have evaluated do not understand or execute this key strategy effectively.
Case study
A new mobile pet grooming service franchisor enters a market in which there is one established mobile pet grooming franchisor with hundreds of existing locations. There are no other franchised mobile pet grooming services. The market leader uses a direct franchising model (recruiting franchisees using an internal franchise development staff) with success.

How can a new franchisor in the mobile pet grooming business compete with the market leader? Should the new entrant use direct franchising? Possibly.

However, using the direct franchising model to grow a franchise system requires the development of an internal franchise sales team and the associated costs of recruiting, training, and managing this department. It also requires a significant budget to generate franchise candidate leads. This is a Catch-22 for emerging franchise companies, because most have a limited franchisee recruiting budget and generally rely on franchise fees to create the funds to market their franchise.

There are alternatives to the direct franchising sales model.
The AR sales model
If the mobile pet grooming franchisor selects the AR model as their franchise growth strategy, their ability to recruit quality franchisees increases exponentially. When an AR program is properly structured, the franchisee lead acquisition program becomes weaponized in the battle for the attention of quality franchise candidates. A properly structured franchisee lead acquisition program for ARs has two basic elements:
Initial capitalization. To adequately fund a franchisee lead acquisition program, each area representative makes an initial contribution into a cooperative marketing fund as a part of their AR agreement. The initial contribution varies, depending on the franchise concept, but is generally $20,000 to $50,000. The initial contributions launch the implementation of an aggressive Internet, social media, and PR franchisee candidate recruiting program. This provides visibility in the marketplace for an emerging franchisor and enables a strong lead flow of quality franchisee candidates for the ARs.
Ongoing funding mechanism. As the franchises are awarded, a percentage of the franchise fee from each new franchisee is contributed into the marketing fund. This creates a mechanism for ARs to continually fund the franchisee lead acquisition program.
How it works
Assume our mobile pet grooming franchise recruits 40 ARs who each make an initial contribution of $36,000 into a cooperative franchisee recruiting fund when their AR agreement is executed. Further assume that each AR recruits five new franchisees each year for five years, and that for each new franchisee recruited the ARs contribute $2,000 into the marketing fund. Now let's do the math.

1) Initial contributions to the franchisee lead acquisition program


Initial contribution                                           $ 36,000

Number of ARs                                                      x 40

Amount of funding from initial

contributions into the franchisee lead acquisition program   $1,440,000


2) Ongoing funding into the franchisee lead acquisition program


Ongoing contributions for each new franchise awarded      $ 2,000

Number of franchisees awarded per year per AR                 x 5

Number of ARs                                                x 40

Total annual ongoing funding into 

the franchisee lead acquisition program                 $ 400,000                       

Total ongoing funding for 5 years ($400,000 x 5)       $2,000,000                                                 

Total of initial and ongoing contributions             $3,440,000

     ($1,440,000 + $2,000,000)


With funding of $3,440,000 over a 5-year period, an emerging franchisor can ensure that its ARs have an adequate lead flow of qualified franchisee candidates. This enables the ARs to meet their franchise development schedules.

Even if the funding fees outlined above do not reach this level of funding and only 50 or 60 percent of this level is achieved, there still should be ample funds available to execute an aggressive franchisee lead acquisition program.
Another essential component of this type of program requires that the franchisor take responsibility for managing the program and have an AR sales coach work with each AR to monitor their sales activity on a weekly or biweekly basis.

The ability to leverage the financial resources of highly motivated ARs in a cooperative manner provides the ability to start and maintain an aggressive franchisee lead acquisition program and level the playing field between emerging franchisors and the more established ones.

Marvin L. Storm is managing director of Blackstone Hathaway, which specializes in using area representatives as a franchise growth strategy. He can be reached at 925-376-2900 x201 or mstorm@blackstonehathaway.com.
Published: February 16th, 2010
Share this Feature
Recommended Reading:
Comments:
comments powered by

Disqus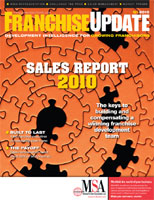 Franchise Update Magazine: Issue 1, 2010
More than 15 years of passion and fascination with the franchise system. Thanks to having met many Franchisees, today I can help new ones and those...
Slick Marketers is reinventing franchise marketing with a hyper-customized and ultra-localized marketing approach with measurable results and growth...