Who's on Hold?: Hosted PBX Offers A Cost-Effective Fix For Customer Service
With the downturn in the economy, good old-fashioned customer service can be a major differentiator for businesses trying to keep their existing customers and attract new ones.

Businesses that interact with and sell to customers over the telephone must be particularly vigilant that their phone technologies don't inadvertently alienate their customers. Positive perceptions can quickly erode if customers encounter too much on-hold time, unclear directions on how to reach appropriate service personnel, or (the most dreaded of outcomes) a busy signal.

Many companies are finding that hosted private branch exchange (PBX) phone service technology can be a cost-effective tool that also helps them improve their phone presence and customer responsiveness.

A hosted PBX service provides customers with advanced phone answering and call-routing features--without the expense of purchasing their own PBX hardware or the added costs of installation, ongoing maintenance, and support. It's ideal for small and mid-sized firms, companies with a distributed workforce, and those that want toll-free number services.

Vicorp Restaurants, which owns Village Inn and Bakers Square restaurants, is widely known for its award-winning freshly baked pies. However, its archaic phone system had started to become a liability during the company's busiest time of the year, Thanksgiving through Christmas. A large number of customers seeking to order pies received busy signals or were put on hold for long periods before reaching a live person who could help them. Vicorp decided it was time to establish a more efficient way to handle the holiday rush and provide great service for its pie-loving customers.

After researching potential solutions, Vicorp contacted us to help improve responsiveness. The company paired a new online ordering system with our TrueACD (Automatic Call Distribution) queuing capability. With this in place, Vicorp was able to use its existing phone numbers to answer multiple calls simultaneously and provide a customized greeting that offered callers new options, which included waiting a few moments to speak with someone or choosing the online ordering system to place their order. If callers decided to wait for a live person, the queuing system quickly directed them to open phone lines. After the first year of using a hosted PBX paired with the new online ordering system, pie sales rose 10 percent.
Applications of a hosted PBX technology
Hosted PBX companies focus on providing multiple applications that help businesses cost-effectively manage high call volumes in a professional manner. Benefits typically include:
reduced wait time for customers by implementing technology they can use to set a minimum wait time for callers before directing them to voicemail;
personalized greetings to inform and educate callers; and
"intelligent" call direction so customers end up speaking with the right person.


Some systems also have the ability to set limitations, such as the number of callers on hold at once or the amount of minutes a caller can be on hold before taking additional actions, to ensure higher customer satisfaction.

Of special interest to franchise operators, this technology has the ability to provide a central call location that easily routes callers by ZIP code, area code, etc. to the appropriate location. Franchises can also tap into features that allow customers access to information on expected wait times, or that take a caller's phone number and have a live representative return their call in an expedient manner.
Choosing a hosted PBX
When choosing a hosted PBX supplier, it is important to look for companies that are continually assessing market demands and providing new applications to address changing needs. Franchisers should consider the volume of calls received, the size of the company, and the number of people, both internally and externally, who will benefit from a hosted PBX solution.

Businesses should also pay attention to price points for different services and calling options to find the plan that best meets all of their needs. A good option for one business might be a provider that offers all-in-one services, while smaller firms might be better served with a base plan that offers other options for an additional cost.

Franchise businesses should also look for a company that allows for flexibility and personalized management options that are intuitive and easy to use, such as those with a comprehensive web-based interface for making updates. The objective of employing a hosted PBX is to provide callers with a positive experience, but not have it be so complex that the technology cannot be easily implemented to help the business achieve success.
Published: June 15th, 2009
Share this Feature
Recommended Reading:
Comments:
comments powered by

Disqus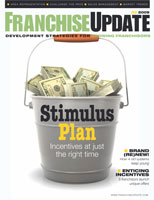 Franchise Update Magazine: Issue 2, 2009
Oct. 18-20, Atlanta, GA. An exclusive event for franchisor CEOs, Presidents, COOs, CDOs and Franchise Development Executives.
Slick Marketers is reinventing franchise marketing with a hyper-customized and ultra-localized marketing approach with measurable results and growth...